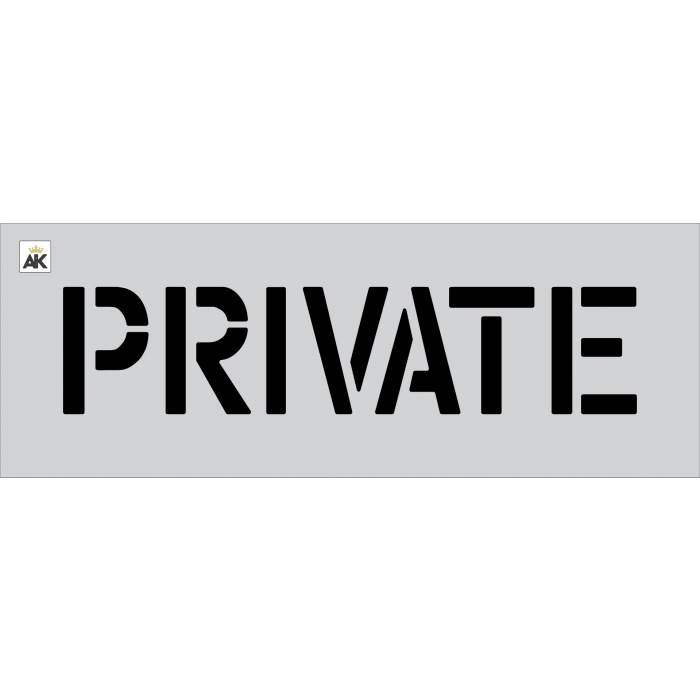 6 PRIVATE Stencil

Read more
The 6" PRIVATE stencil is a useful addition to any striper's collection as it offers a common word that is used for many public and retail projects. The most common use of this stencil is for drives, docks, warehouses, stations, parking spaces, and more. Its medium to large size allows for great visibility and readability to all drivers and visitors in the area. All onlookers will get a clear indication of direction and will know not to enter the area that is marked with the "PRIVATE" stencil. It is an American made stencil that comes with a warranty guaranteeing that the product will be free of any defects that could hinder its use in any way.

There are several material grades that can be chosen for this worded stencil. The most common is the ?" PRO-Grade LDPE, which is a durable plastic that offers longevity for heavy duty use. Feel free to reuse the stencil hundreds or thousands of times over several years for extra durability. A thinner grade is the 1/16" LDPE, which is the counterpart to the PRO-Grade but with half the thickness. This thinner material is still durable, but also lightweight for custom jobs. It can last a long time if used sparingly.

The measurements and specifications of each stencil meet industry standards and comply with most projects. When painted, the stencil measures a height of 6" and a width of 41", which offers both flexibility and readability. This stencil is designed to fit in any standard or small space while also offering bold letters that can be easily viewed by anyone in the area. The material itself reaches 41" in width and 12" in height, offering several inches of offset space between the letters and the words for added overspray protection. The word has a stroke width of 1" for perfect spacing between each character.
Specification
| | |
| --- | --- |
| Ready To Ship | Yes |
| Stencil Name | Private |
| Stencil Height | 6" |
| Stencil Width | 27" |
| Stencil Type | Word Stencil |
Customer Reviews
Top customer reviews
Customer Questions
are these one time use? or can they be cleaned and used multiple times?
Most contractors clean them and use them a few times. If you are rough with stencils in general, it is possible they would crack on the first go but in general that hasn't been our experience. If you're looking for something with more reusability, we can provide a heavy-duty version of these - just let us know.