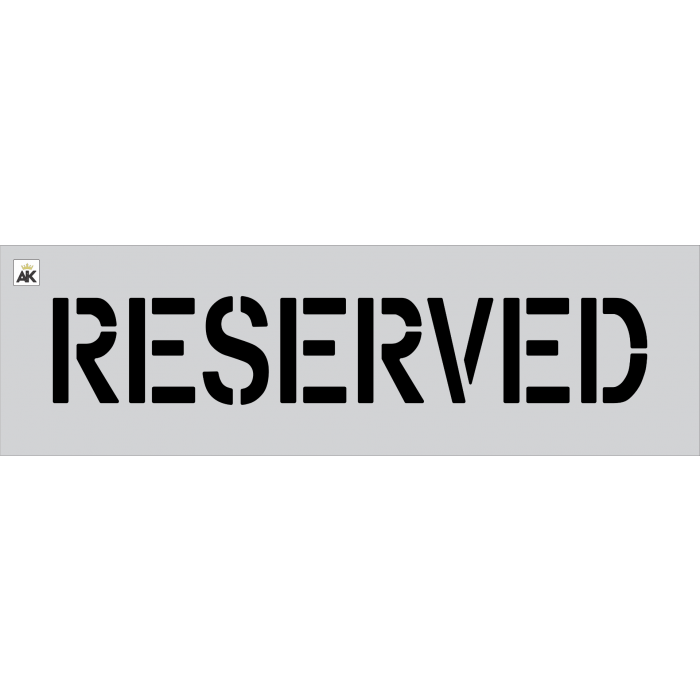 6 RESERVED Stencil

Read more
If you are working on a special parking or pavement project and are in need of more worded stencils to clearly mark directions to the public, add the 6" RESERVED stencil to your collection. It is a versatile sign that is typically used for marking parking spaces and stalls that are reserved for special or business personnel. The bridging of the letters makes it easy for stripers to make a bold and clear statement on the ground that will be visible by all in the area. The kit comes with a single stencil, making application easy and fast. It is made in the USA and comes with a warranty that guarantees that the stencil will be free of any defects.

The measurements of the stencil meet all industry standard specifications and requirements. When painted, the stencil measures 42" in width and 6" in height for easy readability. The width of the material measures 48" and reaches a height of 12", so keep that in mind to allow yourself plenty of space before placing the stencil.

There are four material grade options to choose from to meet your stencil needs. If you are investing in a huge, industrial sized project, the .080" ALU is the toughest grade around. It is made of a 5052 aluminum that will last forever, allowing you to reuse your stencil time and time again. The next thickest is the ?" PRO-Grade LDPE, which is an industry standard. Most professionals use this as it is affordable yet still provides countless reusability over several years. If you only need your stencil for a custom project, invest in the 1/16" LDPE or the .030" HIPS for something flexible and lightweight. It will last a long time as long as it is used sparingly, and lays flat on the ground for easy application.
Specification
| | |
| --- | --- |
| Ready To Ship | Yes |
| Stencil Name | Reserved |
| Stencil Height | 6" |
| Stencil Width | 34" |
| Stencil Type | Word Stencil |
Customer Reviews
Top customer reviews
Customer Questions
are these one time use? or can they be cleaned and used multiple times?
Most contractors clean them and use them a few times. If you are rough with stencils in general, it is possible they would crack on the first go but in general that hasn't been our experience. If you're looking for something with more reusability, we can provide a heavy-duty version of these - just let us know.