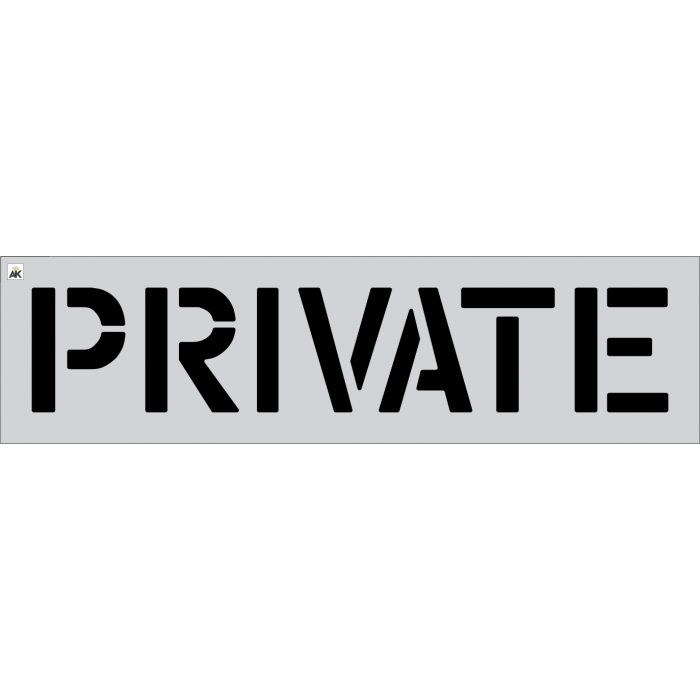 12 PRIVATE Stencil

Read more
The 12" PRIVATE stencil is a must-have addition to any professional stiper's collection. It can be used for a variety of pavement and street projects, and is designed to fit in any publicly accessible space. This stencil is often used to mark non-public, private parking areas or driveways where normal traffic is not allowed. It can be used on its own or paired with other industry signs such as "PARKING", "DRIVE", "AREA", and much more. This stencil is manufactured in America and comes with a warranty that guarantees that it will be free of any impediments or defects.

The measurements and specifications of this stencil comply with industry standards and are designed for easy readability against the pavement. When painted, the word measures 64" in width by 12" in height, adding a stroke width of 2" between each letter. The material that the stencil is printed on measures 70" wide by 18" in height, giving several inches of space on each side for overspray. Make sure you have plenty of workspace available before placing down your stencil.

Choose between four different material grade options for the make of your stencil. Each grade offers a range of durability, flexibility, longevity, and affordability. If you are invested in industrial sized or long term projects, the .080 ALU is the thickest option available. This durable 5052 aluminum lasts forever, and is indestructible against any amount of use. It can also be used for thermoplastic extruding. The next thickest material is the ?" PRO-Grade LDPE, which is rigid, durable, and affordable. This grade can last up to a decade and can be reused thousands of times before ever showing any signs of wear or tear. The 1/16" LDPE is the counterpart to the PRO-Grade, but with half the thickness. This more flexible material is good for custom or infrequent uses. The thinnest grade available is the .030" HIPS, a flexible PVC that lays flat for single or custom use.
Specification
| | |
| --- | --- |
| Ready To Ship | Yes |
| Stencil Name | Private |
| Stencil Height | 12" |
| Stencil Width | 62" |
| Stencil Type | Word Stencil |
Customer Reviews
Top customer reviews