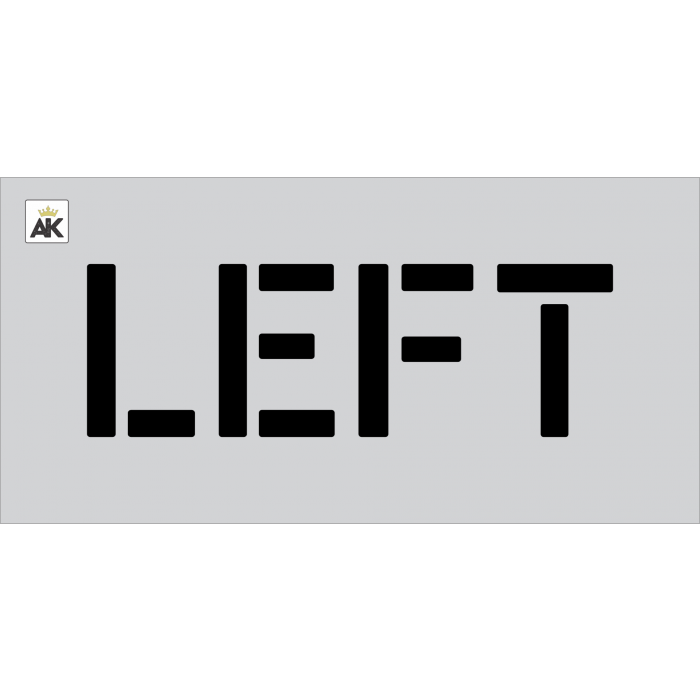 This pavement stencil is typically used in conjunction with the phrases "LANE", "TURN", or "ONLY" to provide unambiguous instructions to traffic and pedestrians.

Read more
Durable and lightweight LDPE
Ideal for DIY and contractor use
Very easy to clean
FREE SHIPPING
Delivered in: 5-10 Business Days
Have questions? We're here to help!

Speak to an Asphalt Expert!
Contact our Experts
The 6" LEFT stencil is a commonly sized sign that is a must-have for any striper's collection. It is a versatile stencil and a flexible word that can be used alone or added with other industry stencils for any road or street job. Typically, this sign is combined with the words "LANE", "TURN", or "ONLY" for clear direction to drivers and pedestrians. The paint will show clearly against the pavement, making for a vibrant and visible direction. The stencil is made in America, and comes shipped with a warranty that guarantees that it will be free of any defects or impediments that could hinder the use of the product in any way.

The measurements of the stencil meets all industry standard compliances, and are as follows: The stencil itself measures 19" in width and 6" in height when painted. The material reaches to 25" in width and a 12" height, allowing over 6" of room on the top and bottom of the stencil for easy placement and overspray allowance. When painted, the word LEFT has a stroke width of 1" for a crisp and clean print.

There are four stencil grade options to choose from when making your stencil. If you only need the stencil for a custom project, you can invest in the 1/16" LDPE or the .030" HIPS for sparing use. These grades offer flexibility without sacrificing rigidity. The stencils lay flat out of the box and allow for a clean print. For something more durable, invest in the ?" LDPE, which is an industry standard. This grade is named the PRO-Grade LDPE because most professional stripers use this product for their long-term or lasting project needs. It can withstand heavy painting and can also be reused thousands of times before showing signs of wear. A thicker option is the 080" ALU, which will last forever. This indestructible product allows for you to reuse it as many times as you need without ever worrying about replacement.
Have questions? We're here to help!

Speak to an Asphalt Expert!
Contact our Experts
Specification
| | |
| --- | --- |
| Ready To Ship | Yes |
| Stencil Name | Left |
| Stencil Height | 6" |
| Stencil Width | 17" |
| Stencil Type | Word Stencil |
Customer Reviews
Top customer reviews
Customer Questions
are these one time use? or can they be cleaned and used multiple times?
Most contractors clean them and use them a few times. If you are rough with stencils in general, it is possible they would crack on the first go but in general that hasn't been our experience. If you're looking for something with more reusability, we can provide a heavy-duty version of these - just let us know.