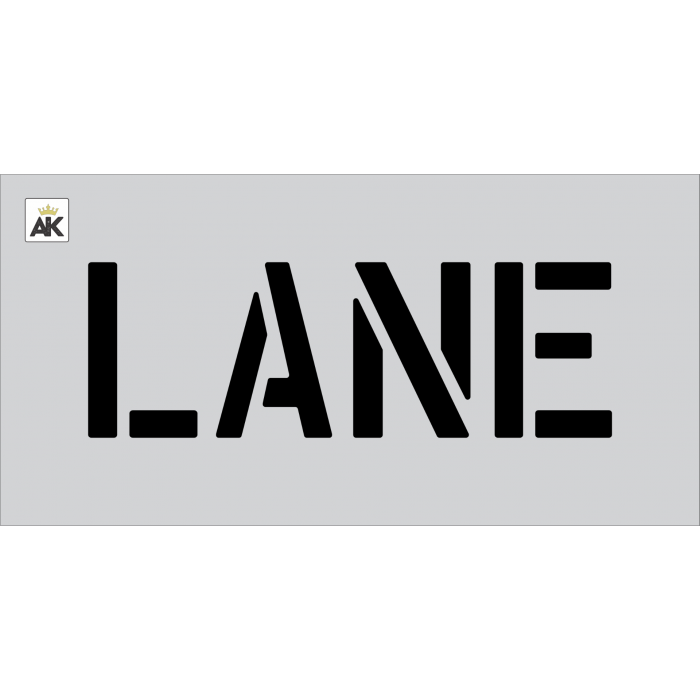 This parking lot stencil can be used in conjunction with a countless number of other common stencil words, including "FIRE," "LEFT," "BIKE," and many others.

Read more
High Quality Material
Wide Rande and Multi Purpose
Ideal for contractors and do-it-yourselfers
FREE SHIPPING
Delivered in: 5-10 Business Days
Have questions? We're here to help!

Speak to an Asphalt Expert!
Contact our Experts
The 6" LANE stencil is a versatile and durable stencil that all stripers will find easy to use. This word is a flexible stencil that can prove useful for a variety of large or small scale projects. It can be combined with an endless array of other standard stencil words, such as "FIRE", "LEFT", "BIKE", and much more. This allows for a custom project, where the striper can create clear directions that drivers and pedestrians alike will recognize. This stencil is made in America and is guaranteed to be delivered free of defect or any impediments that could prevent it from full use.

The stencil comes in a variety of thick and thin grades that come with advantages based on what type of project you have in mind. For something that is durable and long lasting, invest in the ?" LDPE, which is an industry standard. This common material offers longevity, as it will not wear or tear for up to a decade. Reuse your stencil thousands of times for a variety of pavement and custom projects in order to get the most out of your money. For something that is flexible and lightweight, try the 1/16" LDPE, which is the counterpart of the industry standard. This material has been used for years and offers light-duty use. You can reuse it sparingly and it will last for a prolonged amount of time when properly cared for.

The specifications and measurements of this single-word stencil comply with all standard requirements and can be printed in any parking lot, warehouse, driving lane, driveway, and more. When printed, the word reaches a width of 21" with an industry standard height of 6". The material offers a width of 25" and a height of 12" to ensure plenty of extra room. Make sure your space is big enough to accommodate the material's size to ensure a crisp and visible print.
Have questions? We're here to help!

Speak to an Asphalt Expert!
Contact our Experts
Specification
| | |
| --- | --- |
| Ready To Ship | Yes |
| Stencil Name | Lane |
| Stencil Height | 6" |
| Stencil Width | 19" |
| Stencil Type | Word Stencil |
Customer Reviews
Top customer reviews
Customer Questions
are these one time use? or can they be cleaned and used multiple times?
Most contractors clean them and use them a few times. If you are rough with stencils in general, it is possible they would crack on the first go but in general that hasn't been our experience. If you're looking for something with more reusability, we can provide a heavy-duty version of these - just let us know.