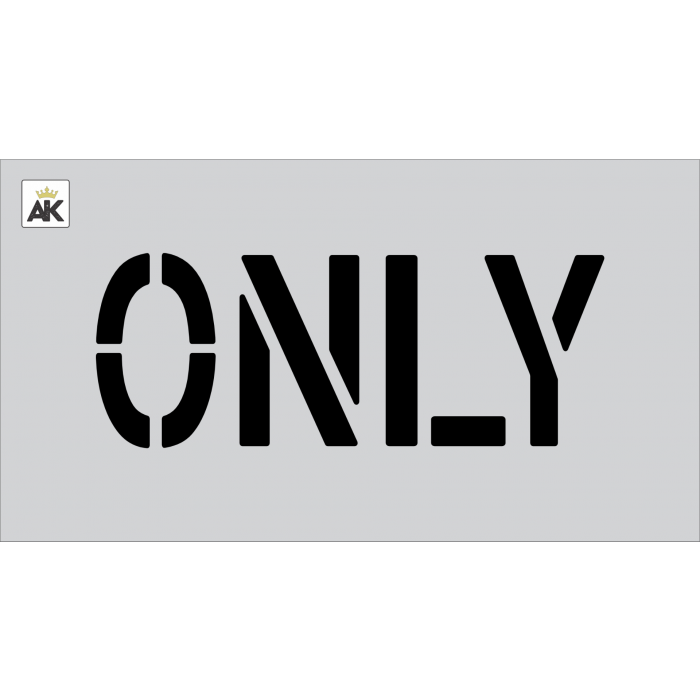 6 ONLY Stencil

Read more
The 6" ONLY stencil is a perfect fit for any striper or contractor who is invested in street or warehouse projects. This stencil comes with a single word that is commonly paired with other industry stencils such as "LEFT", "RIGHT", "FORKLIFT", "EXIT", and more. It matches well with other stencils in the wording catalog, and is an essential addition to any large or small collection. It is made in the USA and guaranteed to be free of impediments or defects that could prevent it from functioning the way it was intended. The medium to average size of the stencil meets all industry standards and provides flexibility that can fit in most spaces. It is cut for precision and matches all measurements and specifications for a perfect spray.

There are four stencil grade options available for the ONLY stencil. If you want something that will last indefinitely for heavy-duty use, try the .080" ALU. This is a 5052 aluminum that will never wear or tear. You can use it thousands of times across many years for any number of projects. Another durable option is the ?" LDPE, which is an industry standard and commonly used product. It allows for thousands of uses over several years as an affordable option for heavy use. The 1/16" LDPE and the .030" HIPS are lightweight options that offer flexibility and lay flat for a perfect custom or few-time use.

The stencil measures 22" in width and 6" in height when painted on the ground, allowing for great readability by any in the area. The material itself measures 28" wide by 12" high for extra overspray room. It can be placed anywhere on the pavement, and with a pavement approved paint such as that from Sherwin Williams, it can be made vibrant and contrasting for drivers and workers alike to see easily.
Specification
| | |
| --- | --- |
| Ready To Ship | Yes |
| Stencil Name | Only |
| Stencil Height | 6" |
| Stencil Width | 16" |
| Stencil Type | Word Stencil |
Customer Reviews
Top customer reviews
Customer Questions
are these one time use? or can they be cleaned and used multiple times?
Most contractors clean them and use them a few times. If you are rough with stencils in general, it is possible they would crack on the first go but in general that hasn't been our experience. If you're looking for something with more reusability, we can provide a heavy-duty version of these - just let us know.