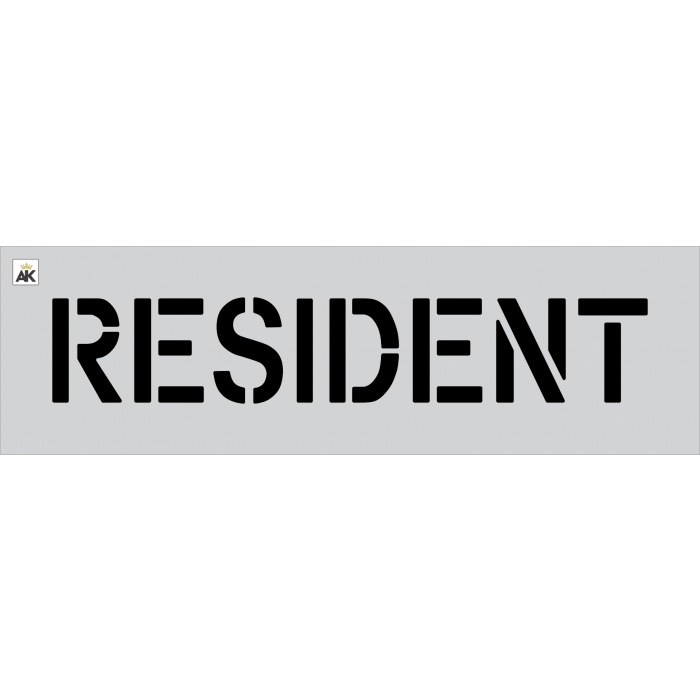 6 RESIDENT Stencil

Read more
The 6" RESIDENT stencil is a specialized stencil that can be handy for several types of projects. Typically, this stencil is used for marking parking stalls outside of apartment complexes or community housing. This can be paired with other standard industry words such as "PARKING" or "ONLY" to make a bold statement. For any large or small project, this stencil is a great addition to any striper's collection.

The stencil is made on a material that gives over 3" of overspray on each side. This prevents dripping and makes it easier to clean. The stencil is made in the USA and comes with a warranty that guarantees it to be free of any factory defects or impediments that could hinder its use. It measures 39" in width by 6" in height when painted, allowing it to fit in most common spaces while still being clearly visible by drivers, pedestrians, and all passersby. The material measures 45" in width with a 12" height, allowing plenty of room for placement and accessibility.

The most typical material grade for this stencil is the ?" PRO-Grade LDPE, which is recommended by most professionals. It allows for durable use with a stencil that can be reused thousands of times and for several years before showing any signs of abuse. The 1/16" is the counterpart to the PRO-Grade LDPE, and with half the thickness. This is a lighter weight material that serves as a cost effective option if you only need to use the stencil for a few small jobs or a custom project. Other material grade options include the ultra-thin .030" HIPS, which is a common PVC material in the industry that allows for ultimate flexibility. The most durable option is the .080" ALU, made of 5052 aluminum and guaranteeing that it will last forever.
Specification
| | |
| --- | --- |
| Ready To Ship | Yes |
| Stencil Name | Resident |
| Stencil Height | 6" |
| Stencil Width | 35" |
| Stencil Type | Word Stencil |
Customer Reviews
Top customer reviews
Customer Questions
are these one time use? or can they be cleaned and used multiple times?
Most contractors clean them and use them a few times. If you are rough with stencils in general, it is possible they would crack on the first go but in general that hasn't been our experience. If you're looking for something with more reusability, we can provide a heavy-duty version of these - just let us know.