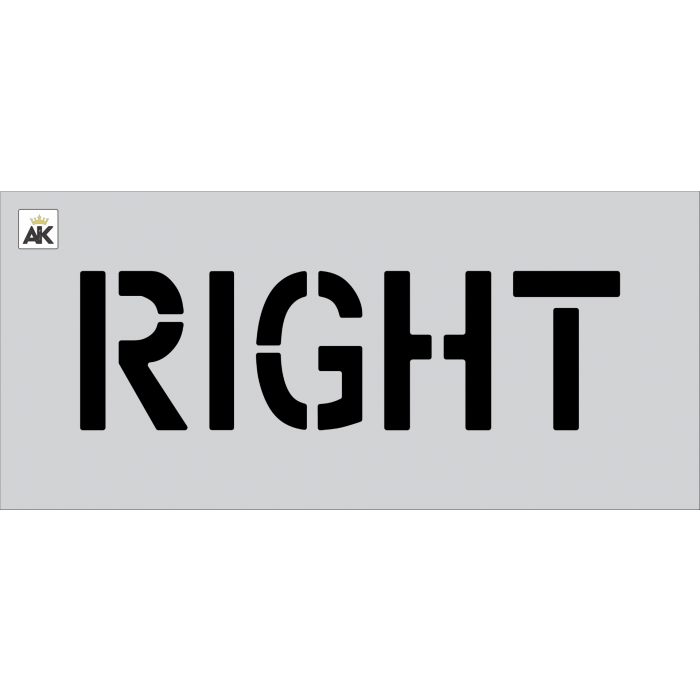 6 RIGHT Stencil

Read more
The 6" RIGHT stencil is the right stencil for any professional striper. It is easy to use and adequately sized to fit in any small space while making a bold and visible statement. It offers versatility and flexibility, as it can be paired with a variety of other standard word stencils such as "LANE", "ONLY", "TURN", and much more. Any beginner or veteran contractor can find many uses from this stencil as a great addition to any collection. This stencil is made in the USA and offers a warranty that guarantees that it will be delivered without any defects that could hinder it from its full use.

The measurements and specifications of this stencil are built to ensure that it can fit in any parking space, parking lot, turn lane, garage, warehouse, or anywhere that drivers or pedestrians can see. When painted, the stencil measures a width of 23" and a height of 6", with a stroke width of 1" for added clarity. The material itself measures 29" wide by 12" high, so keep that in mind when finding an area for stencil placement. It is made to be placed on any type of pavement and can last for a long time if a pavement approved paint is used.

There are four stencil grade options to choose from when creating your RIGHT stencil. The .080 ALU will last forever, and will save money in the long run. The ?" PRO-Grade LDPE is the most common material that offers durability and thousands of re-uses before showing any signs of wear. The 1/16" LDPE is on the lighter side, but offers flexibility and a clean stencil for custom or one-time use. The .030" HIPS is ultra thin for transportability and a unique fit. It lays flat out of the box and is still far more durable than its competitors.
Specification
| | |
| --- | --- |
| Ready To Ship | Yes |
| Stencil Name | Right |
| Stencil Type | Word Stencil |
| Shipping Length | 12 |
| Shipping Width | 10 |
| Shipping Height | 10 |
| Shipping Weight | 4 |
| | |
| --- | --- |
| Stencil Width | 23" |
| Stencil Height | 6" |
| Shipping Width | 23" |
| Shipping Length | 12" |
| Shipping Height | 10" |
| Shipping Weight | 4 lbs |
Customer Reviews
Top customer reviews
Customer Questions
are these one time use? or can they be cleaned and used multiple times?
Most contractors clean them and use them a few times. If you are rough with stencils in general, it is possible they would crack on the first go but in general that hasn't been our experience. If you're looking for something with more reusability, we can provide a heavy-duty version of these - just let us know.