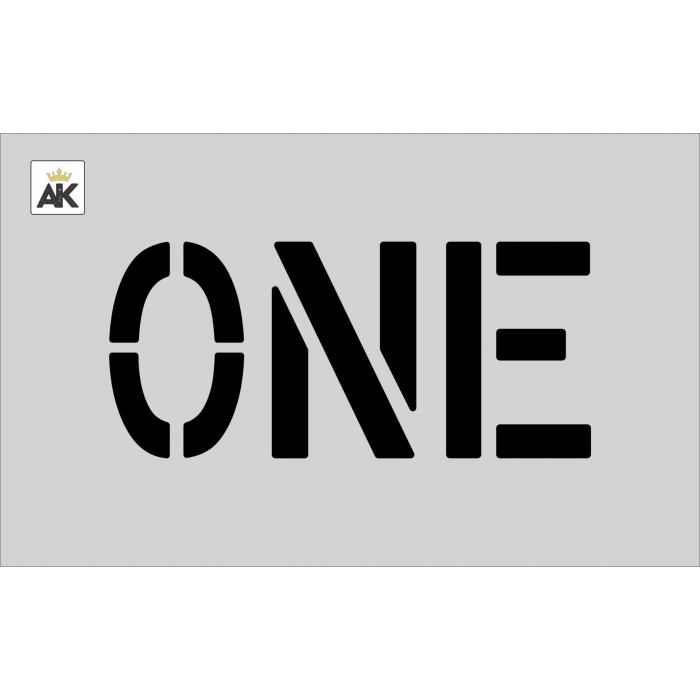 6 ONE Stencil

Read more
A versatile and flexible stencil, the 6" ONE stencil is used by stripers for a variety of different projects. Some of the more typical uses include the ability to be stacked with other words such as "LANE", "WAY", and "AT A TIME", as well as the ability to be used in warehouses, parking lots, garages, and more. Beginners and professionals alike will enjoy the easy to use stencil, with a simple application and easy cleanup process. The stencil is made with several inches of offset on all sides to allow for overspray, and to more easily hold the stencil in place. Any striper can add this stencil to their collection in order to complete large public or private projects.

This stencil is typically made with the ?" PRO-Grade LDPE material, which is a thick grade that allows for durability and longevity. If you plan on using this stencil multiple times or for multiple big projects, invest in this grade for a lasting stencil. With proper care, you can use it for over seven years and up to thousands of times before needing to worry about it weakening or wearing in any way. It lays flat out of the box and can withstand up to 3000psi of spray painting force. There are other material grade options available as well for lighter duty projects, or an aluminum grade which is indestructible and allows for preformed thermoplastic striping.

The measurements of the stencil and its material meet industry standards and can be used anywhere on any type of pavement. The material measures 12" high by 21" wide, so keep that in mind while giving yourself plenty of room for stencil placement. When painted, the printed word will reach a width of 15" and a height of 6". This size is large enough to be easily seen by all drivers and workers, and small enough to flexibly fit into any necessary space.
Specification
| | |
| --- | --- |
| Ready To Ship | Yes |
| Stencil Name | One |
| Stencil Height | 6" |
| Stencil Width | 14" |
| Stencil Type | Word Stencil |
Customer Reviews
Top customer reviews
Customer Questions
are these one time use? or can they be cleaned and used multiple times?
Most contractors clean them and use them a few times. If you are rough with stencils in general, it is possible they would crack on the first go but in general that hasn't been our experience. If you're looking for something with more reusability, we can provide a heavy-duty version of these - just let us know.