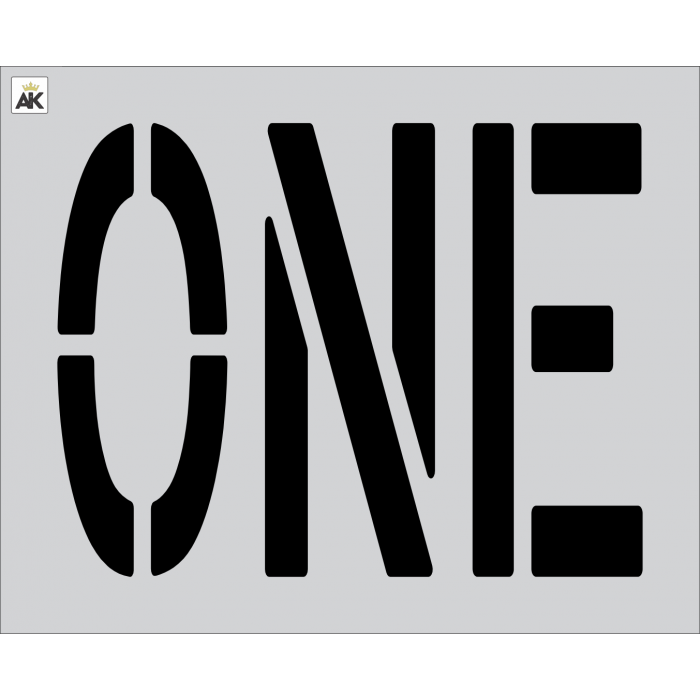 The ONE Stencil measures 24 x 9 inches when painted.

Read more
Word stencils offer convenience, speed, and accuracy when painting pavement markings. The 24" x 9" ONE stencil is no exception. When used together with other marking guides such as "Way" and "Lane", you can create better and more understandable directions. In addition, word stencils ensure a more uniform and aligned output compared to either painting free-hand or using individual letters. The lesser time you need aligning stencils prior to painting road markings, the sooner you get to finish a job and move on the next.

Available in 3 different thickness grades, the 24x9-in One Stencil can be used efficiently on any job or project. Contractors and other line striping professionals swear by the durability and resilience of the 1/8" (.125") PRO-Grade LDPE. This stencil grade can last for a long time despite being used repeatedly on a daily basis. The thinner 1/10" (.100") Light-Duty LDPE can work great for projects that only require stencil usage a few times a year, while the thinnest variant, the 1/16" (.060") Light-Duty LDPE is great for jobs that only need stencils once a year or every other year.

Made with ultra-flexible and durable LDPE material, the One stencil can endure spraying pressures of up to 3000psi while remaining intact and in shape. The clear material makes it easy to see exactly where you need to paint, so alignment is not left to guesswork. This product is made in the USA and guaranteed to be of the highest quality.

Stencils last a very long time when used properly. Clean the plastic marking pattern by peeling off dried paint after each use, and then store by hanging against a wall or lying flat in a storage container.

This stencil is rolled and packed in a cardboard box before shipping. To use, lay the stencil flat on an even surface, such as the floor or pavement, and let "rest" for a few minutes to allow the material to flatten. Putting weights on all four corners can also help straighten curled edges.
Specification
| | |
| --- | --- |
| Ready To Ship | Yes |
| Stencil Name | One |
| Stencil Height | 24" |
| Stencil Width | 31" |
| Stencil Type | Word Stencil |
Customer Reviews
Top customer reviews