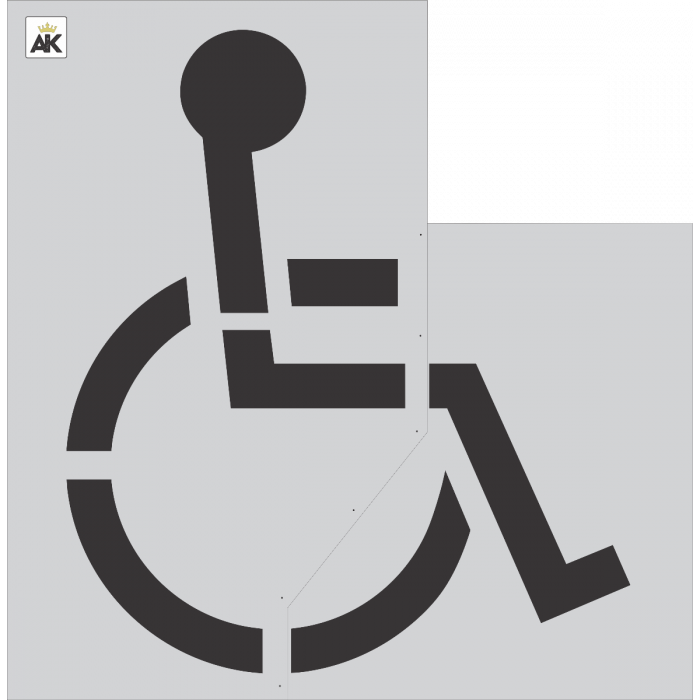 72 Handicap Stencil

Read more
The 72" handicap stencil is a standard and Federally required stencil for many parking lot projects. Contractors and stripers alike can use this as a must-have addition to any collection, as it offers a variety of uses for large and small projects. This stencil and its specifications are ADA compliant, and come equipped with two pieces: the main wheelchair and the extra leg. The stencil kit is made in the USA and offers a warranty that guarantees it to be free of any defects upon arrival.

This stencil is measured to fit inside a standard handicap parking space, even with the extra width provided by the second leg piece. It can be used to mark special stalls or areas that need to be handicap accessible by law or convenience. While this stencil does not come with its own background, it will provide vibrancy and contrast when painted against the pavement. When painted, the main stencil measures 63" in width and 72" in height for clear visibility. The material itself measures 48" in width by 78" in height, allowing plenty of room for overspray. The second stencil which includes the leg measures 40" in width and 40" in height, and can be adjusted to be longer or shorter depending on the space.

There are four stencil grade options available when it comes to choosing a material. For durability and longevity, an affordable option is the ?" LDPE. This PRO-Grade material is the most common material grade in the industry, and offers a long-lasting stencil for repeated projects. Feel free to reuse the stencil thousands of times over several years without worry. The .080 ALU is an even more durable aluminum grade, offering indestructibility and compliance with thermoplastic extruding. The 1/16" LDPE is the twin of the PRO-Grade LDPE, but offers half the thickness. This blend of flexibility and durability make it a light-duty material that can be used for custom or infrequent projects. The thinnest material available is the .030" HIPS, which is ultra flexible and lays flat out of the box.
Specification
| | |
| --- | --- |
| Ready To Ship | Yes |
| Stencil Height | 72" |
| Stencil Width | 57" |
| Stencil Type | Handicap Stencil |
Customer Reviews
Top customer reviews
Customer Questions
are these one time use? or can they be cleaned and used multiple times?
Most contractors clean them and use them a few times. If you are rough with stencils in general, it is possible they would crack on the first go but in general that hasn't been our experience. If you're looking for something with more reusability, we can provide a heavy-duty version of these - just let us know.