72" x 48" Football Number Kit Stencil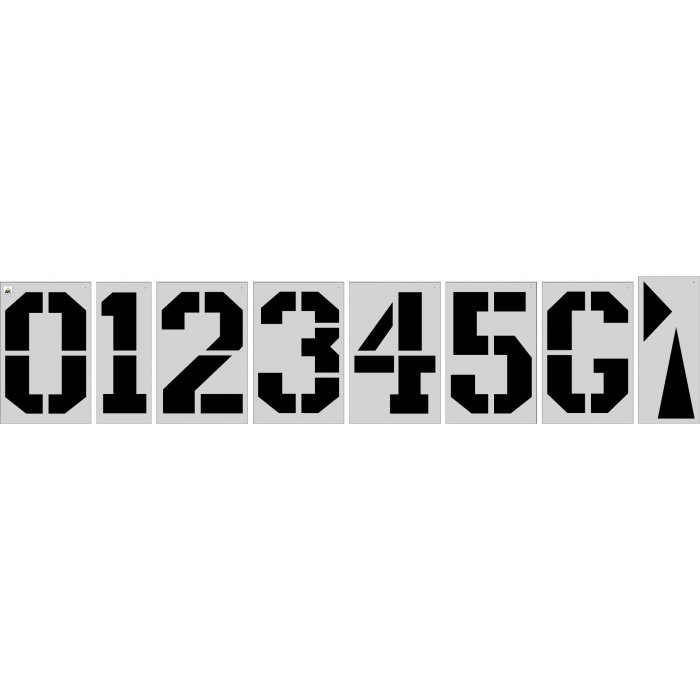 72x48 Football Number Kit Stencil

Read more
The 72"x48" football number kit stencil is designed for use in a professional football field, and is a great addition to any contractor's collection. This stencil kit is large and can be seen from a distance, allowing the field to be clearly marked in a symmetrical fashion. This kit meets all NCAA requirements and specifications, making it easy to use and apply for any type of football field project. Each number comes on a single stencil for simple use, cleaning, and transportation. The kit includes the numbers 0 through 5 as well as the letter G and a directional arrow for clear indication. Each stencil is made in the USA and guarantees that it will be delivered free of any defects or impediments.

The measurements of each stencil meet NCAA and industry standard specifications for easy use. When painted, each character and number measures a width of 48" and a height of 72". The directional arrow is 36" in width and 18" in height. The material measures 60" in width and 84" in height for each character, allowing plenty of room for overspray. The material of the arrow measures 44" in width by 24" in height.

There are four material grade options to choose from when selecting the make of your stencil. For the longest lasting and most heavy-duty stencil, invest in the .080 ALU. This 5052 aluminum is rigid and indestructible, lasting forever for unlimited reuses. It is cost effective for heavy duty and long-term projects. A common material is the ?" LDPE, which is a PRO-Grade material and the most standard in the industry. It allows for thousands of reuses over several years before ever showing signs of wear and tear. If the stencils will be used sparingly or for a one-time project, the 1/16" LDPE and the .030" HIPS are light-duty options that lay flat out of the box.
Specification
| | |
| --- | --- |
| Ready To Ship | Yes |
| Stencil Height | 72" |
| Stencil Width | 48" |
| Stencil Type | Number Stencil |
Customer Reviews
Top customer reviews
Customer Questions
are these one time use? or can they be cleaned and used multiple times?
Most contractors clean them and use them a few times. If you are rough with stencils in general, it is possible they would crack on the first go but in general that hasn't been our experience. If you're looking for something with more reusability, we can provide a heavy-duty version of these - just let us know.