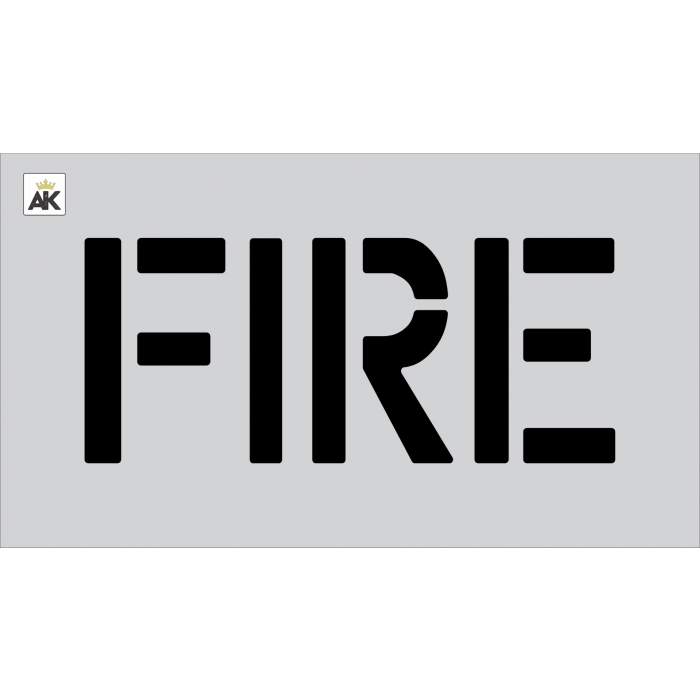 8-inch FIRE Stencil

Read more
The 8" FIRE word stencil is versatile and very handy when used in marking publicly accessible areas. Typically, word stencils can be used to mark curbs, signposts, and elevated areas that can be easily seen by motorists and pedestrians alike. This Fire stencil can either be used alone or paired with other word stencils such as "LANE", "EXIT", and "ONLY" to provide more specific directions to drivers and pedestrians. This stencil is made in the USA using commercial-grade clear LDPE material that can withstand up to 3000psi of pressure. This means that whether you are using brushes, rollers or spray guns, these stencils will ensure optimum output every time.

The measurements and specifications of this stencil comply with all industry standards and are cut for precision and flexibility on curbs. When printed, the stencil measures 22" wide by 8" in height for easy visibility. The LDPE material itself measures 28" wide by 14" high, with an extra space worth 3 inches on all sides to accommodate overspray.

This single-sheet stencil is available in 3 varying thicknesses. For heavy-duty and long term use, the 1/8" (.125") PRO-Grade LDPE is an ideal option as this stencil grade can withstand the vigorous daily use of line striping and pavement marking jobs without showing signs of wear or tear. The 1/10" (.100") Light-Duty LDPE is meant for medium to light usage and is half the thickness of the Pro-Grade, making this option ideal for those who need to use stencils a few times every couple of months. The 1/16" (.060") Light-Duty LDPE is the thinnest option available and is great for projects that need stencils once or twice a year. This thickness is recommended for schools, hospitals, clinics, restaurants, convenience stores, and other establishments that commission their own pavement marking projects once or twice a year.

While thickness is a major factor in determining how frequently you can use the stencil, it is still important to make sure that proper cleaning and storage is observed to ensure a long lifespan for your pavement marking guides. Improper use and storage can lead to premature damage, regardless of the stencil grade purchased.
Specification
| | |
| --- | --- |
| Ready To Ship | Yes |
| Stencil Name | Fire |
| Stencil Height | 8" |
| Stencil Width | 19" |
| Stencil Type | Word Stencil |
Customer Reviews
Top customer reviews
Customer Questions
are these one time use? or can they be cleaned and used multiple times?
Most contractors clean them and use them a few times. If you are rough with stencils in general, it is possible they would crack on the first go but in general that hasn't been our experience. If you're looking for something with more reusability, we can provide a heavy-duty version of these - just let us know.