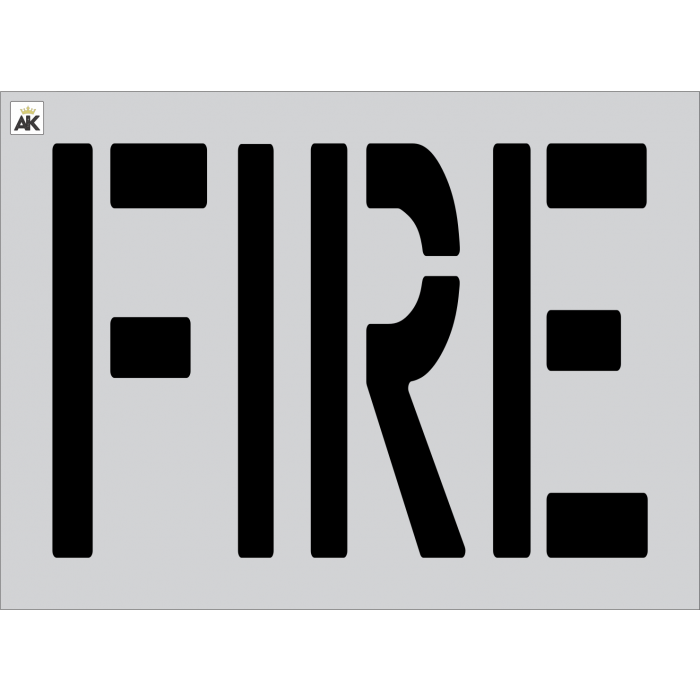 24 x 9 inches FIRE Word Stencil for speedy and accurate road marking projects!

Read more
Fire lanes are meant to be specified and clearly marked, to make sure that these paths or roads are free from obstructions and traffic obstacles at all times. The 24" x 9" Fire stencil is ideal for marking these lanes, using the regulatory red paint. When used with other word stencils, such as "Lane" and "Exit", the FIRE stencil becomes a more effective road marking tool in defining traffic rules.

The painted output of the Fire Stencil measures 24" x 9" inches, however, the LDPE sheet has an overall size of 30 x 15 inches, including the 3-inch surrounding overspray borders. Made in the USA using industrial-grade LDPE, this stencil can withstand pressures of up to 3000psi from line striping paint guns.

With 3 different thickness variations to choose from, the 24" x 9" Fire stencil can be used on projects, both professionally and as hobby. The toughest and strongest variation is the 1/8" (.125") PRO-Grade LDPE. This stencil grade can be used multiple times on a daily basis, making it the ideal choice among professionals in the line striping, pavement maintenance and roadworks industries. The 1/10" (.100") Light-Duty LDPE is the next available grade, which is slightly thinner than the Pro-Grade. This type is ideal for projects that only require usage a few times a year. The thinnest option is the 1/16" (.060") Light-Duty LDPE, which is ideal for customized projects or one-time use.

Proper maintenance is the key when using stencils. Make sure to clean them by removing dried paint off before storing. Just flex the stencil sheet gently to peel off the dried paint chips. Wash the stencils in soap and water or solvents (depending on the paint type used) to ensure that paint residue does not cake up and affect the final output. To store stencils, either hang them against the wall or lay them flat inside a sturdy container to prevent crimping or creasing.
Specification
| | |
| --- | --- |
| Ready To Ship | Yes |
| Stencil Name | Fire |
| Stencil Height | 24" |
| Stencil Width | 35" |
| Stencil Type | Word Stencil |
Customer Reviews
Top customer reviews