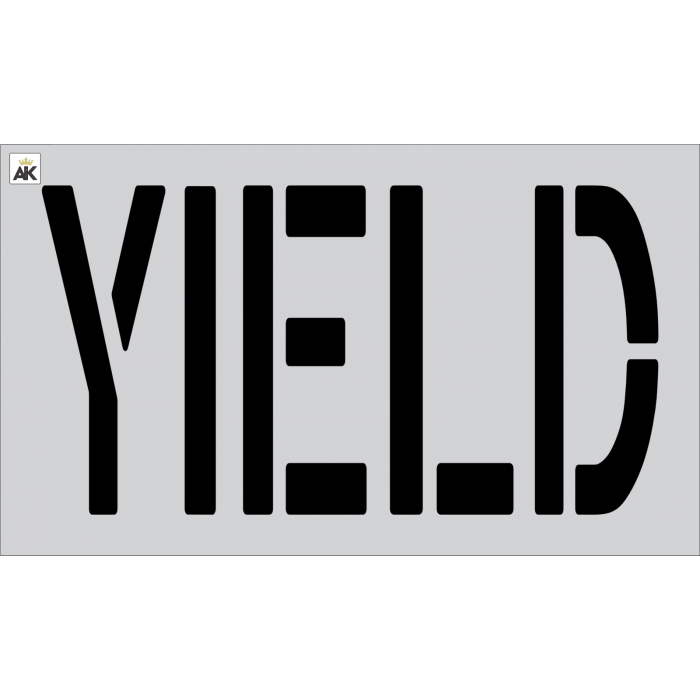 24-inch YIELD Stencil (1 Sheet) - Overall size: 30" x 51"

Read more
Delivered in: 5-10 Business Days
Have questions? We're here to help!

Speak to an Asphalt Expert!
Contact our Experts
Yield signs or pavement markings mean that the driver of a motorized vehicle should slow down and give way to another slower vehicle (such as a bicycle, for instance) or passing pedestrians. The 24" x 9" YIELD single-piece word stencil comes in handy when marking sections of pavement that lead to entrances, exits, crosswalks, handicap-accessible ramps, or generally where pedestrians and slow-speed vehicles are meant to pass.

Since stencils are a great way to mark pavements speedily and accurately, we have designed our pavement marking guides with ease of use and durability in mind. Made in the USA using flexible, clear LDPE material, this Yield stencil is tough enough to endure constant use and pressures of up to 3000psi. Each letter in this stencil is precision-cut using a CNC router, so you are assured that spaces and positions are uniform and even, to provide a professional-looking output every time you paint!

With 4 available thicknesses to choose from, the 24-inch Yield stencil will be a great investment for any professional contractor. For heavy-duty usage, especially in locations where there is constant rain or snow, the .080" ALU would be ideal as this stencil grade is made with Type 5052 corrosion-resistant aluminum alloy. This means that the stencil can withstand constant exposure to moisture and salt. The 1/8" (.125") PRO-Grade LDPE is another favorite among professional contractors due to its resilience and resistance to wear and tear despite being used multiple times daily. At half as thick as the Pro-Grade, the 1/10" (.100") Light-Duty LDPE is meant for medium to light use, which makes this variant ideal for DIYers who only need to use stencils a few times a year. For projects that require very rare or infrequent usage, the 1/16" (.060") Light-Duty LDPE option will be a perfect choice. Schools, small business owners, churches and communities that commission their own pavement marking projects can greatly benefit by using this stencil grade, as they would only need to repaint once or twice a year.
Have questions? We're here to help!

Speak to an Asphalt Expert!
Contact our Experts
Specification
| | |
| --- | --- |
| Ready To Ship | Yes |
| Stencil Name | Yield |
| Stencil Height | 24" |
| Stencil Width | 45" |
| Stencil Type | Word Stencil |
Customer Reviews
Top customer reviews