What To Charge For Linestriping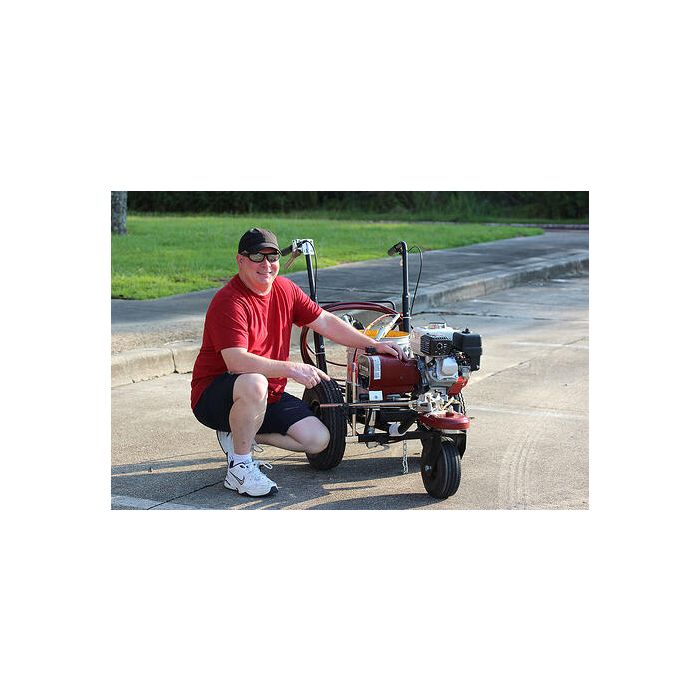 How do you cost a parking lot for line striping? Learn exactly what to charge (and what to charge for) in this 90 minute video with linestriping veteran Billy Davidson, who has been successfully striping for over 25 years.
Read more
Comprehensive pricing guide
Includes practical line striping tips
Information-packed 90-minute video
FREE SHIPPING
Delivered in: Immediate Download
Ever wish you could go to line striping school with an expert instructor by your side, rather than wasting time at the school of hard knocks?
Billy Davidson is just that teacher. He's helped thousands of people online to understand how to properly price a line striping job from preparation to finishing touches.
In this 90-minute, no-fluff video, you'll ride along with Billy to 13 parking lots, where he'll walk you through exactly how he measures, assesses, and prices a parking lot striping job. He doesn't hold anything back! It's just the information you need to be highly successful from the get-go.
"One mistake will cost you several times what you just paid for this video." - Billy Davidson
It's more than a pricing guide: Billy includes tips on how to stripe more efficiently, too. He tells you when to charge for color changes and when you shouldn't, and he tells you the key negotiating points you can use with parking lot owners.
If you've ever worried about getting the pricing wrong when you bid on a parking lot job; if you've ever wondered whether to use latex or oil based paint; if you don't have a clue whether a job is too big or too small for your company and your equipment, then there isn't a better 90 minute investment you could make.
Customer Reviews
Top customer reviews
Great Company with wonderful service and follow up!

There is MORE value than promised, Billy really delivered the goods here!

I'll cut to it, the question any contractor has asked has always been "How much should I charge". It's a vital question and something that can cause a lot of growing pains if you don't know the answer. Let me tell you my three reasons I appreciated this video more:

#1 Billy is giving you his pricing strategy at a low price. You can get a complete answer to the age old question every contractor ask WITHOUT having to buy his full line striping course. I'm not sayinRead moreg this one is cheap, but to offer a solid answer to the question we all have in the cheapest video meant a lot to me and helped me start my business that much faster.

#2 Billy is giving you his formula, not just numbers. Parking Lot striping has a lot of variables and a fixed number just won't cut it. However, in Billy's video, he breaks down how he tabulates each services (lines, curbs, bollards, stairs, etc) and teaches you where/when to charge more or less in order to land that bid.

#3 Billy gives you more than you asked for. The video is about pricing, but Billy can't help himself from giving away trade secrets. Also, watch what he's doing too rather than only listening, plenty of brilliant tips in the video that aren't listed, you just gotta have a sharp eye for it.

*Full disclosure, I bought Billy's video when he first uploaded it and didn't have a resource page. You could say I got in on the ground level, as such the price was cheaper. But I'm telling you, the video is still worth the cost.

Excellent for New Business Owners

Billy provided a wealth of good information for those who are new to bidding striping jobs. He took us with him to about a dozen lots and let us in on the evaluation process. Worth the money!
Customer Questions
What's included in the download?
You get instant access to the private 90 minute video, which you can play from your account right here on Asphalt Kingdom.
You also get access to the Billy Davidssn's Cheat Sheet, with information on how to price:
curbing
handicap spots
directional arrows
pedestrian grids
islands
and dozens more specialty items.
I ordered the "What To Charge For Linestriping" video. When should I receive it?
Upon placing the order successfully, log in to your Asphalt Kingdom account. Under the My Account tab, go to My Videos. It is available immediately upon order.
What's the formula to use for estimating a line job in a parking lot if be they supply the paint or u do
Where do I access the cheat sheet?
1. Log in to your Asphalt Kingdom account using the email address that you registered when you purchased the "What To Charge For Linestriping" video.
2. Once logged in, go under the My Account tab then go to My Videos.
3. Pricing cheat sheet should be under My PDF Files (click to view)