Line Striper Straight Laser Guides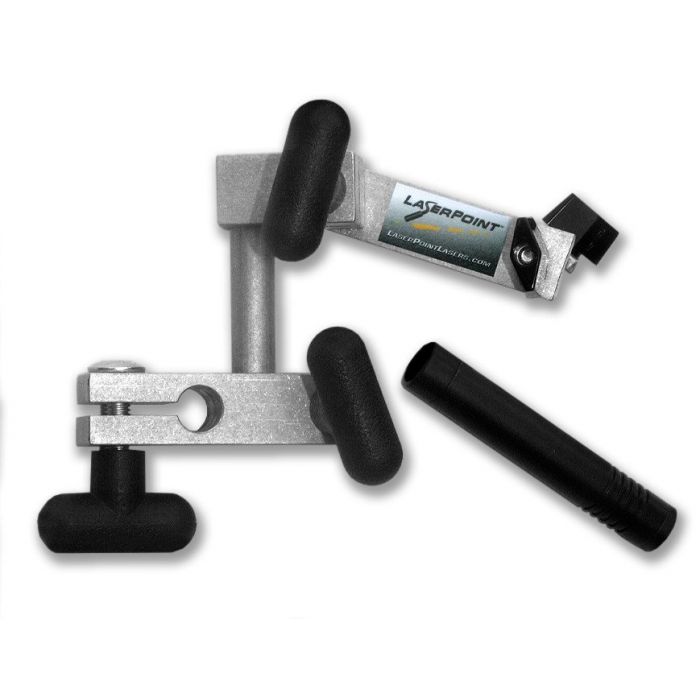 Intense green lasers are visible during the day, helping you stripe straight lines.
Read more
FREE SHIPPING
Delivered in: 5-10 Business Days
Make It a Bundle
Have questions? We're here to help!

Speak to an Asphalt Expert!
Contact our Experts
Line Striping Laser Guide
Painting over old, faded lines can sometimes be tricky because you should paint your new line exactly over the old line. We've all seen poorly-striped parking lots with mismatched lines. They look amateur and rarely result in word-of-mouth referrals. Stripe cleanly, easily, and professionally using the LaserPoint Twin and Single Laser Kits.
Save time and money by striping straight lines all the time.
Easy to mount on any line striper.
Powerful laser that is seen during the day as well as night.
It makes your job easier by providing 2 highly visible lasers that mount to your line striper. The lasers show you the left edge of your striper's paint spray; simply make sure the green dots line up with the old line's left edge (or a snapped chalk line) and spray! The top laser is your start/stop guide.
Features
Get razor-sharp straight lines.
Excellent tool for curb-striping.
Provides military-grade lasers – they're green so they're visible even on a sunny day.
Great accessory for a start-up line striping contractor.
Great for experienced line striping contractors looking for that "edge" over the competition.
Compatible with most line stripers on the market today.
Twin or single? The twin laser guide shows the start and end points of your paint gun's spray. The single guide shows you only where the paint will hit your surface, which some stripers prefer. Both line striping guides are easy to install on Titan, Graco, and other line striper machines.
Each laser uses a 3V battery (included). The batteries on each laser should last about 8 hours, so it is best to turn them off when not in use. Replacement batteries are available at local stores and online. When replacing batteries, be sure that the positive side is facing toward the switch.
4 business days average delivery time.
Have questions? We're here to help!

Speak to an Asphalt Expert!
Contact our Experts
Customer Reviews
Top customer reviews
you guys have the best price on line stripers....don't forget about the Twin and Single Laser Kits from LaserPoint...you have a Great price on those as well...plus your sales team are awesome people....keep you the great work at Asphalt Kingdom!!!! #HardWorkpaysoff

Jarosinski Brothers Sealing

Very nice product. Super useful and fits perfectly on my Graco 3400 line striper. The reason for 4 stars and not 5 is that one of the lasers I received was faulty but the customer service was phenomenal and they were fast to replace it with a new one at no additional cost.