PowrLiner PL3500 1 Gun Paint Sprayer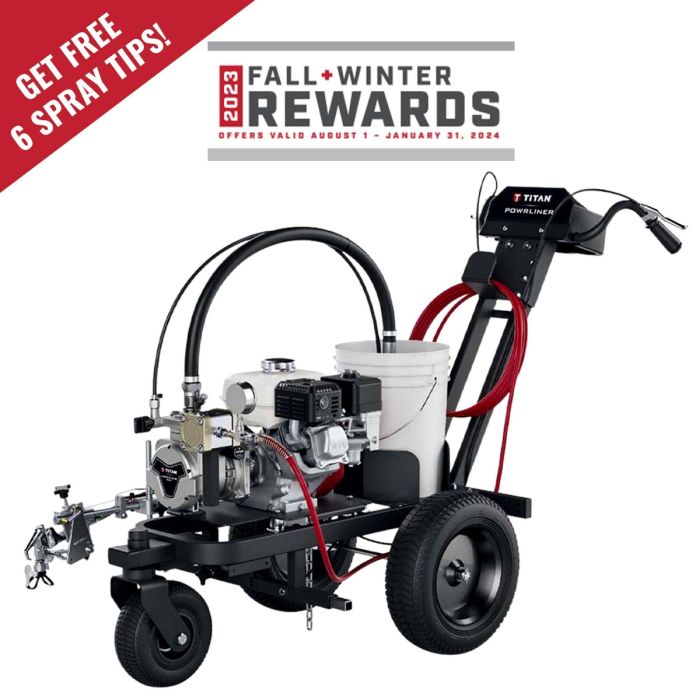 Add AK Make it a Biz Success Pack - Free With Purchase
Unlock your asphalt maintenance business's full potential with the AK Make it a Biz Success Pack, equipping you with expert-crafted tools and exclusive access to the AK Roundtable for accelerated growth and profitable opportunities.
Learn More

Make it a Biz Success Pack
Whether you're striping parking lots, roads or fields, you can make up to $2 per linear foot with this long-lasting easy-to-maintain versatile Titan line striper. Makes $2,000+ per day. Pays for itself in 4 to 5 jobs.
For a Limited Time: Get 6 FREE Spray Tips with Go Red & Get More Rewards!
Read more
Contractors love this ergonomic striper packed with features to make your job easier. Limited stock in our warehouse today — Order now!
4-year warranty
Sprays water or oil-based paint
Detachable gun for stencils or curbs
Free Shipping to commercial address with a dock or forklift
Delivered in: 7-10 business days
Add These To Minimize Your Effort!
Have questions? We're here to help!

Speak to an Asphalt Expert!
Contact our Experts
PowrLiner PL3500 1 Gun Paint Sprayer – Reliable Line Striping Machine For Property Owners and New Stripers

Looking for an easy-to-prime, long-lasting, rugged line striping machine? This sealed hydraulic system works as hard as you do with time-saving features to eliminate pressure fluctuation and reduce the number of wearable parts. Stripe fields and pavement without worry with this comfortable, versatile machine.
Clear pavement markings aren't just good-looking: They're required by law and ADA regulations. If you're looking for an easy-to-start business, you can start by offering repainted lines to help owners avoid lawsuits. The PowrLiner 3500 is an ideal striper to start with because of its reduced maintenance needs and easy priming system. This machine is built to last and has a 4-year warranty. Pays for itself in under a week!
The newest product from Titan Tool is an in-demand one-gun parking lot striping machine for the entry-level contractor. This light-duty line striper is perfect with a mid-sized line striping business for someone who stripes weekly or monthly or stripes small parking lots.
Paint striper comes with 4 year warranty.
Sprays water or oil-based paint.
Detachable gun to spray stencils or anything you'd like.
What Other Customers Say:

"I have the same one. Used it for 3 years now. No issues."


Rick Freeman




Contractor, TDR ASPHALT SEALING
"The PL3500 is a BEAST!!!!! It's a MUST HAVE if you're thinking about adding striping to your business!"


Jef Fox
The PowrLiner 3500 is Loaded with Features
Titan had a mission: improve on its popular PL2855 PowrLiner to make it an industry-leading intermediate striper, and they delivered!
The Titan PowrLiner 3500 line striping machine features a Honda GX120 (3.5hp) engine. Want to add reflection to your lines with reflective glass beads? This machine is compatible with your favorite glass bead dispensing system (not included).
This line striping machine features a detachable gun for stenciling or to paint something vertical.
The front wheel locks and unlocks using a caster release-trigger on the left handle bar.
Includes a 50-foot 1/4 inch hose, a TR1 Line Striping Tip, and an RX80 Spray Gun. Everything you need to get up and running in one package.

Get the benefits of PermaStroke™ Technology:
Sealed Hydraulic Line-striping System
No piston rod or packings to wear out or service.
No electronics or clutches to burn up or prematurely wear
Longer stroking / More efficient priming system.
Easy maintenance and field serviceable
Easier to clean – fluid pump gets cleaner and cleans faster with less water/solvent.
Lifetime Warranty on the Fluid Section

FlatLine™ Pulsation Dampener
Top Performance at all pressures (PSI)
Eliminates all pressure fluctuations and "dead-band" in the system and hose.
Pressure consistency from 300psi – 3300psi
Lifetime Warranty
Nitrogen-charged for automatic control

Sureflo™ Pusher Valve
Standard on all PL3500s
Guaranteed to prime every time you start up
No tools required to unseat lower check ball.
The PowrLiner PL3500 parking lot striping equipment is designed for contractors who work long and hard. The new swing-back cart design has a 65° frame stem design to give you more leverage. More leverage means you don't get as tired when you're striping. The 192-lb line striping machine is light and easy to push, and includes a PowrCenter dash: cup holder, two tip holders, and a three-position handle with a hose wrap.
Use it with either latex or oil-based paint.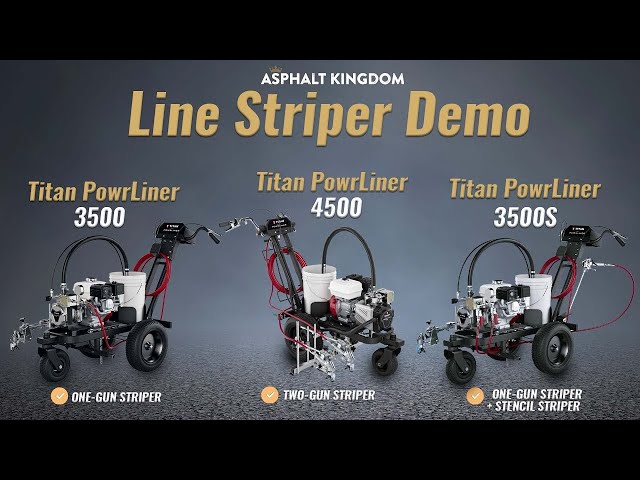 Paint Calculator
Let us help you determine what you need.
Have questions? We're here to help!

Speak to an Asphalt Expert!
Contact our Experts
Specification
| | |
| --- | --- |
| Shipping Weight | 259 lbs |
| Shipping Dimensions (L x W x H) | 69" x 37.3" x 49.3" |
| Weight (Empty Unit) | 192 lbs |
| Dimension (Empty Unit) | 65" x 32.5" x 39.5" |
| Titan Model Number | 537015 |
| Warranty | 4 years |
| Engine and Power Source | Honda GX120 with Pull Start |
| Gun(s) Included | 1 |
| Maximum Spray Tip Size | 0.027" |
| Maximum Operating Pressure | 3300 PSI (max) |
| Maximum Spraying Speed | 400 linear feet |
| Pump Drive | Clutchless Sealed Hydraulic |
| Airless Hose Included - Gun 1 | 1/4" x 50' |
Customer Reviews
Top customer reviews
I haven't had any mechanical issues, it works great, very pleased with how well it works, very low maintenance but having issues wit handle bars.

I have the same one. Used it for 3 years now. No issues.

It's a great machine. Simple to use

Working fine, no issues at all!


The machine is great and I make a lot of videos about your product to my YouTube channel.

The equipment works perfectly fine

I love it and it works perfect.

Performance wise, the machine works pretty well.

Been workng really well, it is easy to use. I have no complaints .
Line striping as a business? You bet! The secret that thousands of contractors from coast to coast know is that it's easy to make money in line striping as long as you know the tips and tricks below! If you want to get started in pavement marking as a business, click to add the Make it A Biz package to your order, absolutely free.
You'll get:
How To Sell Line Striping Video: Judd Burdon helps you practice asking the right questions from your prospects and how to give them the exact services they need, even if they didn't know they needed them! He'll tell you the most common objections you might hear and exactly what responses put your prospects' minds at ease.
Get-The-Edge Phone Scripts: If you have someone in the office making phone calls for you, you'll want them to use these powerful phone scripts to close more deals. Don't waste valuable dollars making calls that don't result in sales: increase your likelihood to close with these call scripts.
Digital Ads Pack: Use these graphics to advertise your line striping business on Google My Business or Facebook. Customers will be inspired to use your services when they see these great ads — just add your logo, put your phone number in the description, and get your message out!
Line Striping Proposal Template: Ever wasted hours trying to format a good looking template, only to give up and hand-write something that looks fly-by-night? Our professionally-designed proposal template helps you look great from the get-go. Just fill in a few blanks, print, and watch the sales come in.
Access to the AK Round Table: Want to join a group of like-minded people on a journey to build their own asphalt maintenance empire? Get access to our weekly Zoom meeting and get answers to your most pressing questions.
Line striping is a lucrative business that makes parking lots look great and keeps them ADA compliant. Add the Make it a Biz resources to your purchase and fast track your success in this industry!
Customer Questions
How To Set Up Your Line Striper | Titan PowrLiner 3500, 3500S, and 4500
How To Use Your Line Striper: Titan PowrLiner 3500, 3500S, and 4500 Application Tips
How To Clean Your Line Striper: Cleaning Your Titan PowrLiner 3500, 3500S, and 4500
The PowrLiner 3500 was delivered with oil in the tank, is that engine oil? Will I need to empty it and replace it with engine oil?
All line-stripers are shipped with engine oil, check the fill level and if it is satisfactory, proceed.
I would like to know if I need to clean the spray gun with mineral spirits before using it?
With a new Titan machine, it's a good idea to flush the entire system and gun with mineral spirits before using it. If using latex/waterborne paint, flush with soap/water before you pour paint into the 5 gallon pail.
Will this machine work with Oil Based Paint?
Yes, this machine can work with both Oil-Based Traffic Paint and Water-Based (Latex) Paint.
Is the PowrLiner 3500 shipped with engine oil? Will I need to empty it and replace it with engine oil?
All line-stripers are shipped with engine oil, check the fill level and if it is satisfactory, proceed.