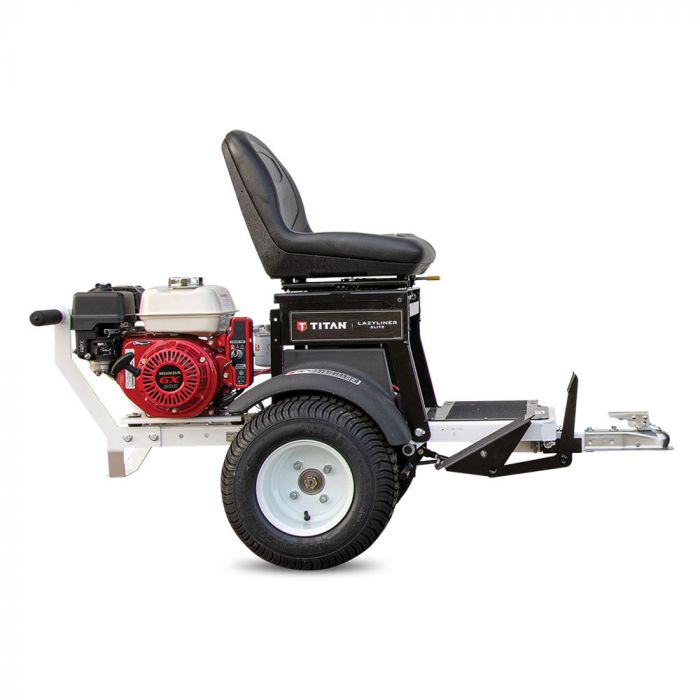 Add AK Make it a Biz Success Pack - Free With Purchase
Unlock your asphalt maintenance business's full potential with the AK Make it a Biz Success Pack, equipping you with expert-crafted tools and exclusive access to the AK Roundtable for accelerated growth and profitable opportunities.
Learn More

Make it a Biz Success Pack
Titan's best self-propelling seat for line striping machines with 7 HP electric start.
Read more
LazyLiner Elite
The latest Titan Lazyliner Elite model brings unparalleled performance and comfort for line striping. So, what's new? The self-propelling driving seat is now powered by a 6.5HP Honda Gx200cc engine with a low oil alert feature. While the older version can only go 0-7mph in reverse, the updated version can now go 0-12mph, whether you are going forward or reverse. The braking system has been upgraded too.
The LazyLiner Elite comes with an adjustable seat. You can change the height and move its mounting positions. The new model has a tilt-up seat feature for maximum comfort.
The new LazyLiner Elite still uses a one-foot pedal and stationary platform design for more natural machine control or maneuvering. Stepping on the right foot pedal will propel the LazyLiner Elite forward and reverse. The 16.5"x6.5" pneumatic tires remain the same. It provides a smooth ride even on bumpy surfaces. You will also find a useful compartment under the seat. An optional storage tray is available for more space.
Specification
| | |
| --- | --- |
| Titan Model Number | 0290040H |
| Gas Engine | Honda GX200 |
| Start | Electric |
| Forward Speed | 0-12 mph |
| Reverse Speed | 0-7 mph |
| Multi-Position Seat (Forward/back, side-to-side) | Yes |
| Height Adjustable Foot Pedals | Yes |
| Pneumatic Tires | Heavy-Duty(16"x6.5") |
Customer Reviews
Top customer reviews
Linestriping as a business? You bet! The secret that thousands of contractors from coast to coast know is that it's easy to make money in line striping as long as you know the tips and tricks below! If you want to get started in pavement marking as a business, click to add the Make it A Biz package to your order, absolutely free.
You'll get:
How To Sell Line Striping Video:

Judd Burdon helps you practice asking the right questions from your prospects and how to give them the exact services they need, even if they didn't know they needed them! He'll tell you the most common objections you might hear and exactly what responses put your prospects' minds at ease.

Get-The-Edge Phone Scripts

: If you have someone in the office making phone calls for you, you'll want them to use these powerful phone scripts to close more deals. Don't waste valuable dollars making calls that don't result in sales: increase your likelihood to close with these call scripts.

Digital Ads Pack:

Use these graphics to advertise your line striping business on Google My Business or Facebook. Customers will be inspired to use your services when they see these great ads — just add your logo, put your phone number in the description, and get your message out!

Line Striping Proposal Template

: Ever wasted hours trying to format a good looking template, only to give up and hand-write something that looks fly-by-night? Our professionally-designed proposal template helps you look great from the get-go. Just fill in a few blanks, print, and watch the sales come in.
Linestriping is a lucrative business that makes parking lots look great and keeps them ADA compliant. Add the Make it a Biz resources to your purchase and fast track your success in this industry!