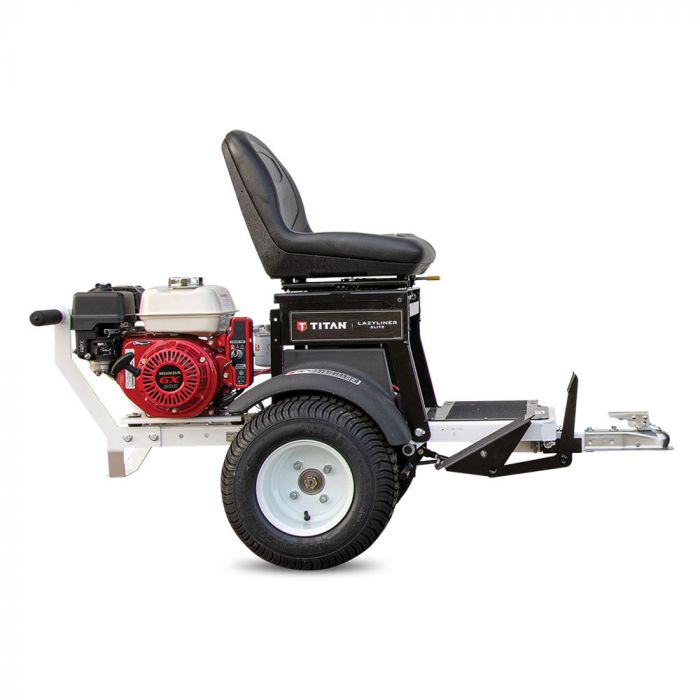 Titan's best self-propelling seat for line striping machines with 7 HP electric start.
Read more
LazyLiner Elite
The latest Titan Lazyliner Elite model brings unparalleled performance and comfort for line striping. So, what's new? The self-propelling driving seat is now powered by a 6.5HP Honda Gx200cc engine with a low oil alert feature. While the older version can only go 0-7mph in reverse, the updated version can now go 0-12mph, whether you are going forward or reverse. The braking system has been upgraded too.
The LazyLiner Elite comes with an adjustable seat. You can change the height and move its mounting positions. The new model has a tilt-up seat feature for maximum comfort.
The new LazyLiner Elite still uses a one-foot pedal and stationary platform design for more natural machine control or maneuvering. Stepping on the right foot pedal will propel the LazyLiner Elite forward and reverse. The 16.5"x6.5" pneumatic tires remain the same. It provides a smooth ride even on bumpy surfaces. You will also find a useful compartment under the seat. An optional storage tray is available for more space.
Specification
| | |
| --- | --- |
| Titan Model Number | 0290040H |
| Gas Engine | Honda GX200 |
| Start | Electric |
| Forward Speed | 0-12 mph |
| Reverse Speed | 0-7 mph |
| Multi-Position Seat (Forward/back, side-to-side) | Yes |
| Height Adjustable Foot Pedals | Yes |
| Pneumatic Tires | Heavy-Duty(16"x6.5") |
Customer Reviews
Top customer reviews