Traffic Zone Oil Based Solvent Marking Paint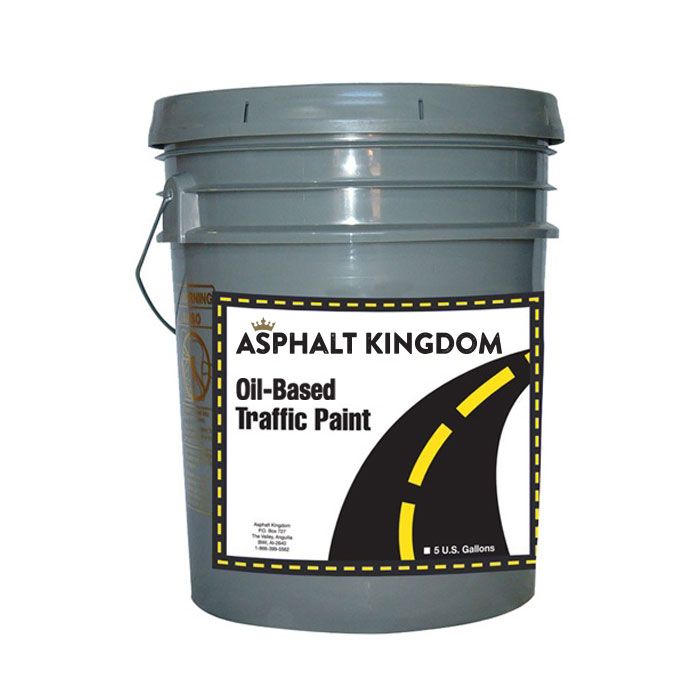 High performance oil-based traffic paint in half and full pallets.. Formulated for smooth and easy application and fast drying times so that you can start and finish as quickly as possible.

Save when purchasing multiple pallets and even more when buying a truckload. See pricing and available colors.



Limited quantities available!



Read more
5 Gallon pails of highly visible and long-lasting oil-based paint
Make $50,000+ per pallet
48,000 linear ft per pallet
Shipped to door or jobsite
Delivered in: 7-12 Business Days
Make It a Bundle
Have questions? We're here to help!

Speak to an Asphalt Expert!
Contact our Experts
Fast-Drying and Long-Lasting Traffic Zone Oil-Based Solvent Marking Paint
| | |
| --- | --- |
| SUPPLY UPDATE | Limited stock available! Please allow 3-5 days for order preparation and 7-12 business days for shipping. Truckloads also available. |
Available in half-pallet (11 pails) and full-pallet (22 pails). *Actual product packaging may vary.
The Oil-Based paints are made with the highest-quality raw materials which ensure long-term durability and color retention on concrete and asphalt. It repels with water when wet and can be applied in high-humidity conditions.
320 linear feet per gallon when striping 4-inch lines (15 Mil)
dries in 30 mins at 77°F
ideal traffic paint for airports, roads, parking lots and safety zones
suitable for asphalt or concrete
We recommend using any oil-based paint compatible linestriping machine for a professional-looking finish.
If you want the lines to be reflective, you can use our special road paint with hi-visibility glass beads while it's wet.
Can You Buy Oil Based Paint?
Due to State regulations, we are unable to ship or sell oil-based paints to the following states. You can shop our water-based paints.
Connecticut
Delaware
District of Columbia
Maine
Maryland
Massachusetts
New Hampshire
New Jersey
New York
Pennsylvania
Rhode Island
Vermont
Virginia (Northern Region)
Illinois
Ohio
California
Paint Calculator
Let us help you determine what you need.
Have questions? We're here to help!

Speak to an Asphalt Expert!
Contact our Experts
Specification
| | |
| --- | --- |
| Shipping Dimension | (Half-Pallet) 48" x 40" x 20" |
| | (Full pallet) 48" x 40" x 34" |
| Shipping Weight | (Half-Pallet) 750 lbs |
| | (Full Pallet) 1500 lbs |
| Color | White, Yellow, Blue, Red, and Black |
Customer Reviews
Top customer reviews
The paints are working great, the texture is good.
Customer Questions
The lines and handicap symbols I painted 24 hours after applying sealer to a parking lot turned brown. I waited one more day, but it turned out the same way. I had to redo the stripes and symbols after two weeks to cover up.
Sealer needs to cure for at least 24-48 hours in ideal temperature and weather conditions before applying traffic paint to ensure that no bleeding happens. Moist, humid and cold weather can delay proper curing time, so it is highly recommended to check the weather forecasts before sealcoating to ensure that the material sets and dries properly. To check if the sealer has dried, run your finger over the sealed surface and see whether the material still feels tacky to the touch. If it is, it might be best to give it more time to dry.
How much paint for 500 ft. of a street curb
Durable traffic paint is available in 5-gallon pails and generally offers 320 linear feet of coverage per gallon. For a 500 sq ft, containers needed for this job are two (2) 5-gallon paint.