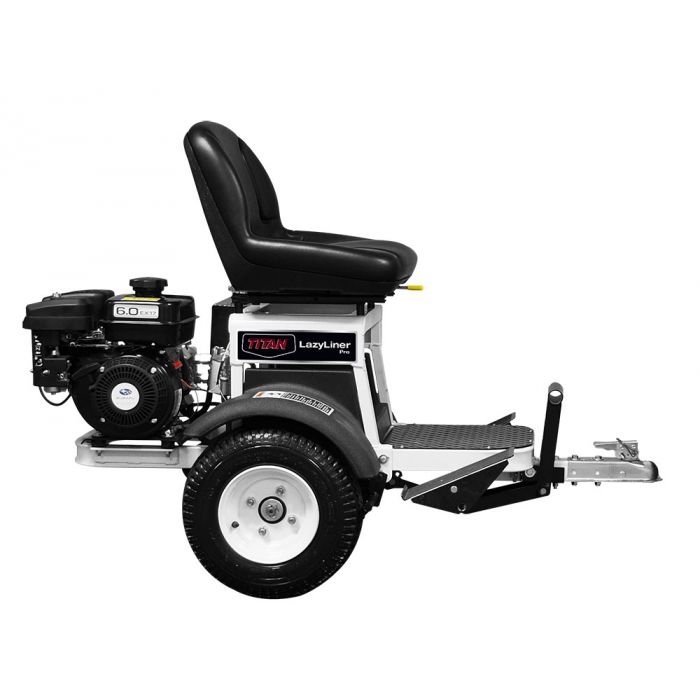 Go Pro! Convert your line striper into a self-propelled striping machine with Titan's dependable ride-on driver.
Read more
FREE SHIPPING
Delivered in: 14 Weeks
Have questions? We're here to help!

Speak to an Asphalt Expert!
Contact our Experts
Self-propel your line striper
Introducing the hard-working contractor's best friend: Titan's LazyLiner™ series, an exceptionally durable and dependable line striper seat. You work hard enough – do you really need to stand behind your line striper for line after line in every parking lot? The LazyLiner™ Pro is perfect for medium to large line striping jobs, allowing you to concentrate on accuracy and speed all day long – no more thinking about your tired feet!
Adding this drive-on seat to your asphalt equipment will make your line striping more efficient and less wearisome.
The LazyLiner™ Pro is powered by a Honda GX160 (5.5hp) with Low Oil Alert (Pull Start) with a 0-12 mph forward speed and a 0-7 mph reverse speed. With an adjustable seat and foot pedals that you can adjust up or down, you can find your most comfortable operating position so you can line stripe quickly.
Max Out Your Line Striping Efficiency
Own a PowrLiner 3500, 4955, 6955, or 8955? This Titan LazyLiner™ is the right choice if you want to have a powerful drive-on seat for your line striping jobs, without needing the extra benefits that the LazyLiner™ Elite offers. Each model from the Titan LazyLiner™ series is also compatible with Graco LineLazer.
You can also add the optional storage tray that attaches to the back of the LazyLiner™—just the thing you'll need if your job requires different paint colors.
Why should you consider this line striper add-on? A self-propelled line striper lets you stripe faster without tiring out, meaning you'll have the time and energy for more jobs. More jobs means more money! It's easy to hook the hitch (not included) and the drive-on seat to your existing walk-behind striper, turning it into a self-propelled line painting machine.
Have questions? We're here to help!

Speak to an Asphalt Expert!
Contact our Experts
Specification
| | |
| --- | --- |
| Titan Model Number | 0290041H |
| Gas Engine | Honda GX160 |
| Start | Pull |
| Forward Speed | 0-12 mph |
| Reverse Speed | 0-7 mph |
| Multi-Position Seat (Forward/back, side-to-side) | Yes |
| Height Adjustable Foot Pedals | Yes |
| Pneumatic Tires | Standard (16"x4.5") |
Customer Reviews
Top customer reviews
Attached to my Little Wonder

Loving this ride on unit that we attached to our blower to clean parking lots. saves us a ton of time.

lazy liner changed the way the world striped in 1996. It was the first and I believe the best bullet proof peace of equipment in my company.

LazyLiner2 is a money maker and knee saver for me! Love them.