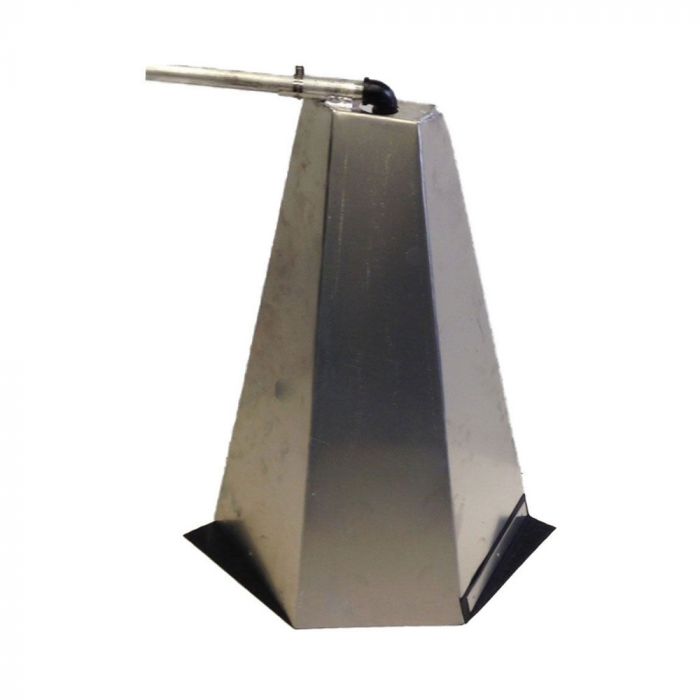 Short on manpower and need to do a sealcoating job on your own? Don't leave without bringing the Asphalt Kingdom sealcoat edger. It prevents overspray for a neater, cleaner jobsite. A must-have for spraying sealer on curbs and pavement adjacent to building walls.
Read more
Constructed from durable aluminum
Easy to install–just attach and use
Lightweight to reduce operator fatigue
FREE SHIPPING
Delivered in: 5-10 Business Days
Have questions? We're here to help!

Speak to an Asphalt Expert!
Contact our Experts
With Asphalt Kingdom's sealcoat edger, you no longer need someone holding up a piece of plywood or a blocker board to edge neatly while you're sealcoating!
Labor is expensive! Your resources should be doing more productive things for your asphalt maintenance projects rather than holding a board to protect asphalt borders.
Based upon valuable customer feedback, we have calculated that it takes only 20 hours worth of edging to pay back this Sealcoat Edger investment. Most contractors do approximately 20 hours of edging in one month. Anything thereafter is pure profit.
Simply attach this lightweight asphalt sealcoat edger to your spray wand and spray up close to building walls, garage doors, sidewalks, curbs, or grass without getting messy overspray.
The 14-gauge aluminum sides on this edger act as a wind guard, allowing you to edge with your spray gun at a 45° angle without over-spraying.
Keeps all overspray off of retaining walls, building siding, and vehicles.
Light-weight aircraft aluminum means less physical strain on your arms.
Designed by professional pavement contractors.
This time-saving tool will let you do one-man sealcoating jobs without hassle. This sealer edger is lightweight, making it easy for one person to do all of the sealcoat edging fast. This is great for sealcoating contractors that do a lot of work on driveways and business parking lots. It is versatile as well, letting you sealcoat the entirety of small asphalt pathways.
When it comes to one-person sealcoat edging, there are a few options. You can always pour out some sealer and apply it with a brush or squeegee, but you can end up with brush marks or uneven sealcoat application. If you use your sprayer without a blocker board, you risk overspray hitting the bottom of garage doors and walls, which damages your reputation for quality sealcoating jobs. Use this windguard sealcoating edger instead, so you can do your job professionally and quickly. There is also a rubber squeegee on one side of this tool, allowing you to create uniform edges.
Other edging tools can make you use more sealer than needed But by using a sprayer, you can apply just the right amount. The windshield on this sealer edger blocks the wind for you automatically, and you don't have to worry about sudden gusts that disrupt your spray. Its portability also lets you sealcoat in less conventional areas and complete quick spraying jobs.
Blacktop Calculator
Let us help you determine what you need.
Have questions? We're here to help!

Speak to an Asphalt Expert!
Contact our Experts
Specification
| | |
| --- | --- |
| Ready To Ship | Yes |
| Shipping Weight | 10 |
| Shipping Length | 25 |
| Shipping Width | 14 |
| Shipping Height | 32 |
| | |
| --- | --- |
| Construction | 14 gauge aluminum |
| Weight | 10 lbs |
| Shipping Dimensions | 25" L x 14" W x 32" H |
Customer Reviews
Top customer reviews
Weird Looking, Duobtful but surprised

Ok. I bought this with all sorts of doubt that it was going to be too heavy, awkward to edge, and so on. But to my surprise, this was the right approach to edging. Sprays outward to reduce puddling. I'm going to remove one star only because you need to have a ratchet with you to add to your sprayer and remove and I think adding and removing this took just as long as spraying the location. If they come up with a fast connect and release I would give this a 5 star.

I started Wyoming Asphalt Repair with Asphalt Kingdom equipment and material. I am very impressed with the how great the equipment runs and how great the material works. Their customer service and sales team is top shelf!!


Very time effective!!! Worth the investment.

Very time effective!!! Worth the investment.

This thing was brilliant. I should've bought one of these years ago

Absolute game changer! Pick one up for sure... I always use trim boards but you always gotta start, stop, wait and if trim man makes any wrong moves u cover the curb. This hose clamps to the wand and u control it. Really clean. Only thing is u should do all your trim and then spray so u ain't gotta keep takin it off. Believe me even circling around that bank lot one extra time it was still way faster

Well worth the money in my opinion.

We purchased one to try from Asphalt Kingdom, We bought another aluminum pipe and welded it to the edger and used quick couplers to switch to and from edger and normal spray wand. Edges much faster than broom or squeegee, well worth the money in my opinion.

Precision Asphalt Sealers

A must have for any sealcoating contractor. This is a investment that pays for itself the 1st time used. Saves you time, labor, and money. Don't think twice about purchasing this sealcoat edger!

The sealcoat edger was a great investment for our sealcoat business. I can now be out selling more jobs while my partner is spraying entire jobs on his own and neatly too. My time was not best spent holding a board but instead selling jobs. Highly recommended for all people who spray sealer.
Customer Questions
Which tip should you use with the sealcoat edger? And if there is a special tip can I order one
There is no need for a special tip to use the sealcoat edger, simply attach this lightweight sealcoat edger to your spray wand and spray up close to building walls, garage doors, sidewalks, curbs, or grass without getting messy overspray. The tip depends on the type of spray you want when seal coating your driveway.
How to clean the Sealcoat Edger?
After using the Sealcoat Edger, just let it dry.
When dry, take a rubber hammer and hit the outside of it. The material will flake off.
The Able Edger is made out of aircraft aluminum. Takes a lot to damage.