Wire Replacement Wheel for Crack Cleaning Machines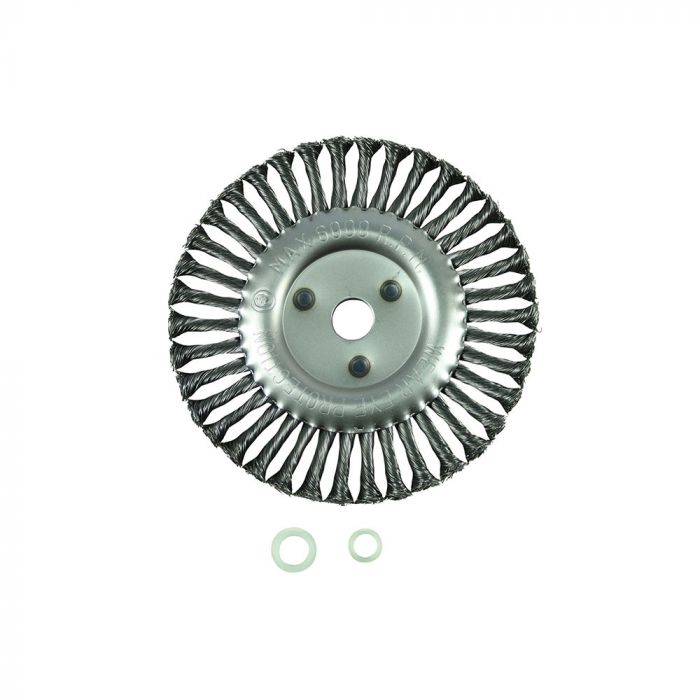 8" replacement wire wheel for Grazor, Landshark and Little Wonder machines fits a 7/8" shaft or use the included adaptors for 5/8" or 1/2" shafts.
Read more
Make It a Bundle
Whether you have a Billy Goat Grazor, a Landshark, or any other Crack Cleaning Machine that fits a standard 8-inch knotted wire wheel, you can stock up and save with our high-quality replacement wheels.
All-steel durability means long lasting.
Scrapes the inside of the cracked sidewalls preparing it for crackfiller.
Fits most crack cleaners in the market, billy goat, landshark and little wonder.
Crack Cleaning Machines are a valuable tool for the contractor who needs to clear out any debris or vegetation from cracks and crevices in preparation for crackfiller and sealant... and the Wire Replacement Wheel is an integral part of that process.
This durable, heavy-duty wire wheel removes stubborn dirt and grass from concrete and asphalt and is specifically designed to prepare the crack edges for filling. The cleaner the crack, the better your crack sealant will adhere, making a better, more professional job.
The 8" wire replacement wheel fits a ⅞", but also comes with two adapters: one to ⅝" and one to ½ inch. Be sure to observe strict speed restrictions for safe operation – max RPM is 6,000. While in use, dirt, debris, burrs, or other residues will fly off the brush with some force along with some brush filaments as part of normal wear. Also, avoid putting undue pressure on the brush which can bend the bristles and cause it to dull and fail.
Follow all safety instructions and wear protective clothing as well as inspect the wire wheel for wear with each use.
Customer Reviews
Top customer reviews
Asphalt Kingdom was second to none.

My experience doing business with asphalt kingdom was second to none Glenn Teano is my salesman. I was approved for $20,000 in financing and I put a whole list together of all types of things that I needed. But I wanted to take it slow put a little bit and now a week later a little bit more. He was great with that not pushy not trying to rack up my credit line just to make a sale. He took his time explain things to me when I had questions he had all the answers. I just can't say enough about thi

Read more

s company after two weeks I've received half of my order and it's all Bill very very well top quality equipment thank you Asphalt kingdom.

Very happy with the product!

We were buying replacements from a big name brand for a lot more money. These work perfectly in our BG Grazor for way less. Worth taking the chance.
Customer Questions
How long will the wire wheels last?
It depends on how aggressive the operator runs the machine - it can be days, weeks, or months. Ideally, you can use a wire wheel with 5000+ linear feet.