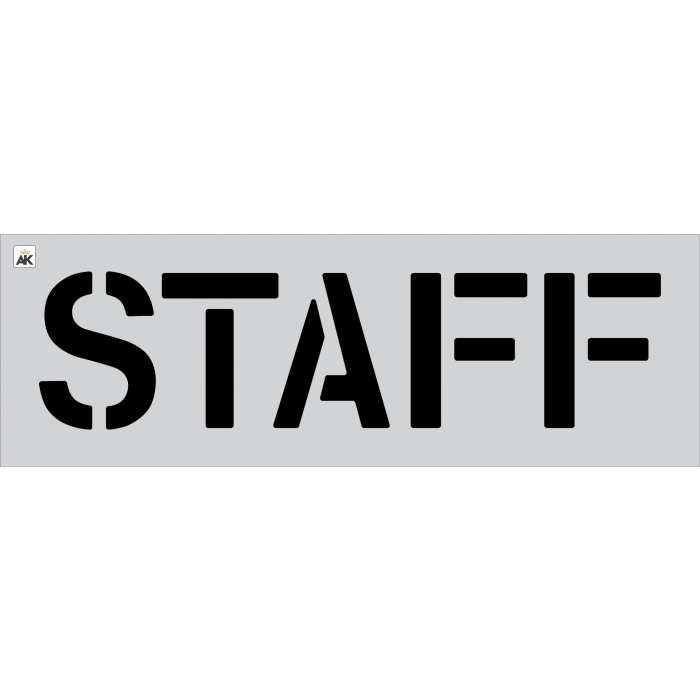 12-inch STAFF Stencil for pavement and road markings.

Read more
Use the 12-inch "STAFF" word stencil with other industry-standard signs such as "PARKING", "RESERVED", and "ONLY" to clearly indicate sections reserved for your company's staff and personnel. This stencil is designed using durable and highly-flexible clearn LDPE material so you are assured of accurate and consistent applications every time!
When printed, the word output measures 48" x 12" with a 2-inch stroke width, making it legible and easy to read even from a distance. The stencil sheet itself measures 54 x 18 inches overall, with a 3-inch space on each of its 4 sides to account for overspray. The stencil comes as a single sheet, making it easy to use, clean, and transport.
The STAFF stencil has 4 different thickness options suitable for all types of jobs and frequency of use. The thickest and most durable variation is the .080 ALU, made using sheets of commercial-grade Type 5052 aluminum. Since this type of aluminum does not contain copper, the .080 stencil sheets are more resistant to rust and corrosion compared to other types of aluminum alloys. The next thickest stencil type is the 1/8" (.125") PRO-Grade LDPE. Preferred by professional line stripers due to its high durability and flexibility, this variation can withstand daily use from spray guns with up to 3000psi spraying power. At half the thickness as the Pro-Grade option, the 1/10" (.100") Light-Duty LDPE is ideal for medium to light usage. This is ideal for property owners, managers, or contractors that use stencils a few times per year. Lastly, the 1/16" (.060") Light-Duty LDPE is applicable for one-time or very rare usage, as this is the thinnest variant available.
Using word stencils is an efficient method in cutting down time spent painting signs and directions compared to having to paint or spray each letter or character one by one. The extra expanse of stencil material around the content also ensures that you only get the necessary output, without any feathered edges or specks due to overspray.
Specification
| | |
| --- | --- |
| Ready To Ship | Yes |
| Stencil Name | Staff |
| Stencil Height | 12" |
| Stencil Width | 48" |
| Stencil Type | Word Stencil |
Customer Reviews
Top customer reviews
Customer Questions
are these one time use? or can they be cleaned and used multiple times?
Most contractors clean them and use them a few times. If you are rough with stencils in general, it is possible they would crack on the first go but in general that hasn't been our experience. If you're looking for something with more reusability, we can provide a heavy-duty version of these - just let us know.