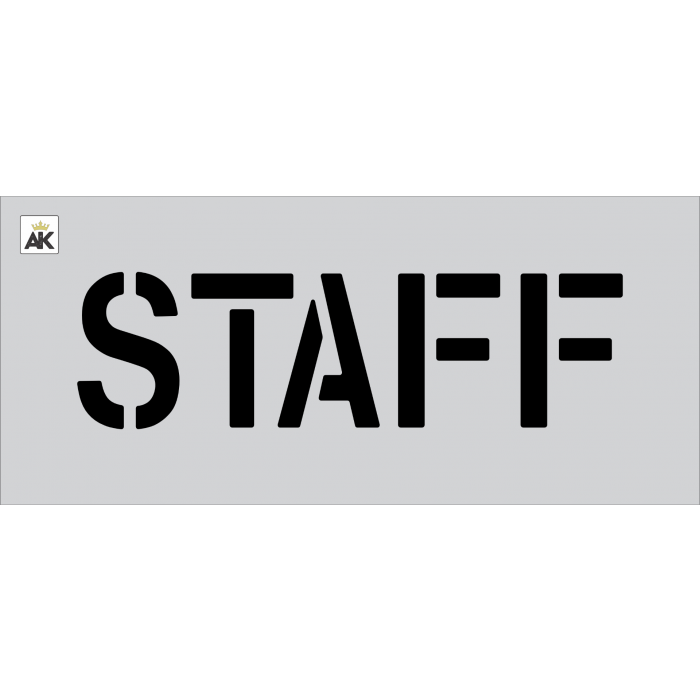 6 STAFF Stencil

Read more
Delivered in: 5-10 Business Days
Have questions? We're here to help!

Speak to an Asphalt Expert!
Contact our Experts
For custom business and warehouse parking lot projects, the 6" STAFF stencil is a great addition to any large or small collection. This stencil is typically used in a small parking lot, individual stall, warehouse area or even on a vertical facing curb. The stencil is useful for indicating which parking spots are designated for business staff members or certified personnel. This stencil is made in the USA and guarantees that it will be delivered without any defects or blemishes that could hinder it from being used the way it was intended.

This stencil is typically made with the .125" PRO-Grade LDPE material, allowing for durability and affordability for any range of stenciling needs. With this grade, you can use your stencil time and time again over the course of a decade before it ever shows any signs of weakness or wear. It is durable enough to lay flat while still withstanding up to 3000psi of spray paint. The .080 ALU is another durable option, offering a rigid aluminum make that will last forever. This material can be used for preforming thermoplastic striping as well, helping you to make a bold and clear directional statement.

The measurements of this stencil comply with all industry standards and are measured to fit well in small spaces while still creating a large, visible stencil. When painted, the stencil measures 26" in width and 6" in height, allowing for a clear and easy spray. The characters offer a 1" stroke width between them, so that the word can be easily read even from a distance. The material itself measures 32" wide by 12" high, giving plenty of space on all sides to allow for overspray. It is a versatile product that can be used on any type of pavement or curbed surface, and is approved for state and local projects where parking lot designation is needed.
Have questions? We're here to help!

Speak to an Asphalt Expert!
Contact our Experts
Specification
| | |
| --- | --- |
| Ready To Ship | Yes |
| Stencil Name | Staff |
| Stencil Height | 6" |
| Stencil Width | 22" |
| Stencil Type | Word Stencil |
Customer Reviews
Top customer reviews
Customer Questions
are these one time use? or can they be cleaned and used multiple times?
Most contractors clean them and use them a few times. If you are rough with stencils in general, it is possible they would crack on the first go but in general that hasn't been our experience. If you're looking for something with more reusability, we can provide a heavy-duty version of these - just let us know.