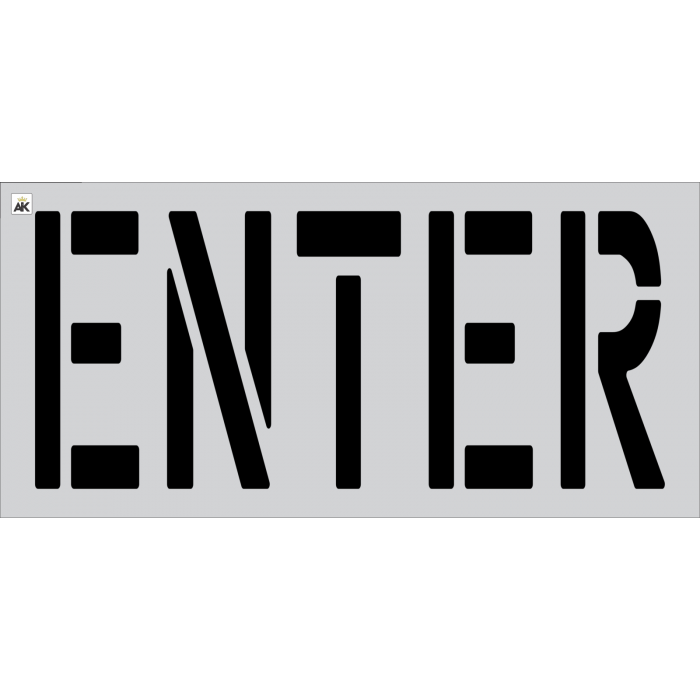 24 ENTER Stencil

Read more
Delivered in: 5-10 Business Days
Have questions? We're here to help!

Speak to an Asphalt Expert!
Contact our Experts
The 24" ENTER stencil is a must-have addition to any contractor's collection. Stripers who are invested in parking lot or roadway projects will get a lot of use out of this stencil. It is typically used to mark freeway entrances, driveway entrances, parking garage directions, and construction site zones. Its large size allows it to be easily seen from a distance, and the elongated letters are simple to see by moving traffic. This stencil often goes alongside the standard "EXIT" sign to complete any striping project. Each stencil is made in the USA and comes with a warranty that guarantees it to be free of any defects or impediments.

The measurements and specifications of the stencils comply with industry standards and are fit for use in most public areas. When painted, the stencil measures 68" wide by 24" high for easy readability. The material itself measures 74" wide by 30" high, allowing several inches of space on all sides to allow for overspray. The stencil is printed on a single sheet, making it easy to use, clean, and transport.

You can choose between four material grade options that are available for the make of your stencil. The .080 ALU is the thickest option, and is a rigid aluminum that lasts forever. This is the best choice for industrial sized or heavy-duty projects, as it can be reused indefinitely and can also withstand thermoplastic extruding. The next thickest option is the ?" PRO-Grade LDPE, which is an industry standard used by most professionals. This recommended and versatile material can last for up to a decade and withstand thousands of uses. The 1/16" LDPE is the counterpart to the PRO-Grade, but with half the thickness. This flexible material is good for light-duty projects. The thinnest material available is the .030" HIPS, a standard PVC that provides ultra flexibility while laying flat out of the box for a custom or one-time job.
Have questions? We're here to help!

Speak to an Asphalt Expert!
Contact our Experts
Specification
| | |
| --- | --- |
| Ready To Ship | Yes |
| Stencil Name | Enter |
| Stencil Height | 24" |
| Stencil Width | 55" |
| Stencil Type | Word Stencil |
Customer Reviews
Top customer reviews