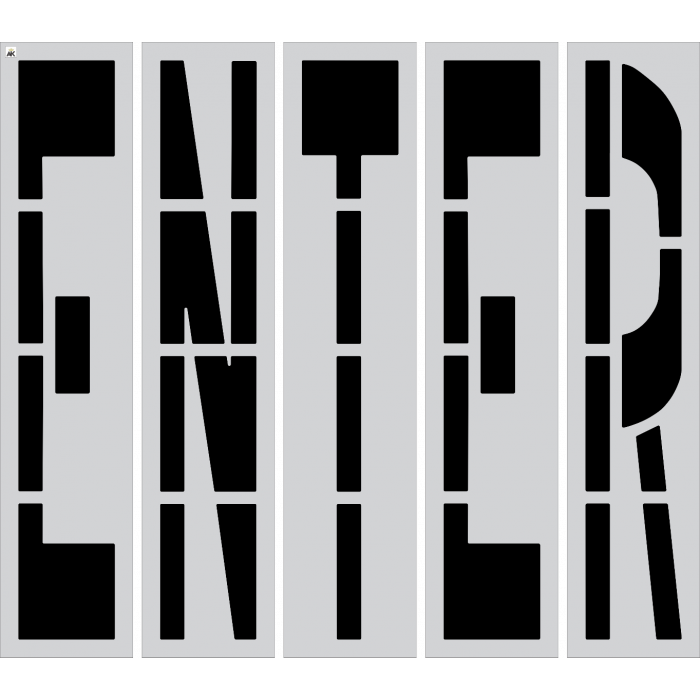 96 ENTER Stencil

Read more
The 96" ENTER stencil is a large and heavy-duty stencil that contractors will find useful for streets, roadways, fields, construction sites, parking garages, and more. This stencil meets all Federal FHWA and MUTCD standards and is designed to meet all industry requirements for use in public areas. The stencil comes with five individual pieces, with each letter on its own sheet for easy application and transportability. The front of the stencil is elongated, making it easier for oncoming traffic to see the word as they approach. This stencil is made in the USA and comes with a warranty that guarantees that it will be delivered without any faults or defects.

The measurements and specifications of this stencil can be adjusted in width to match the needs of your project. Each stencil can be spaced by 4" of overlap for a symmetrical fit. Although the width can be adjusted, the typical and standard measurement of the stencil measures 96" with a height of 96". The material itself measures 24" wide per piece, with a combined height of 104". Each stencil is cut for precision and can be spaced or overlapped with plenty of room left over for overspray.

There are four stencil grade options that this stencil can be made out of. The materials vary by durability, longevity, and cost effectiveness. For a large, heavy duty project, the .080 ALU is the thickest material grade available. It is indestructible and allows for unlimited reuses, and is strong enough for thermoplastic extruding. The ?" LDPE is also a durable option, and is the most commonly used material in the industry. It can be reused thousands of times over several years and offers affordability and reliability. If your project is small, custom, or infrequent, invest in the 1/16" LDPE or the .030" HIPS for something light. This flexible material is durable while laying flat out of the box for a custom fit.
Specification
| | |
| --- | --- |
| Ready To Ship | Yes |
| Stencil Name | Enter |
| Stencil Height | 96" |
| Stencil Width | 16" |
Customer Reviews
Top customer reviews