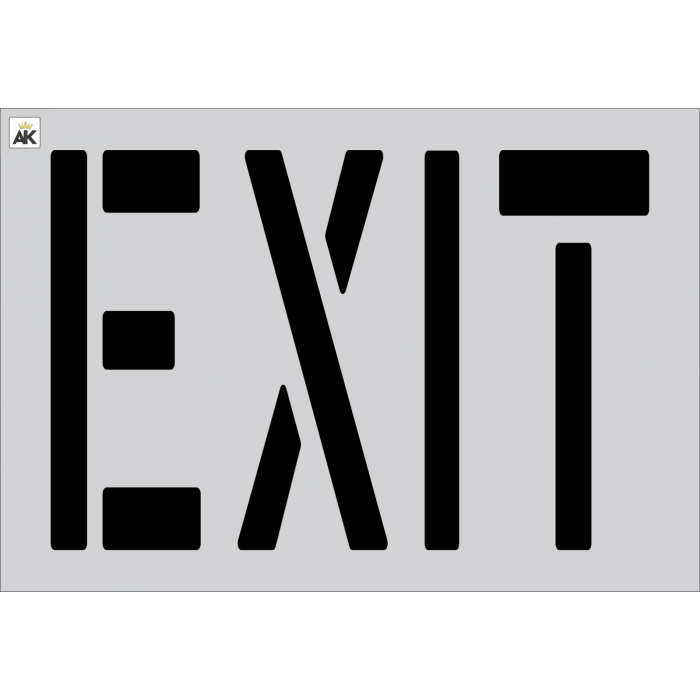 The 24-inch EXIT Stencil ensures that exits are clearly marked for better traffic flow and observance.

Read more
Delivered in: 5-10 Business Days
Have questions? We're here to help!

Speak to an Asphalt Expert!
Contact our Experts
Exits should be clearly marked as such, to ensure a proper and smooth traffic flow. The 24" x 9" EXIT word stencil is a convenient option in marking egresses in parking lots, freeways, or even in warehouses, medical facilities, and commercial establishments. Use this stencil with others of its kind, such as "ONLY", "HERE", and "EMERGENCY" to provide clearer and more specific directions.

This stencil is made in the USA using clear LDPE material that is very flexible and long-lasting. The overall size of this marking guide is 30" x 15", including 3-inch surrounding overspray borders. With a capacity to withstand high pressures of up to 3000psi, this road marking pattern can last for many years.

The EXIT word stencil has 3 available thickness options, namely: 1/8" (.125") PRO-Grade LDPE for multiple daily use, which makes it ideal for professional contractors, road marking specialists and line stripers; 1/10" (.100") Light-Duty LDPE for mid to light usage; and 1/16" (.060") Light-Duty LDPE for one-time or customized jobs that would only require stencil usage once or twice a year.

Whatever thickness you decide to purchase, the key here is to ensure that the product is cleaned and properly stored to ensure longevity. Stencils, especially the thin variations, are meant to be laid flat to prevent creasing and crimping. You can drill holes on the corners of each stencil sheet so they can be hanged flat against the wall or cabinet, or lay them flat in sturdy containers or boxes. Do not hang stencils by their bridges, as this strips of plastic can tear in the long run. Bridges are meant to ensure optimal painted output, and are not meant for hanging.
Have questions? We're here to help!

Speak to an Asphalt Expert!
Contact our Experts
Specification
| | |
| --- | --- |
| Ready To Ship | Yes |
| Stencil Name | Exit |
| Stencil Height | 24" |
| Stencil Width | 36" |
| Stencil Type | Word Stencil |
Customer Reviews
Top customer reviews