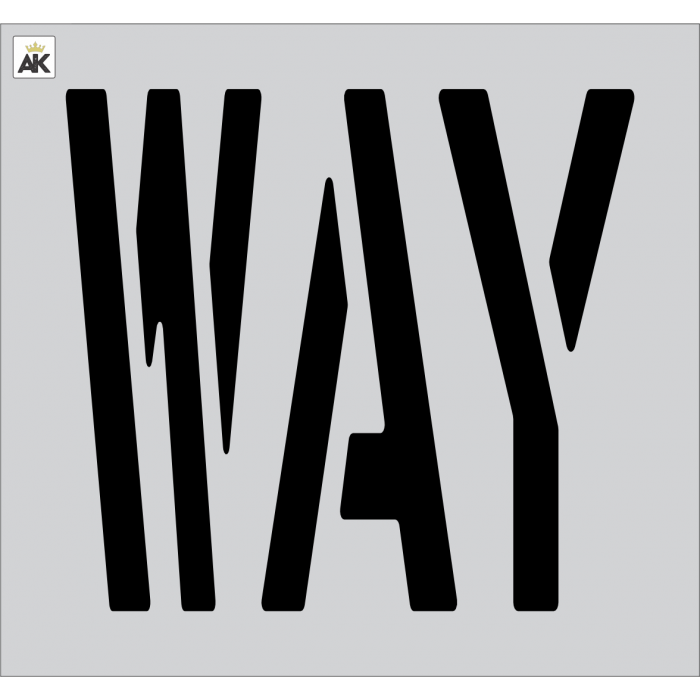 24x9-inch WAY Stencil (1-pc.) - 30" x 33" Overall stencil size

Read more
Delivered in: 5-10 Business Days
Have questions? We're here to help!

Speak to an Asphalt Expert!
Contact our Experts
The 24" x 9" WAY is a versatile stencil that can be used on multiple occasions. When paired with other word stencils such as "One" and "This", the WAY sign becomes more specific in providing direction to motorists and pedestrians alike. Proper pavement markings and signs are really helpful in preventing unnecessary accidents on the road.

With road safety in mind, our stencils are designed to be durable and long-lasting. The 24-inch Way stencil is made in the USA using clear low-density polyethylene (LDPE), which is an ideal material for stencil-making. This resilient product can withstand heavy pressures of up to 3000psi without showing signs of deterioration. With an overall size of 30" x 33", the Way stencil has 3 inches worth of additional material all around to cover oversprays, especially when using high-powered spray guns.

The 24x9-inch Way stencil comes in 4 thicknesses that can surely fit any job or project requirement. The .080" ALU is designed for use in locations that are constantly exposed to moisture and salt from rain or snow. This stencil grade is made with Type 5052 aluminum that has a high resistance to rust and corrosion. The 1/8" (.125") PRO-Grade LDPE is the thickest option among the plastic stencil varieties and is generally preferred by professionals because of its ability to hold up to constant use without showing signs of damage. The 1/10" (.100") Light-Duty LDPE is meant for medium to light use and is ideal for projects that only require stencils a few times a year. The thinnest version is the 1/16" (.060") Light-Duty LDPE, which is meant for rare or light usage. This stencil type is recommended for those who need stencils once or twice a year or less.
Have questions? We're here to help!

Speak to an Asphalt Expert!
Contact our Experts
Specification
| | |
| --- | --- |
| Ready To Ship | Yes |
| Stencil Name | Way |
| Stencil Height | 24" |
| Stencil Width | 27" |
| Stencil Type | Word Stencil |
Customer Reviews
Top customer reviews