4" Fire Lane-No Parking Stencil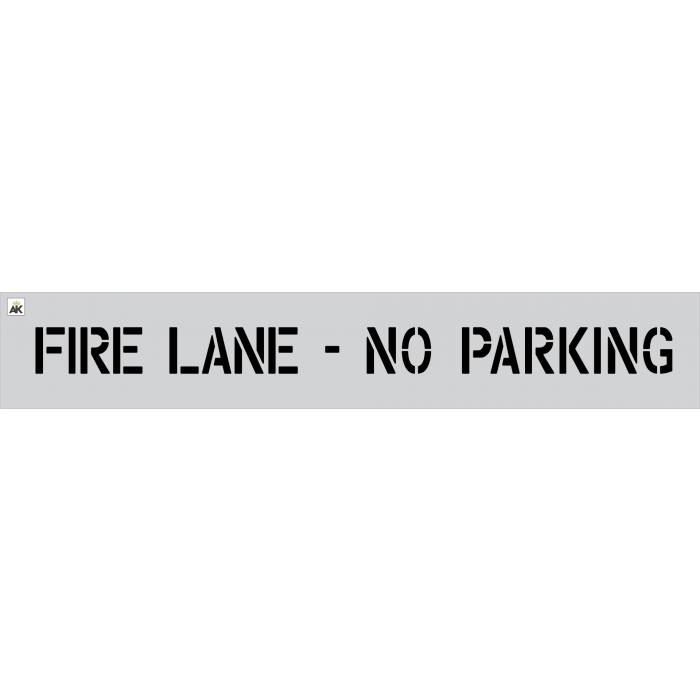 4-inch Fire Lane - No Parking Word Stencil

Read more
Delivered in: 5-10 Business Days
Have questions? We're here to help!

Speak to an Asphalt Expert!
Contact our Experts
If you are in the line striping and road marking business, you are most likely aware of requirements and regulations in your area regarding fire lanes in parking lots. The fire lanes are denoted with two red lines that are painted 24" apart, and marked with the painted words "Fire Lane - No Parking." This is where this 4" Fire Lane - No Parking stencil will prove most useful.
Compliant with Federal regulations, this stencil measures 10" x 61" overall, and features 4" high letter markings. Made using clear and durable LDPE, this high-quality industry-grade thick stencil is a top choice for those who need to use stencils on a regular basis. Low-density polyethylene (LDPE) is a very flexible material, and with proper use, you should be able to use the stencil thousands of times without problems. Just make sure to take proper care of the product and to clean it after each use.
The biggest takeaway of this stencil is that it comes in one piece. You no longer have to spend time worrying about lining up multiple pieces to form the entire phrase, or even worse, trying to do it with individual letters. Simply lay the stencil down on the surface you need to paint and get to work. This industrial-grade stencil sheet lays flat out of the box and can withstand up to 3,000psi of pressure. You will have consistent words and spacing every time you spray, and get professional-looking results every time.
The 4" Fire Lane-No Parking Word Stencil is available in 3 variations of thicknesses to accommodate different types of jobs:
► 1/16" (.060") Light-Duty LDPE for infrequent uses a couple times a year;
► 1/10" (.100") Light-Duty LDPE for multiple uses several times a year; and
► 1/8" (.125") PRO-Grade LDPE for professional line stripers who use stencils on a daily basis.
Have questions? We're here to help!

Speak to an Asphalt Expert!
Contact our Experts
Specification
| | |
| --- | --- |
| Ready To Ship | Yes |
| Stencil Name | Fire Lane |
| Stencil Height | 4" |
| Stencil Width | 55" |
| Stencil Type | Word Stencil |
Customer Reviews
Top customer reviews
Customer Questions
are these one time use? or can they be cleaned and used multiple times?
Most contractors clean them and use them a few times. If you are rough with stencils in general, it is possible they would crack on the first go but in general that hasn't been our experience. If you're looking for something with more reusability, we can provide a heavy-duty version of these - just let us know.