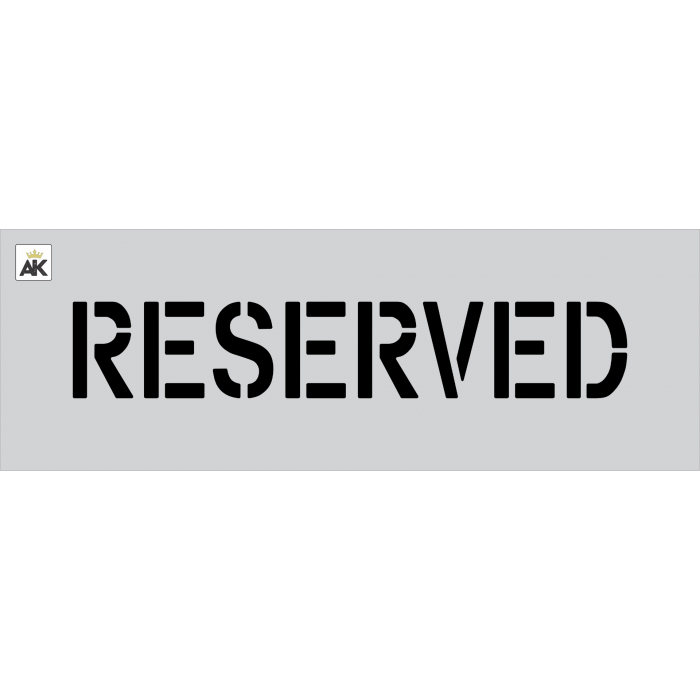 The reserved stencil for a parking lot can be particularly made for either a flat area or a curb, but it is quite flexible for either surface.

Read more
Highest clear LDPE Grade material
Durable and reusable
Very easy to clean
FREE SHIPPING
Delivered in: 5-10 Business Days
Have questions? We're here to help!

Speak to an Asphalt Expert!
Contact our Experts
The 4" RESERVED stencil is an industry standard product that offers stripers the ability to paint a small "Reserved" sign in parking spots, stalls, or more. The stencil measures just 4" in height and 32" in width for a noticeable sign that will easily stretch across the parking space. The stencil measures 32" wide and 10" high, giving extra stencil space for overspray and ease of placement on a flat surface or a curb. The stencil can be specifically designed for either a flat surface or a curb, but is pretty flexible for either surface.

The stencil is made in the USA and offers factory direct materials that come with a warranty. The stencil is guaranteed to be delivered in perfect condition, and will be free of any defects or blemishes that will hinder the use of the product in any way. It can be used for any project, no matter how large or small, and a variety of grades are available to accommodate these project sizes.

For a lightweight and light-duty stencil project, invest in the 1/16" LDPE or the .030" HIPS for reliable and flexible use. These materials are trusted by industry professionals and are thin enough for single or few-time usage without showing signs of wear or tear. For something more durable, the ?" LDPE is an industry standard and the .080" ALU is an indestructible aluminum material. Feel free to use and abuse each stencil without having to worry about it warping or breaking in any way. Because they never have to be replaced, they are the most cost effective options for your "Reserved" stencil project.
Have questions? We're here to help!

Speak to an Asphalt Expert!
Contact our Experts
Specification
| | |
| --- | --- |
| Ready To Ship | Yes |
| Stencil Name | Reserved |
| Stencil Height | 4" |
| Stencil Width | 23" |
| Stencil Type | Word Stencil |
Customer Reviews
Top customer reviews
Customer Questions
are these one time use? or can they be cleaned and used multiple times?
Most contractors clean them and use them a few times. If you are rough with stencils in general, it is possible they would crack on the first go but in general that hasn't been our experience. If you're looking for something with more reusability, we can provide a heavy-duty version of these - just let us know.