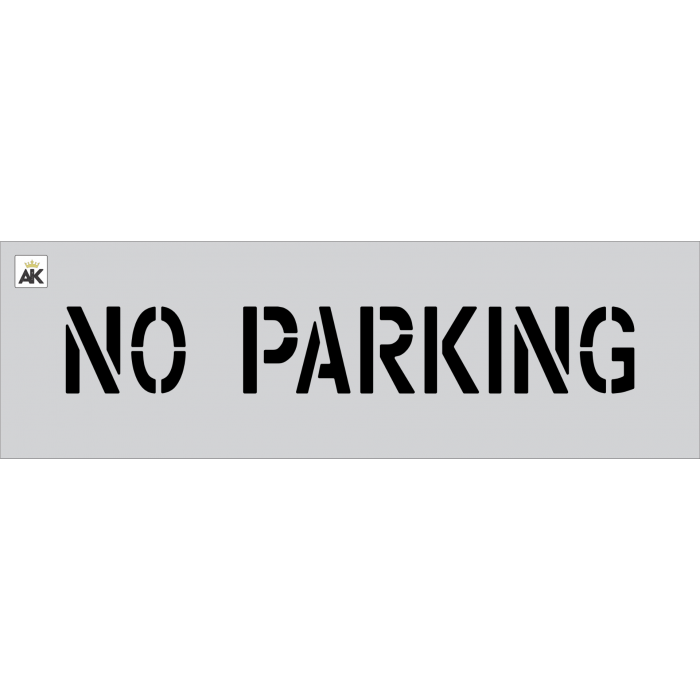 The 4-inch No Parking Stencil great for curbs and small spaces that cannot allow to fit larger markings.

Read more
The 4" No Parking stencil is ideal for small areas, curbs, or surfaces that do not have ample space for larger markings. Measured at 10" x 38" overall, this LPDE pavement marking pattern can hold up against spraying power of up to 3000psi and has extra spaces around the letters to block potential oversprays. Since the stencil is made with clear material, you can easily see exactly where you need to lay down the guide and get started. No more guesswork when creating a series of painted word markings in a specified area.
When choosing the type of stencil to use for your business, some of the factors that you need to consider are: material, thickness, and overspray or "edge distance." Our stencils are made of clear Low-density polyethylene (LDPE), so they are very durable, flexible, and easy to clean. These reusable stencils are available in 4 different thicknesses to fit all sorts of usage, based on your project requirements. The first option is .080" ALU, which is manufactured using Type 5052 aluminum alloy that is not susceptible to rust or corrosion caused by salt. With this type of stencil, you are assured that you can continue using this pavement marking guide for many years. The 1/8" (.125") PRO-Grade LDPE or 125 mil. version is what veteran line striping contractors use due to its capacity to hold its shape and lay perfectly flat despite being subjected to the pressures of constant spraying. The 1/10" (.100") Light-Duty LDPE variety is ideal for infrequent use - about a few times a year. The thinnest variant is the 1/16" (.060") Light-Duty LDPE. This type of stencil is great for very minimal use, such as once or twice a year. This is ideal for schools, hospitals, and small shopping centers that do their own line striping.
Specification
| | |
| --- | --- |
| Ready To Ship | Yes |
| Stencil Name | No Parking |
| Stencil Height | 4" |
| Stencil Width | 27" |
| Stencil Type | Word Stencil |
Customer Reviews
Top customer reviews
Customer Questions
are these one time use? or can they be cleaned and used multiple times?
Most contractors clean them and use them a few times. If you are rough with stencils in general, it is possible they would crack on the first go but in general that hasn't been our experience. If you're looking for something with more reusability, we can provide a heavy-duty version of these - just let us know.