40 Boxes of Hot Rubber Crack Filler Bulk Buy (4 Pallets)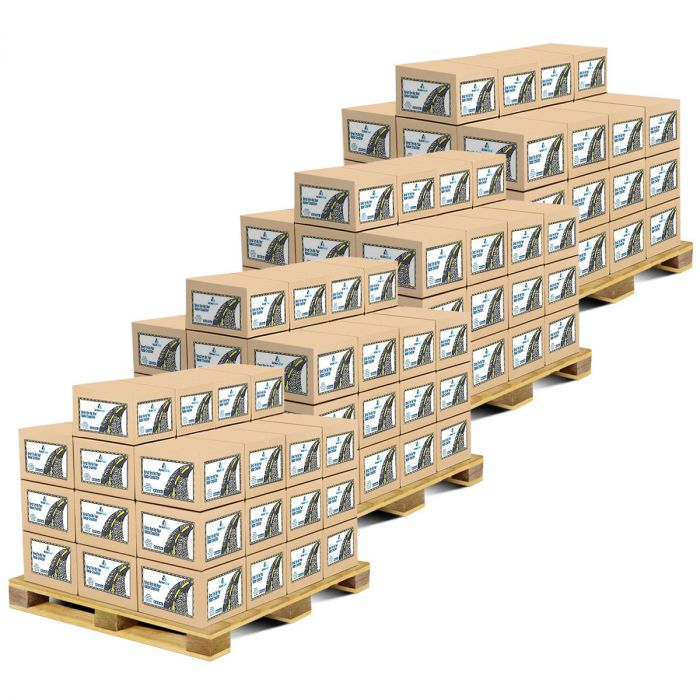 This product is not in stock in USA. If you'd like a quote on getting it delivered to you, please fill out your information.
Save $300 when you get 4 pallets of commercial grade hot pour rubber crack filler for driveways and parking lots to create a water tight seal preventing potholes and further damage. 8,000 lbs.
Read more
With this pallet of hot rubber crack filler, you are prepared for the remainder of the season. Buy crack filler in bulk and save.
Make $56,000 with 4 pallets
Cracks sealed for 3-4 years
10-year shelf life
FREE SHIPPING
Add These To Minimize Your Effort!
Have questions? We're here to help!

Speak to an Asphalt Expert!
Contact our Experts
With Asphalt Kingdom's hot pour crackfiller, you can have pro-level crack repairs that will block out water and elements from absorbing into the crack. Fast-drying and a quick melter, this crackfiller will have you working more efficiently than with other brands.
Four Pallets of 40 boxes.
Each 50lb box contains 2 x 25lb blocks.
Works in all Direct-Fired Melter / Applicators
1-2 hour fast dry time
Fills approximately 56,000 linear feet of cracks depending on depth and width of opening
Can be used in direct-fire or oil-jacketed melters like the RY10 PRO melter applicator.
Bulk Pallets of Driveway Crack Filling
It's true – you save more when you buy in bulk and if you have the storage space, it's just more efficient! Get $75 off per pallet - a total of $300 savings! Save time by getting several pallets at once; you'll have the material you need for 56,000 linear feet of crack repairs and you'll be confident that you can tackle even the biggest crack repair projects.
Each pallet weighs 2,000 lbs and provides approximately 14,000 linear feet of coverage. The exact coverage may vary depending on width and depth of the asphalt cracks.
How to use the Crack Filler
This rubberized crackfiller needs to be melted before use, either in an oil-jacketed or a direct-fire melter. Each box has two blocks of 25-lbs each. With the RY10 PRO for example, you can either melt a 25-lb block very quickly or load the full 50 lbs of one box in. Fire up the halo-enclosed burner and you'll be able to start repairs in minutes.
Once the crackfill is applied to the crack, it will dry within one to two hours and make a watertight seal.
Bulk Crack Filler for Crack Repair Businesses
Crack repair is an easy sell in Canada. With our harsh winters of snow and ice, water can seep into any unrepaired cracks and cause more damage leading to more cracks or potholes. Crackfilling is a great preventative measure against costlier repairs or even repaving.
For asphalt-related businesses, it also makes sense to use quality materials. With a shelf-life of 10 years, you can be sure that you'll have all of the crackfill you need for all of your crack repair jobs.
Have questions? We're here to help!

Speak to an Asphalt Expert!
Contact our Experts
Specification
| | |
| --- | --- |
| Ready To Ship | No |
| Shipping Weight | 2067 |
| Shipping Length | 48 |
| Shipping Width | 40 |
| Shipping Height | 46 |
| | |
| --- | --- |
| Dimensions | Each Pallet: 40" W x 48" L x 46" H |
| Weight | 2,025 lbs per pallet |
Customer Reviews
Top customer reviews
Fantastic product, and service. Pallets always arrive within days of ordering and the quality of the crack filler is superb.
Customer Questions
What type of sand can I put on top of the cracks if traffic needs to drive on it before crackfill has completely hardened? Can I use regular sand?
It is best to use silica sand. Silica sand is basically 99% to 99.5% silicon dioxide, meaning, it is pure, more stable, and is resistant to acid. Regular sand, on the other hand, contains a lot of impurities such as a mix of feldspar and other oxide minerals with very low silica content.
After applying crackfill, how soon can you seal coat?
Whether you used liquid cold-pour crack filler or rubberized hot-pour crack filler, it is best to let the product dry completely before applying sealer. Depending on ambient and surface temperatures, the actual drying time of the crack fill can vary. We usually recommend allowing crack fill to dry for 24 to 48 hours before applying sealer.