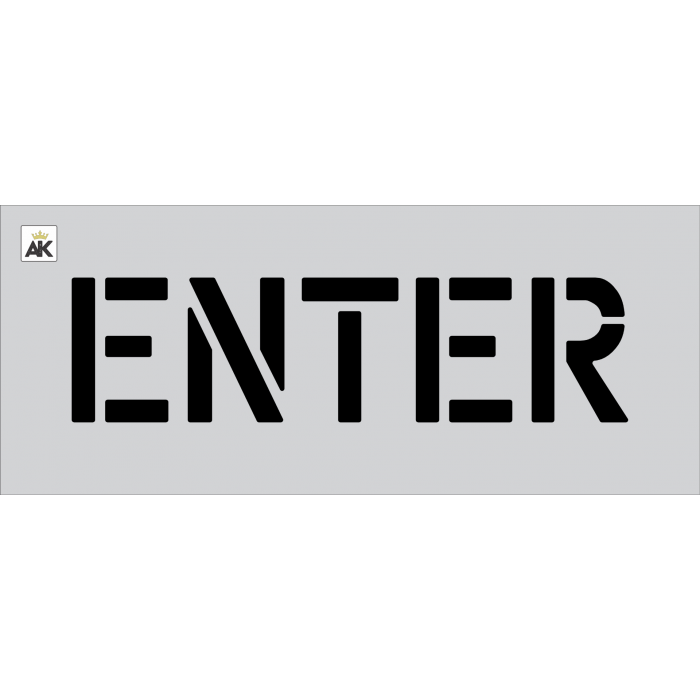 This pavement stencil, which is small but noticeable, is frequently used for a wide range of imprints, including storefronts, parking lots, driveways, warehouse directions, parking garage signage, and more.

Read more
Three alternative thicknesses of the highest clear LDPE grade are offered
Enduring and Recyclable
Extremely simple to clean
FREE SHIPPING
Delivered in: 5-10 Business Days
The 6" ENTER stencil is a small but visible stencil that is typically used for a variety of imprints which include storefronts, parking lots, driveways, warehouse directions, parking garage signs, and more. The sign is cut with precision to print perfectly on the pavement and provide drivers and pedestrians alike with the ability to clearly see the sign. Any beginner or veteran striper can add this useful stencil to their collection, as it pairs well with other stencil words such as "DO NOT" or "EXIT".

The measurements of this stencil are compliant with all industry standards and meet all regulations for public or private projects. The material reaches a width of 31" and a height of 12", allowing plenty of extra material space for overspray while painting. When painted, the stencil word reaches a width of 25" and a height of 6". There is plenty of space on all sides of the stencil to be easily held down and set in place while striping. The stencil's letters have a stroke width of 1" for crisp readability.

The next step is to select a stencil grade for your custom stencil. If you are investing in a heavy duty or large-scale project, it is best to use the professionally recommended ?" LDPE for longevity. This is the industry standard material, and is most commonly found with these types of stencils. They are durable, lasting over 7 years and allowing for thousands of reuses before needing any type of replacement or repair. There is a thicker option that proves virtually indestructible. The .080 ALU is a 2052 aluminum material that allows for thermoplastic and preformed stripping as well as traditional pavement painting. For something lighter duty, invest in the 1/16" LDPE or the .030" HIPS. These two grades are flexible and durable for a one-time or custom paint job.
Specification
| | |
| --- | --- |
| Ready To Ship | Yes |
| Stencil Name | Enter |
| Stencil Height | 6" |
| Stencil Width | 18" |
| Stencil Type | Word Stencil |
Customer Reviews
Top customer reviews
Customer Questions
are these one time use? or can they be cleaned and used multiple times?
Most contractors clean them and use them a few times. If you are rough with stencils in general, it is possible they would crack on the first go but in general that hasn't been our experience. If you're looking for something with more reusability, we can provide a heavy-duty version of these - just let us know.