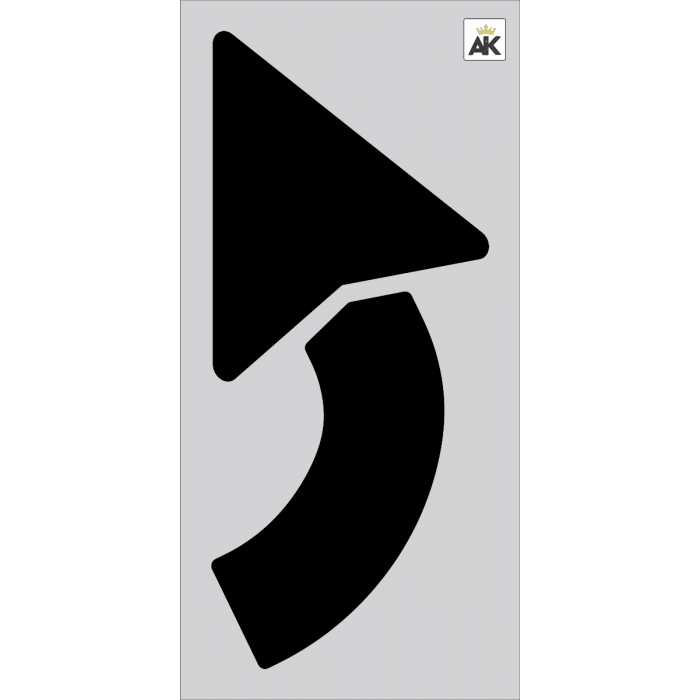 62 TURN ARROW Stencil

Read more
For a versatile and useful stencil, invest in the 62" turn arrow. This is a common stencil that is found on most parking aisles, drive thru lanes, and roadways with a speed limit of 25 mph or below. This arrow is large in size and offers crisp and clear readability against the pavement. Contractors can use this stencil to give clear direction to drivers and passersby. It is made in America and offers a warranty that guarantees the product to be delivered without any defects or impediments.

Choose one of four material grade options that make up the stencil. The most common material is the ?" PRO-Grade LDPE, which is a durable and reliable material that most industry professionals would recommend. Reuse it thousands of times over several years without worry. For something lighter duty, the 1/16" LDPE is flexible without sacrificing durability. It is the twin of the PRO-Grade LDPE with half of the thickness. It is good for custom or infrequent projects. An ultra-thin option is the .030" HIPS, which is a PVC economy material that is affordable if you're only interested in a custom job. The most durable material available is the .080" ALU, a solid aluminum that is indestructible.

The measurements of the stencil meet all industry standards and are Federally approved for slow roadways and parking lots. The arrow measures 62" in width and 40" in height when painted, adding a tail stroke of 13" for added clarity. The material itself measures 68" in width by 46" in height, giving over 6" of space around all sides of the stencil to allow for overspray and durable placement during application. This arrow is used for larger projects and can easily cover up an older or smaller turn arrow in any lane or parking garage. It can be delivered to your doorstep the next day so you can start your striping project as early as possible.
Specification
| | |
| --- | --- |
| Ready To Ship | Yes |
| Stencil Name | Turn |
| Stencil Height | 62" |
| Stencil Width | 40" |
| Stencil Type | Directional Stencil |
Customer Reviews
Top customer reviews
Customer Questions
are these one time use? or can they be cleaned and used multiple times?
Most contractors clean them and use them a few times. If you are rough with stencils in general, it is possible they would crack on the first go but in general that hasn't been our experience. If you're looking for something with more reusability, we can provide a heavy-duty version of these - just let us know.