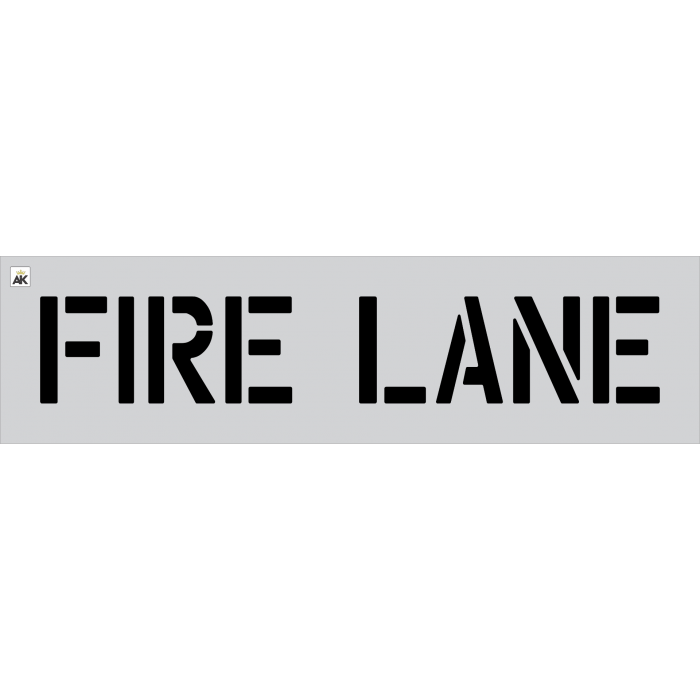 8-inch FIRE LANE Word Stencil

Read more
Fire lanes need to be clearly marked to ensure that no obstructions or unnecessary traffic prevent a smooth flow when an emergency arises. This is why the 8" FIRE LANE word stencil proves to be a very handy piece of instrument in specifying emergency lanes in a parking lot, street, or access roadway. Due to its size, the 8-inch Fire Lane stencil is ideally used for marking curbs, signs in front of curbs or areas on pavement that can be easily seen by drivers and pedestrians. This stencil is made from durable clear LDPE material that is tough enough to withstand spraying pressures of up to 3000psi.

With an overall size of 61 x 14 inches, this word stencil has a 3-inch surrounding border to accommodate for oversprays. When used for painting pavements, the output marking measures 8 x 55 inches. This single-sheet word stencil is precision-cut using a CNC router, so you are assured that each letter is evenly spaced to ensure clear and professional-looking pavement markings every time.

The 8-inch word stencil is available in 3 different thicknesses that can fit any job type. The thickest and most durable grade is the 1/8" (.125") PRO-Grade LDPE that is designed specifically for line striping and pavement maintenance contractors that need to use stencils multiple times per workday. Next is the 1/10" (.100") Light-Duty LDPE, which is slightly thinner than the Pro-Grade. This stencil type is best used for medium to light jobs that would only require stencil usage a few times a year. This is ideal for DIYers and property owners and managers. The 1/16" (.060") Light-Duty LDPE is the thinnest variant available and is designed for very infrequent usage. Recommended for schools, small businesses, and institutions or communities that only need pavement markings done once or twice a year.
Specification
| | |
| --- | --- |
| Ready To Ship | Yes |
| Stencil Name | Fire Lane |
| Stencil Height | 8" |
| Stencil Width | 46.25" |
| Stencil Type | Word Stencil |
Customer Reviews
Top customer reviews
Customer Questions
are these one time use? or can they be cleaned and used multiple times?
Most contractors clean them and use them a few times. If you are rough with stencils in general, it is possible they would crack on the first go but in general that hasn't been our experience. If you're looking for something with more reusability, we can provide a heavy-duty version of these - just let us know.