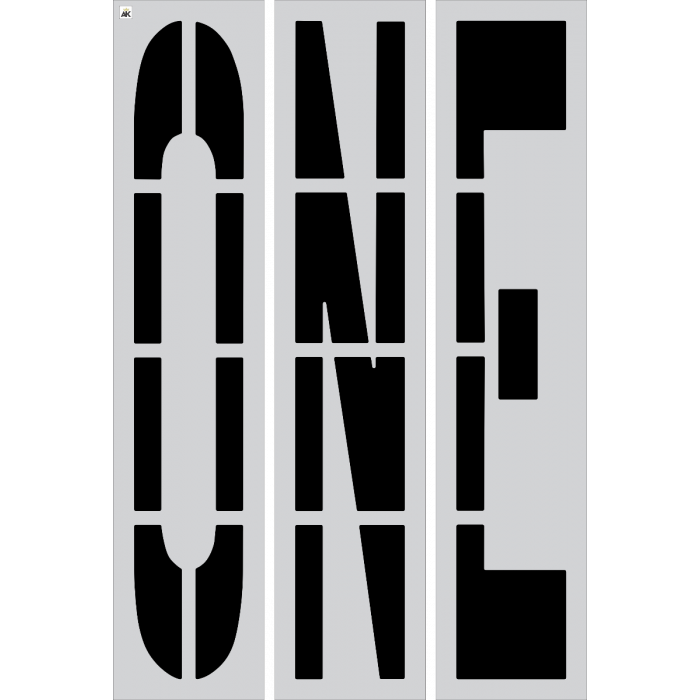 96 ONE Stencil

Read more
The 96" ONE stencil is a larger industry standard sign that is used for a variety of purposes. Contractors will find this a useful addition to any collection, as it can be commonly found on roads, driveways, parking lots, exits, toll booths, special lanes, and more. This sign can be used alone or paired with other industry standard signs such as "WAY", "ONLY", and more. The stencil is cut on three individual pieces, with each letter printed on its own piece for ease of access and transportability. The advantage of this stencil is that it meets Federal MUTCD specifications as well as provides a standard wording requirement for most state DOT's. It is an essential addition to any part of a street or roadway contractor's work. This stencil is manufactured in the USA and comes equipped with a warranty that guarantees that it will be free of any impediments or defects that could hinder it from its full use.

There are four stencil grade options to choose from when selecting the right material. If you are invested in a heavy duty or industrial sized project, a more durable grade would be the cost effective choice. The .080 ALU is indestructible, offering a rigid 5052 aluminum that allows for unlimited uses over many years. This hardy material can withstand thermoplastic extruding and will save money in the long run as it never needs to be replaced. A more common material grade for this type of stencil is the ?" PRO-Grade LDPE, which is an industry standard. This grade can lay flat on the ground and stay put during application, and offers several years of reuse before it ever shows any signs of wear or tear. For a more custom project, consider the 1/16" LDPE or the .030" HIPS. These materials are flexible without sacrificing durability, and they lay flat out of the box for a perfect one-time or few-time stencil.

The measurements and specifications of this stencil can be adjusted to fit the needs of your specific project. Typically, the word measures 56" in width and 96" in height when printed. Each material piece measures 24" in width with a height of 104" to allow for overspray.
Specification
| | |
| --- | --- |
| Ready To Ship | Yes |
| Stencil Name | One |
| Stencil Height | 96" |
| Stencil Width | 16" |
| Stencil Type | Word Stencil |
Customer Reviews
Top customer reviews
Customer Questions
are these one time use? or can they be cleaned and used multiple times?
Most contractors clean them and use them a few times. If you are rough with stencils in general, it is possible they would crack on the first go but in general that hasn't been our experience. If you're looking for something with more reusability, we can provide a heavy-duty version of these - just let us know.