AK Line Super Striping Package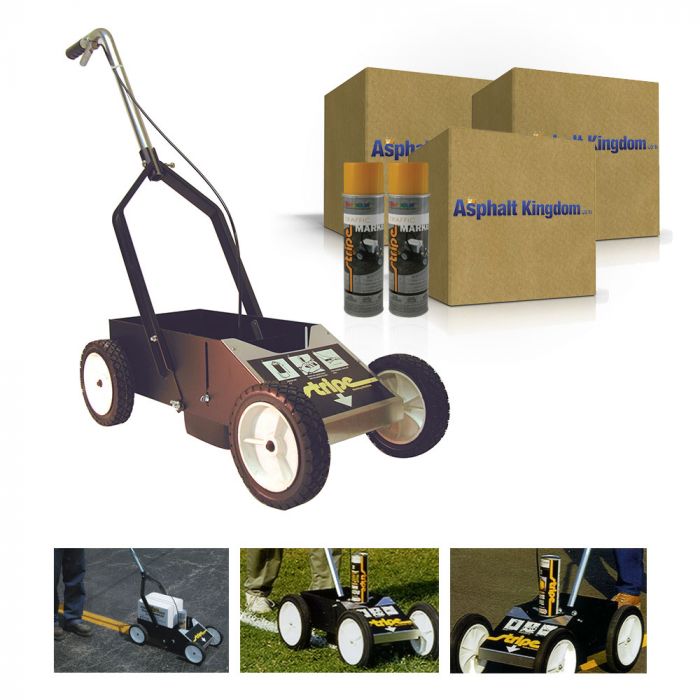 Add AK Make it a Biz Success Pack - Free With Purchase
Unlock your asphalt maintenance business's full potential with the AK Make it a Biz Success Pack, equipping you with expert-crafted tools and exclusive access to the AK Roundtable for accelerated growth and profitable opportunities.
Learn More

Make it a Biz Success Pack
Recommended for parking lot owners. Includes 36 cans of paint!
Read more
Super Striper plus Paint. You could earn up to $1,000 striping lines in small lots.
The Asphalt Line Striping Package
This AK Striper Package is a wonderful opportunity for those wanting to go out and market line striping services to those who need parking lines. You can charge as much as $10 per line.
Remember, a case of 12 cans costs $209 if you buy this package. As mentioned above -- you can do 120 parking lines at $10 each ($1200 total job) line with ONE case of 12 cans. Your cost is $209, which means you can earn over $1000 in profit in one day. A wonderful line striping opportunity.
This package comes with 3 cases of line striping paint. You can choose between traffic yellow, white, dark blue, black or fluorescent yellow. The aerosol paint cans may be used with the AK Striper or by hand. Paint straight lines with the AK Striper, or paint curbs and stencils by hand.
Perfectly suited for striping small parking lots or for touching up existing lines, this line striping package is just the thing. With the varieties of paint colors available, you can do the typical white or yellow lines, or use the red or blue colors to do stencils. The AK Striper is incredibly easy to use. Just load a can of your desired paint color upside down into the AK Striper, push the machine, and then pull the trigger to paint your lines.
Store a case of the aerosol paint on board the AK Striper so you can easily reload when you run out. Switch out colors easily whenever you need to change the color of your lines.
Customer Reviews
Top customer reviews
Linestriping as a business? You bet! The secret that thousands of contractors from coast to coast know is that it's easy to make money in line striping as long as you know the tips and tricks below! If you want to get started in pavement marking as a business, click to add the Make it A Biz package to your order, absolutely free.
You'll get:
How To Sell Line Striping Video:

Judd Burdon helps you practice asking the right questions from your prospects and how to give them the exact services they need, even if they didn't know they needed them! He'll tell you the most common objections you might hear and exactly what responses put your prospects' minds at ease.

Get-The-Edge Phone Scripts

: If you have someone in the office making phone calls for you, you'll want them to use these powerful phone scripts to close more deals. Don't waste valuable dollars making calls that don't result in sales: increase your likelihood to close with these call scripts.

Digital Ads Pack:

Use these graphics to advertise your line striping business on Google My Business or Facebook. Customers will be inspired to use your services when they see these great ads — just add your logo, put your phone number in the description, and get your message out!

Line Striping Proposal Template

: Ever wasted hours trying to format a good looking template, only to give up and hand-write something that looks fly-by-night? Our professionally-designed proposal template helps you look great from the get-go. Just fill in a few blanks, print, and watch the sales come in.
Linestriping is a lucrative business that makes parking lots look great and keeps them ADA compliant. Add the Make it a Biz resources to your purchase and fast track your success in this industry!