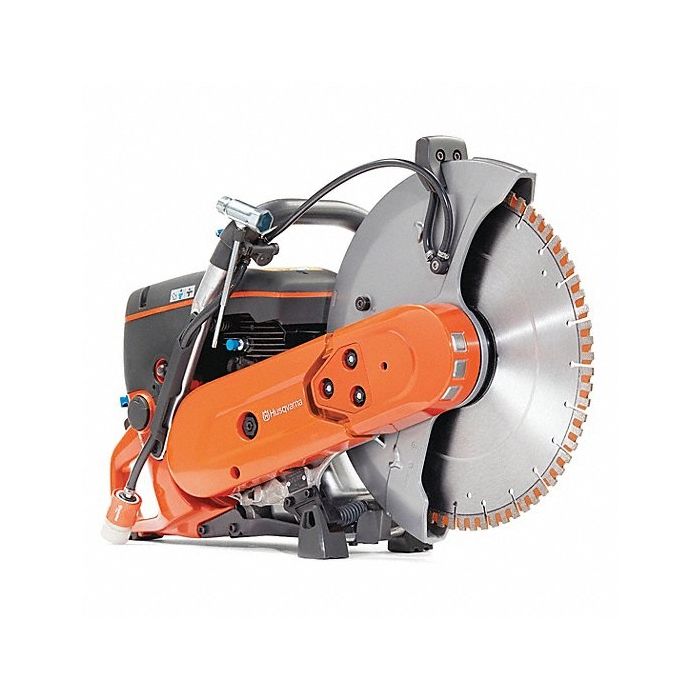 The lightweight Gas Power Asphalt Saw is designed to cut through any asphalt surface.
Read more
FREE SHIPPING
Delivered in: 5-10 Business Days
Have questions? We're here to help!

Speak to an Asphalt Expert!
Contact our Experts
Lightweight saw cuts through asphalt and concrete, no matter the reason.
Looking for help on your toughest jobs? This powerful asphalt saw features a 14" blade diameter and powerful gasoline engine for all the tough jobs. Low vibrations mean operators can cut longer and more comfortably.
Its easy-to-start design and proprietary air filter mean the crew can use it for long periods of time without needing to service it. Features a reversible cutting arm so the operator can get closer to the cutting service. This asphalt saw will cut through concrete or asphalt.
The Husqvarna K770 concrete and asphalt saw is a powerful model that's ideal for cutting expansion joints in concrete or asphalt surfaces. Use it for:
Repair jobs where cutting out damaged patches of asphalt or concrete road surfaces is necessary
Straightening black-top and concrete surfaces
Demolition jobs or renovating older buildings
Cutting precast concrete elements
Cutting expansion joints and recesses for installations in-floor toppings
Expansion joints are sometimes a necessity rather than an option. These joints must be cut with an asphalt saw to avoid cracking in some situations. Then the cuts are filled in with a more elastic material that keeps everything bonded while allowing movement.
This concrete and asphalt saw makes a complex process more manageable. The saw is excellent for providing clean cuts on a customer's property. Those clean cuts are then much easier to fill with expansion joint material.
Not only does this saw handle asphalt, but it can also cut through concrete. Suppose an asphalt maintenance business has expanded to concrete or even pre-shaped castings. In that case, this saw is a necessity for easy and precise cutting.
Whether an asphalt expansion joint is necessary or a company needs the perfect multipurpose saw for asphalt and concrete, this Husqvarna saw is the best option on the market. Asphalt Kingdom would not sell it otherwise.
Have questions? We're here to help!

Speak to an Asphalt Expert!
Contact our Experts
Specification
Dimension (L x W x H)
23.83" x 8.88" x 16.35"
Tool Weight
22.4 lbs.
Model
K770
Engine
2-Stroke Engine
Power Output
5 hp
Blade Diameter
14"
Cutting Type
Wet/Dry
Tool Style
Handheld
Fuel Tank Capacity
30.4 oz
Customer Reviews
Top customer reviews