Asphalt Emulsion Sealer (36 x 4.5-Gallon Pails)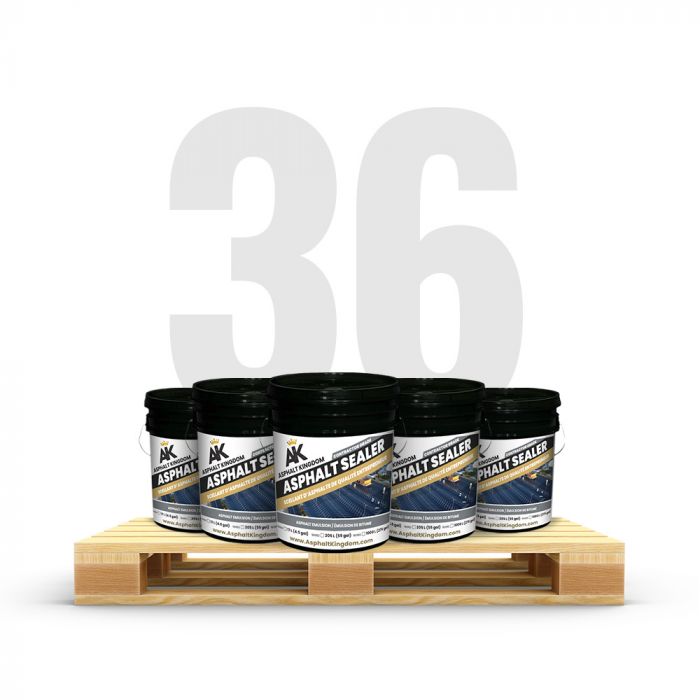 Thirty-six 4.5-gallon (17L) pails of asphalt emulsion sealer (162 gallons) can cover 16,200 square feet*.
Pickup at our locations below or if you'd like it shipped to you please call 855-554-4386 to request a shipping quote before we finalize your order.
Read more
Delivered in: 5-10 Business Days
Add These To Minimize Your Effort!
Have questions? We're here to help!

Speak to an Asphalt Expert!
Contact our Experts
Perfect for Parking Lot Owners, Property Managers, and Contractors. 162 Gallons or 36 pails of Asphalt Emulsion Sealer
Asphalt Emulsion Sealer is a relatively new sealcoating option. Derived from asphalt, this sealcoating material was initially developed due to a growing scarcity in the supply of Coal Tar Sealers. Environmental issues and new regulations established by the EPA have made Asphalt Emulsion Sealer an increasingly popular option for sealcoating driveways and parking lots.
Asphalt Emulsion Sealer is different than Coal Tar Sealers. Both are natural products, but some states only allow Asphalt Emulsion Sealer to be used.
A commercial-grade sealer that professionals use.
Saves you money when buying 36 pails at a time.
Shipped quickly right to your place of business.
Ready to use! Do not dilute. If difficult to spray, you can dilute by 5%.
Our Asphalt Emulsion Sealer can easily be applied using a squeegee, and it works with any of our spray systems.
Benefits of using Asphalt Emulsion Sealer include:
Dark black color that restores original color of the asphalt
Contains no volatile organic compounds (VOCs)
More environmentally friendly than Coal Tar Sealers
Non-hazardous material
Cleans easily with water
Can be applied on damp surfaces
Typically only requires a single coat when applied using a squeegee
Can accommodate traffic within 8 hours of being applied
Provides excellent anti-slip resistance when combined with slate or sand
Asphalt Emulsion Sealer can dry quickly in sunlight or with the proper additives, so clients can have their lots back faster. Use it as quickly as possible. It is eco-friendly and therefore has bacteria that can build and then expand.
Spray systems are the most common choice with this emulsion sealer. Each spray delivers an even coating to the asphalt. Plus, emulsion sealers can dry quickly in sunlight or with the proper additives, so clients can have their lots back faster.
Reminder for the Season: As we enter the winter, please be advised that our sealer is a no-freeze product. Any exposure to below-freezing temperatures will render this product unusable. If the product has been exposed to freezing temperatures, returns will not be accepted for credits.
*When using a sealcoat sprayer, our product provides a coverage of 100 square feet per gallon for a single coat or 100 square feet per 2 gallons for a double spray. Please note that when applying the sealcoat manually, the coverage will be lower, ranging from 50 to 60 square feet per gallon for hand application.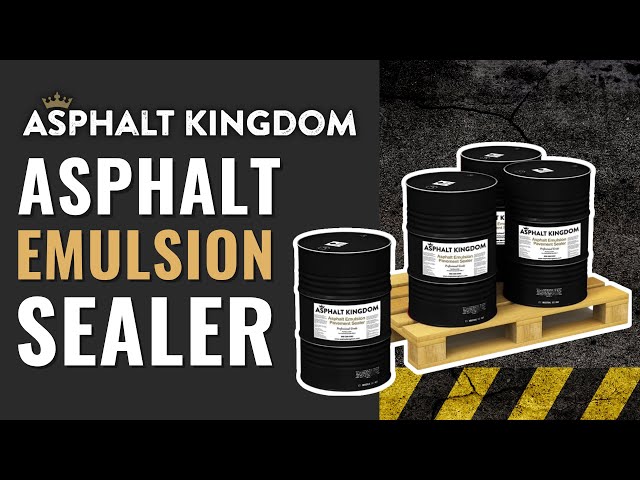 Blacktop Calculator
Let us help you determine what you need.
Have questions? We're here to help!

Speak to an Asphalt Expert!
Contact our Experts
Specification
| | |
| --- | --- |
| Ready To Ship | No |
| Shipping Weight | 1620 |
| Shipping Length | 48 |
| Shipping Width | 43 |
| Shipping Height | 36 |
| | |
| --- | --- |
| Water % | 53 Max, 48 Min |
| Non-Volatile % | 52 Max, 47 Min |
| Ash % | 39 Max, 35 Min |
| Sp. Gr. @ 77° | 1.29 Max, 1.19 Min |
Customer Reviews
Top customer reviews
Customer Questions
How should I store asphalt emulsion sealant? What should I do if the container is swollen or there's pressure build-up?
Asphalt emulsion sealant should not be stored in direct sun or heat. Store at room temperature and out of direct sunlight. Learn more about
asphalt emulsion storage
and what to do if you experience swelling or pressure build-up.