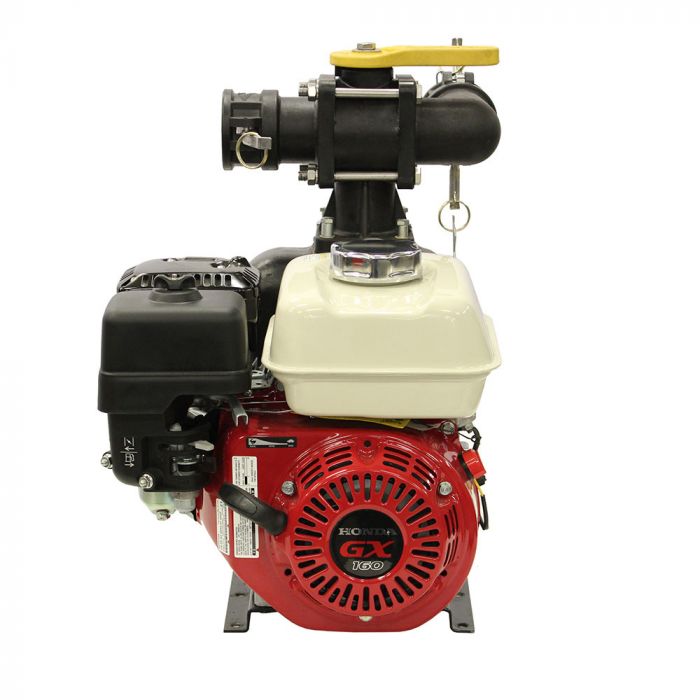 Power your sealcoating spray system with a durable pump and your choice of engine.
Read more
Make It a Bundle
Power-Packed Sealcoating Engines and 2" Vertically Aligned Sealcoating Sealer Pump
Need to replace your sealcoating engine and/or pump?
If you are replacing only the engine, please check the type of your pump. Use this chart to get directed to the appropriate product:
Note: The vertically aligned cast iron engine pump will not work with past engines sold with our spray systems. If you want the vertically aligned cast iron pump, you must purchase an engine as well.
For any spray system pre-2019 with the Briggs and Stratton engine, you need to purchase the engine and pump combo with a kit to retrofit it — the best way to do this is to buy our Tote Spray System. Hook up the hoses and you are ready to spray! New wand, spray hose and tips are included. It's great value and an easy way to update your sealcoating engine and pump.
If you need to replace the engine and pump for your spray system (2019 and newer), shop these products:
Engine and Pump Combo Questions
- Can I buy a Honda engine and use it with an aluminum pump?
The Honda engine is not compatible with the aluminum pump. The Honda engine should only be used with the cast iron pump.
- Can I use any Launtop engine with my pump?
You need to choose the appropriate Launtop engine depending on your pump type. The LT210 Engine is for aluminum pumps, and the LT210Q1 Engine is for cast iron pumps.
- I have an older sealcoating system with the horizontal engine and pump. Can I just replace my engine?
The engines and pumps that are available now are configured differently than the engines and pumps sold previously. In order for your sealcoating system to function properly, you will have to purchase a new engine and pump assembly, and possibly a kit for retrofitting. Please see the note above about the Tote Spray System.
- Do the seals need to be replaced whenever you change the engine or engine and pump?
The main seal is a wear item and should be replaced from time to time. The manufacturer recommends replacing the main seal for every 50 hours of use. If you will be taking apart the pump to do maintenance, it's a good time as any to replace the main seal.
The new vertically aligned sealcoating engine pump has gone through countless rounds of testing for quality and performance. We know the aligned sealcoating pumps are power-packed and built to last regardless of the final choice between aluminum and cast iron.
Each pump is self-priming and has a powerful 2-inch output with quick connects for easy setup. That means crews can start sealcoating faster with the equipment and operate with a pressure guarantee.
Dependable performance
Practical repair options
Low noise and emissions
Honda GX160QX 5.5HP Engine (Fits Iron Pumps Only)
It's all in the name, "Honda." Honda's GX series engines are legendary for their superior reliability and performance. Each offers lower noise levels, lower vibration, and lower emissions – without sacrificing power output or performance. That's necessary for pumping viscous asphalt sealer.
Launtop 7.0HP Engines
The 7hp 4-stroke Launtop engines are one of the best quality engine pumps. They're among the most reliable and lowest price engines in the market. These engines are a direct replacement for major brand name engines such as Briggs, Tecumseh, Honda, Robin, etc.
These engine pumps are also the same physical size, weight, and dimensions as both 5.5hp and 6.5hp brand name engines like Honda and Briggs. That means a seamless fit with existing equipment.
LT210 fits aluminum pumps only
LT210Q1 fits iron pumps only
2" Cast Iron Centrifugal Sealcoating Pump
The 2" Cast Iron Centrifugal Sealcoating is designed for asphalt sealcoating. It's a solid, dependable engine pump that gives you the pressure you need while out sealcoating. Carbon ceramic seal with stainless steel impeller and spring with FKM (Viton type) rubber. Dynamically balanced impeller.
Customer Reviews
Top customer reviews
I am happy with it. It works great.
Customer Questions
Can these engine and pumps fit older systems that has a Briggs and Straton or Leifan Engine?
No, they cannot. If you need a new engine or a new pump you need to upgrade to a totally new engine and pump combos as they are not interchangeable.
The easiest way to do this to buy a TOTE spray system and follow these instructions:
Step 1: Mount your new engine and pump with the bottom plate to the mounting plate on your spray system. You will need a drill and a 1/4'" drill bit to drill new holes to mount your new engine. Use the bolts and nuts off of the mounting plate from your previous engine.
Step 2: Connect your suction hose to the bottom of your existing tank and connect it to the side of your new pump.
Step 3: Connect your return feed to the top of your tank (feel free to cut the length of the return hose as needed) and then connect the other end to the top of your pump.
The tote spray system comes with all new hoses so you can avoid having dry rot and cracking on the old hoses AND you get a new spray hose, wand, and tips as part of the package.