153" FHWA/DOT Combo Arrow Stencil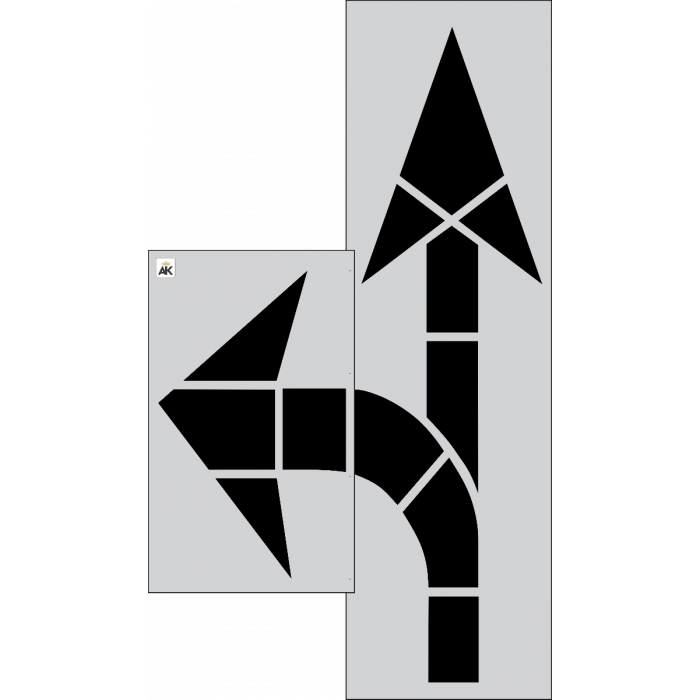 FHWA/DOT Combo Arrow Stencil

Read more
The FHWA/DOT combo arrow stencil is a newly designed stencil by the FHWA that can be used on all publicly accessible highways and roadways. This modified design is both a straight arrow and a turn arrow in one, which indicates to drivers that the specific lane can either go straight or turn the corner. This industry standard design is a must-have for any contractor's collection, as it adds versatility to any type of pavement project. This stencil comes with three distinct pieces that are made in the USA and guarantee that they will be delivered without any impediments or defects.

The measurements and specifications of this combined straight and turn arrow meet all industry standards. When painted, the stencil measures 72" in width by 153" in height, with a tail stroke of 12". The elongated design allows for easy visibility by distant and oncoming drivers. The material itself has larger measurements than the stencil, allowing plenty of room for overspray. The material of the arrow's head measures 42" wide by 84" high. The material of both the turn tail and the straight tail measure 48" in width by 96" in height.

There are four stencil grade options available for the make of this stencil. Heavy duty grades are recommended, as this stencil is often used frequently and can withstand a multitude of industrial sized projects. The .080 ALU and the ?" PRO-Grade LDPE are the two most durable options, offering longevity and affordability while lasting several years. These grades can be used thousands of times without showing any sign of wear or tear. If you are interested in a custom design or only need the stencil for a small project, the 1/16" LDPE or the .030" HIPS may be more cost effective. They are lighter duty materials that are flexible without sacrificing durability, and they can be laid flat for an effective paint job.
Specification
| | |
| --- | --- |
| Ready To Ship | Yes |
| Stencil Height | 153" |
| Stencil Width | 90" |
| Stencil Type | Directional Stencil |
Customer Reviews
Top customer reviews
Customer Questions
are these one time use? or can they be cleaned and used multiple times?
Most contractors clean them and use them a few times. If you are rough with stencils in general, it is possible they would crack on the first go but in general that hasn't been our experience. If you're looking for something with more reusability, we can provide a heavy-duty version of these - just let us know.