48" FHWA/DOT Bike Rider Stencil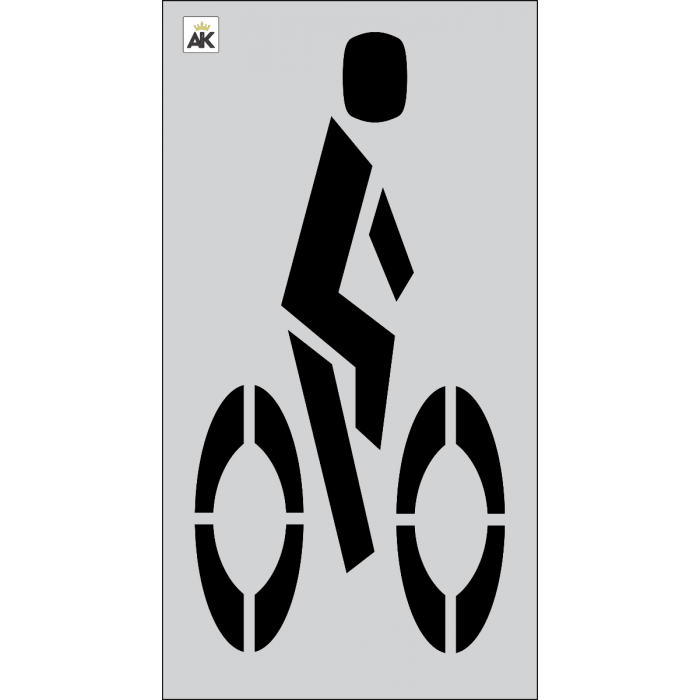 Most pavement stripers use this pavement marking stencil to create bike lanes and walkways so that cyclists can travel safely on streets and roads.

Read more
Durable and lightweight LDPE
Ideal for DIY and contractor use
Very easy to clean
FREE SHIPPING
Delivered in: 5-10 Business Days
The 48" FHWA/DOT bike rider stencil is a useful stencil to be painted in a designated bike lane. Bike riders and drivers alike will be able to easily see the bike rider design, as the stencil is large and provides contrast and visibility against the pavement. It is typically used by most stripers for bike paths and walkways that allow bike riders to ride safely on streets and roads. The bridging of the stencil is cut in such a way that it prevents extra paint drips on the job or when transporting the stencil around.

This stencil measures 24" in width and 48" in height when painted, and can easily fit within a bike lane or pathway. The material itself measures 54" wide by 30" high, which is something that stripers must keep in mind when transporting the stencil around. There are several advantages to this stencil that make it a preferred stencil by professionals. It comes with one piece, making it easier to carry around. It is CNC cut for precision, allowing for a perfectly symmetrical imprint each time. It can be used for preformed tape or thermoplastic, as the material is durable enough for any project.

If this stencil is going to see hefty use, it is recommended that the ?" LDPE PRO-Grade material is selected. This way, the stencil will be composed of a thick material that lays flat and stays put while withstanding heavy spray paint jobs. It can also be moved around, used, and abused for thousands of reuses and over several years before needing replacement. A thicker option is the .080" ALU, which is made from a rigid 5052 aluminum and is virtually indestructible. If the stencil will only see sparing use, it may be more affordable to invest in the 1/16" LDPE or the .030" HIPS, both of which are flexible yet durable for one-time or few-time use.
Specification
| | |
| --- | --- |
| Ready To Ship | Yes |
| Stencil Name | Bike |
| Stencil Height | 48" |
| Stencil Width | 23" |
| Stencil Type | Road Stencil |
Customer Reviews
Top customer reviews
Customer Questions
are these one time use? or can they be cleaned and used multiple times?
Most contractors clean them and use them a few times. If you are rough with stencils in general, it is possible they would crack on the first go but in general that hasn't been our experience. If you're looking for something with more reusability, we can provide a heavy-duty version of these - just let us know.