72" FHWA/DOT Bike Rider Stencil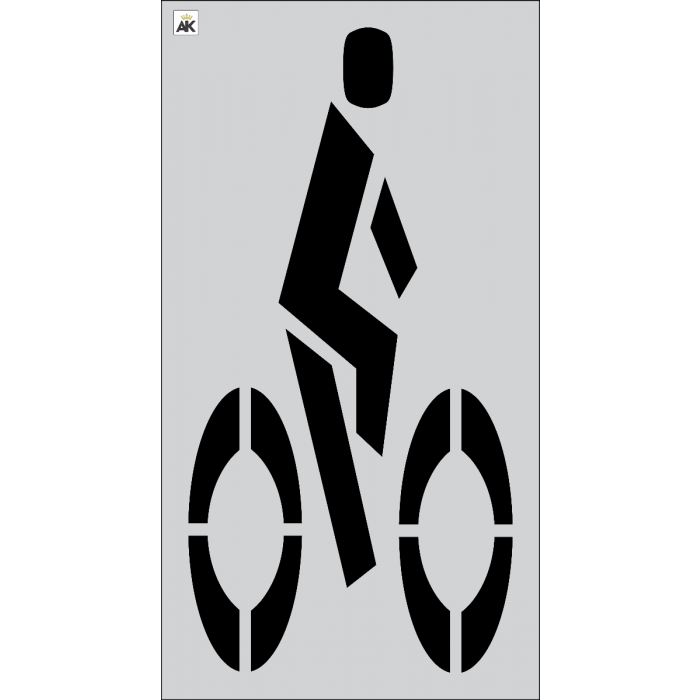 72 FHWA/DOT Bike Rider Stencil

Read more
The 72" FHWA/DOT bike rider stencil is an easy to use, single stencil that contractors can use for a variety of Federal and public projects. The stencil is designed to meet Federal MUTCD and FHWA requirements, complying with uniform traffic control devices and allowing clear indication of a bike lane for all passersby. The stencil offers a unique bridging which is designed to catch any paint drips for a clear and simple application. It is CNC cut for precision, matching the measurements and specifications made for it. It is used in bike lanes, and its large size can be easily seen by faraway traffic. The stencil is made in the USA and guarantees to be free of any impediments.

The measurements of this stencil meet all industry standard requirements and are easy to place on any type of pavement. When painted, the stencil measures a width of 36.2" and a height of 72" for clear visibility. The material itself measures 42" in width by 78" in height, offering added space for overspray.

There are four material grade options to choose from for the make of this stencil. The .080 ALU will last forever, and is great for thermoplastic extruding. The ?" LDPE is the most commonly used material for this type of stencil, and is named PRO-Grade as it is recommended by most professionals in the industry. It can be reused thousands of times over several years without showing any signs of wear or tear. The 1/16" LDPE is the twin to the PRO-Grade, but with half the thickness. This flexible material is affordable for custom or infrequent projects. The thinnest grade available is the .030" HIPS, which is a common material that offers flexibility and lays flat out of the box for custom or one-time projects.
Specification
| | |
| --- | --- |
| Ready To Ship | Yes |
| Stencil Name | Bike |
| Stencil Height | 72" |
| Stencil Width | 36" |
| Stencil Type | Road Stencil |
Customer Reviews
Top customer reviews
Customer Questions
are these one time use? or can they be cleaned and used multiple times?
Most contractors clean them and use them a few times. If you are rough with stencils in general, it is possible they would crack on the first go but in general that hasn't been our experience. If you're looking for something with more reusability, we can provide a heavy-duty version of these - just let us know.