LineDriver HD, Ride-On System (200cc Honda GX)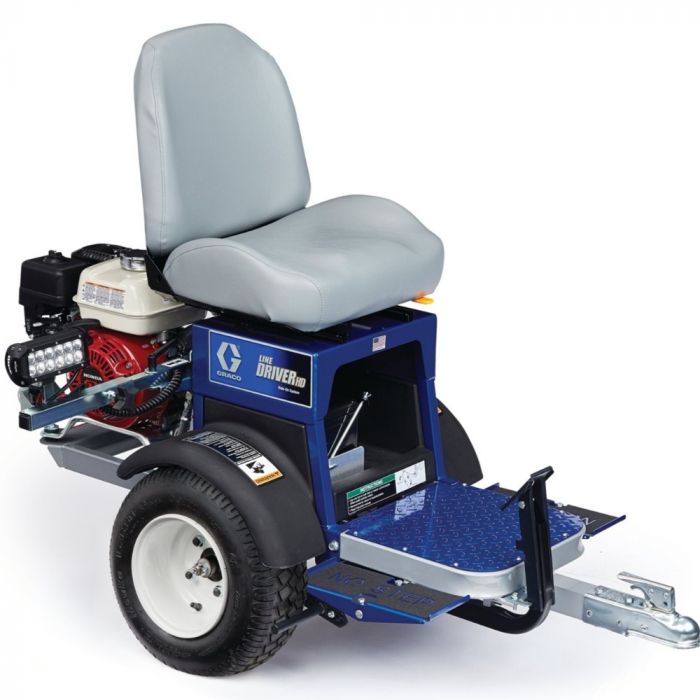 Line striping just got less exhausting with the LineDriver HD Ride-On System. Now you can stripe with ease and efficiency with this line striping attachment.
Read more
Line striping can get tiring pretty fast especially if you're working on a large parking lot under the heat of the summer sun. But it doesn't have to be exhausting when you have the LineDriver HD Ride-On System.
This is the industry's most cutting-edge and straightforward line striping ride-on system offered by Graco LineDriver Systems. This ride-on line striper attachment offers the increased power and performance you need for any scarifying, polymeric, or striping jobs.
This is specifically designed to match a line striping contractor or property owner's needs as it changes the way you operate and reduces task completion times in half.
This line striping ride-on attachment is innovative and user-friendly. It is used for both Graco line striping machines (LineLazer, GrindLazer, ThermoLazer) and Titan line stripers (PowrLiner 3500/4500, PowrLiner 4955, and PowrLiner 6955/8955).
Reliable and Powerful Line Striping Performance
LED lighting for increased brightness, longer life, and lower power consumption
The retractable, breakaway design prevents damage and keeps you striping
Patent - Protected Dual Foot Pedal Framework
For forward and backward movement
You can easily transition between jobs without needing to push
Easy Engine Starting Device
Engine starts instanlty
Up to 50% less pulling effort to get started — no more broken recoils
When the weather begins to cool, it surpasses both conventional pull and electric start systems
Unique Advanced Vibration Control System
Engine vibration is reduced by a tested system
It minimizes user fatigue and contributes to the best line quality in the industry
Dependable Honda® GX Engine
Credible, technologically advanced, and simple to use
Oil Alert deactivates the engine if the oil level falls below a certain level, preventing damage
Recommended by Contractors
Convenient and Relaxing Seat
Even if in direct sunlight, gray seat remains cool and comfortable compared to black seats
High back seat provides additional support
Appropriate padding for added comfort
Specification
| | |
| --- | --- |
| Engine | Honda GX |
| Power | 6.5 HP |
| Fuel Tank Capacity | 0.95 gal |
Customer Reviews
Top customer reviews