Graco LineLazer V 5900 Airless Line Striper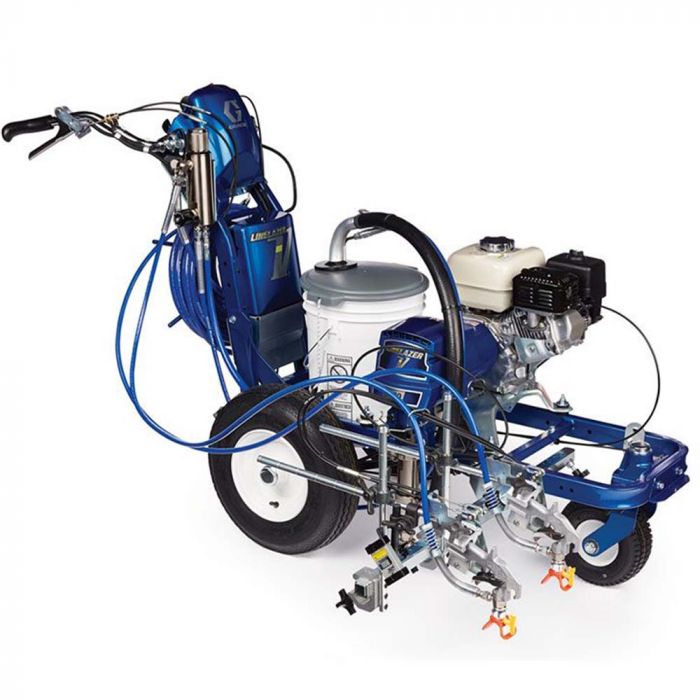 Graco LineLazer V 5900 Airless Line Striper two-gun mechanical striper for professional asphalt and concrete contractors.
Read more
If you're a professional line striping contractor taking on large parking lots, city streets, or stadium-sized fields, you need the power and output of the two-gun Graco LineLazer V 5900 Airless Line Striper. Use the one or two gun settings depending on your job and see how quickly you can stripe with its massive 1.6 gallon-per-minute output.
Spray water or oil-based paint.
Dual detachable gun to spray stencils or anything you'd like.
Make quick and easy adjustments.
The innovative LiveLook Display is a time-saving control panel that tracks, measures and allows you to control every aspect of your job. Know how much paint you have left and ensure you are spraying consistent amounts of pressure so your lines look perfect, every time.
The handlebars have been designed with you in mind: adjust the height up and down, and the depth forward and backward, so you get the most comfortable custom fit on the market. Vibration? With the advanced vibration reduction system, you get a lot less tired and a lot more done. Easily reach handlebar-mounted controls, too.
Adjust your paint line width quickly and easily with the unique G-shaped clamping system (see the video on the next tab for more details on this innovative feature.) With peep-hole line tracking, you're sure to get a perfect alignment every time.
The EZ Align Wheel System allows for quick front-wheel adjustments without tools - keep your unit tracking straight with ease. The Fat Track system gives you a super-stable tire design and 3.5-inch arcs and circles for your more complicated striping needs.
Features a powerful Honda GX engine - 5.5HP at 3,600 revolutions per minute - and 3300 psi max working pressure.
Designed, manufactured, and assembled in the USA.
Paint Calculator
Let us help you determine what you need.
Specification
| | |
| --- | --- |
| Height *handlebar folded | 44 ½ inches |
| Width | 34 ¼ inches |
| Length *platform down | 68 ¾ inches |
| Weight | 250 pounds |
| Maximum Output | 1.6 gallons per minute |
| Max Tip Size (1 Gun) | .043 |
| Max Tip Size (2 Gun) | .029 |
Customer Reviews
Top customer reviews
Customer Questions
Is the V 5900 self-propelling?
No, this unit is not a self propel line striper.
Will this machine work with Oil Based Paint?
Yes, this machine can work with both Oil-Based Traffic Paint and Water-Based (Latex) Paint.