Newstripe RollMaster 1000 Parking Lot Striping Machine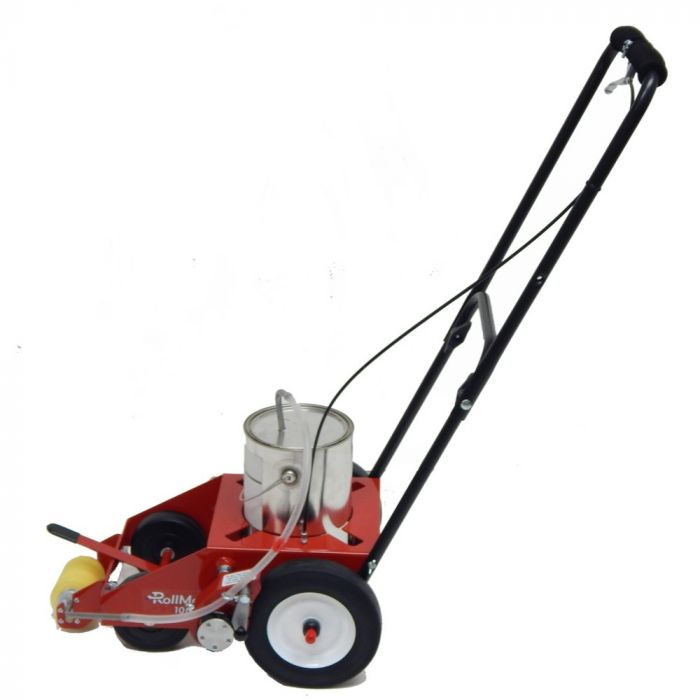 Painting lines and stenciling just got easier with the Newstripe RollMaster 1000 Parking Lot Striping Machine. Compact, lightweight, and stable on any surface.
Read more
One of our most affordable line marking machines yet! Compact and ideal for simple line painting jobs.
Uses 1-gallon paint
Made for simple line striping only
Includes three 4-inch rollers
FREE SHIPPING
Delivered in: 3 weeks
Stripe like a pro from day one with the Newstripe RollMaster 1000 Parking Lot Striping Machine. This mechanical parking lot striper features a pretty straightforward design and is easy to use. No need for long setups and preps; just mount a can of paint on its platform and you're ready to paint parking lot lines.

No Hassle Set Up
This line striping machine features an easy set up – no buckets of solvent or liquid pump protectors are needed to get it started. Just attach the roller, place the can of paint on the secure platform, snap the lid in place, and it's time to stripe parking lots.
The control lever is conveniently mounted around the handlebar for hassle-free paint dispersal. It uses a 1-gallon can of paint that sits securely in its mount. The universal lid already includes a paint hose.
It comes with a foldable handle for fast and secure transport and storage. And it saves space too! Just snap the handle back in place and store it inside the trunk of your sedan or the bed of your pickup truck.

Easy and Efficient Line Striping
Don't you just hate it when your aerosol paint suddenly runs out while you're in the middle of a job? With the Newstripe RollMaster 1000 Parking Lot Striping Machine, you can paint more traffic lines! It uses 1-gallon cans of paint that can stripe up to 400 feet of parking lot lines.

Safe and Quiet
This paint stripe machine uses a simple and noise-free mechanically driven pump. It's so quiet you can use it to paint parking lots on the grounds of public libraries, hospitals, churches, schools, and more.
It also doesn't emit harmful fumes, making it ideal for line striping indoors (warehouses, car parks, manufacturing facilities, etc.).

Clean Up is a Breeze with this Line Marking Machine
Rinse the foam roller if you want to reuse it (you can also dispose of it whenever you want). Wash the roller mandrel and paint delivery tubes afterward to keep it clean.
Welded all-metal construction
Handle comes with non-slip foam grip
Equipped with four wheels for greater stability while striping lines
Can be used with water-based or oil-based paints
Can be used on asphalt, concrete, or turf
Note: Do not use fast dry, lacquer, or epoxy paints.
Specification
| | |
| --- | --- |
| Ready To Ship | No |
| Shipping Weight | 30 lbs |
| Shipping Length | 24 inches |
| Shipping Width | 19 inches |
| Shipping Height | 11 inches |
| | |
| --- | --- |
| Pump | Roller-driven peristaltic pump |
| Standard line width | 4 inches (rollers of different sizes can be purchased separately) |
| Line striper design | Walk-behind; mechanical |
| Number of Wheels | 4 |
| Handle Height | 36.5 inches |
| Warranty | 18 months |
Customer Reviews
Top customer reviews