Newstripe 4400 Airless Line Striping Machine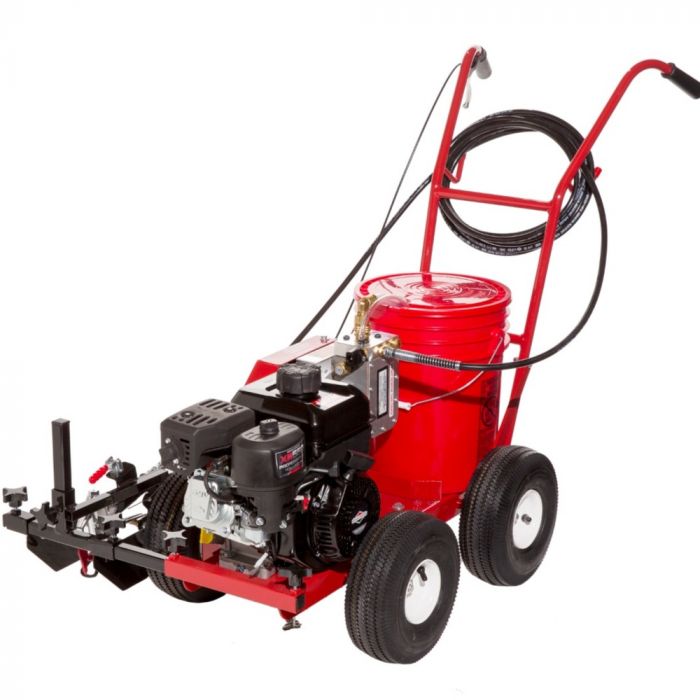 Painting lines and stenciling just got easier with the Newstripe 4400 Airless Line Striping Machine. Compact, lightweight, and stable on any surface.
Read more
Boost line striping efficiency and double your income with this airless line striper. All steel construction and easy to maintain.
Adjustable pressure pump
Compact and lightweight
With a detachable spray gun
FREE SHIPPING
Delivered in: 3 weeks
The Newstripe 4400 Airless Line Striping Machine is a line striper's reliable partner for creating clean and straight lines in parking lots and athletic fields. It's light, it's compact, and best of all, it's built to last.

Airless Design
This parking lot striper's airless design means it's lighter than your usual machine, allowing you to paint pavements faster and keeping your operation more efficient.
It is equipped with an adjustable 3000 psi pump and produces smooth and crisp parking lot lines measuring between 2" and 6".
The Newstripe 4400 Airless Line Striping Machine has a compact construction, allowing you to maneuver the machine into corners easily.

Simple and Straightforward Operation
Mount a 5-gallon bucket of paint onto the machine and attach the siphon tube. Close the lid to prevent paint from spilling as you operate this walk-behind line painter machine. Included lid is compatible with most 5-gallon paint buckets.
The machine can be used to spray regular paints, as well as thinned ones.

Stable No Matter the Surface
The parking lot striper features a durable metal frame and is equipped with long-lasting 10-inch pneumatic tires. Its 4-wheel design offers improved stability on different surfaces.
Use it to line stripe asphalt and concrete parking lots. This paint stripe machine is also designed for use on uneven surfaces, such as football fields and athletic fields.

Switching Paint Colors
This machine is designed for easy color changes. Remove the used bucket of paint and replace it with a bucket of water (for water-based paint) or solvent (for oil-based ones). Flush out any old paint from the system and circulate the liquid pump protector. Once done, you can now put a new bucket of paint in and start striping.

Stenciling Made Easy
Stencil words, numbers, and handicap parking spaces with the Newstripe 4400 Airless Line Striping Machine. It has a detachable spray gun and a 25-foot hose for easy stenciling, as well as painting curbs.
Optional rear wheel for painting circles and curves
Lever is mounted on the handle
Universal lid prevents paint from spilling during transport or striping
Easy setup
Specification
| | |
| --- | --- |
| Ready To Ship | No |
| Shipping Weight | 170 lbs |
| Shipping Length | 25 inches |
| Shipping Width | 57 inches |
| Shipping Height | 44 inches |
| | |
| --- | --- |
| Engine and Power Source | 127cc Briggs & Stratton (OHV technology with oil alert) |
| Pump | Airless; .44 GPM; adjustable from 0 to 3000 psi |
| Paint Capacity | 5-gallon pail |
| Spray gun | Airless; reversible tip |
| Line width | Adjustable from 2" to 6" |
| Hose length | 25' |
| Line striper design | Walk-behind |
| Tires | 10" pneumatic |
| Engine Fuel | Gasoline |
| Engine fuel tank capacity | 0.5 gallon |
| Warranty | 36 months limited warranty |
Customer Reviews
Top customer reviews