Newstripe 4250 Airless Line Striping Machine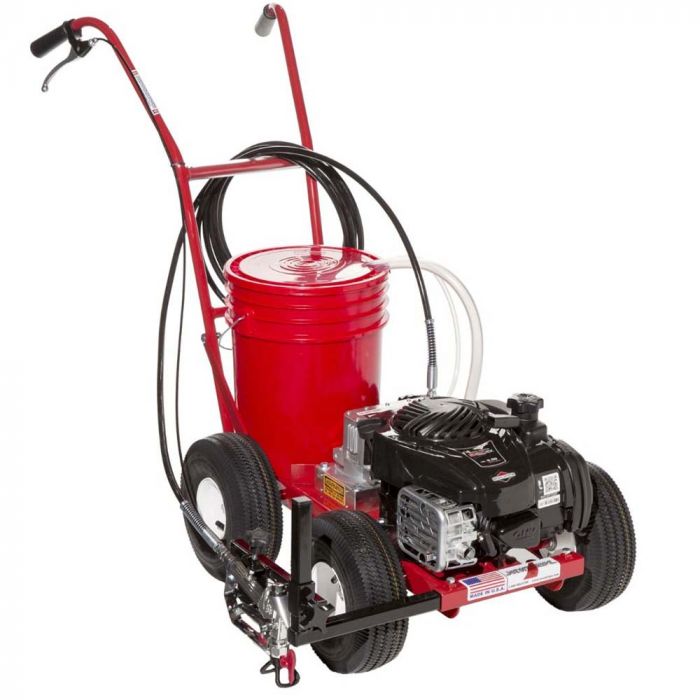 The Newstripe 4250 Airless Line Striping Machine is one of our most versatile and affordable line stripers. Shop now!
Read more
Line striper with welded steel frame and reliable gas-powered engine.
Only weighs 105 lbs.
Airless and compact design
Produces smooth and straight lines
FREE SHIPPING
Delivered in: 3 weeks
Create clean and crisp lines with the Newstripe 4250 Airless Line Striping Machine. This parking lot striper is one of our most affordable options yet, making it a great choice for contractors and property owners who are looking for cost-effective equipment to invest in.
Its airless design means it is more compact than a conventional machine. And with no air compressor adding its weight to the unit, you get a lightweight machine that is easier to push on an uneven parking lot or athletic field. It is also easier to load on the back of your truck or van.
This high-performance machine features an adjustable pressure pump that allows you to paint straight and clean 2 to 6-inch lines. This line painter can spray both regular and thinned paints.

Clean and Straight Lines No Matter The Surface
This line striper is equipped with durable 10-inch pneumatic tires that provide greater stability whether you're working on asphalt, concrete, or uneven turf. The paint stripe machine's four-wheel design provides improved balance and maneuverability no matter the condition of the surface you're striping.

Easy Color Change
To switch from white to the yellow or blue paint, just remove the bucket of white paint from the machine. Next, put a pail of solvent (for oil-based paints) or water (for water-based paints) and start flushing old paint from the system. Circulate the liquid pump protector through the system before loading a new paint bucket.

Stencil Handicap Parking Spots, Words, and Numbers with Ease
The Newstripe 4250 Airless Line Striping Machine lets you stencil like a pro from day one with its detachable spray gun. The 25-foot hose lets you paint hard-to-reach areas and tight corners.
Easily spray paint with just a squeeze of the lever on the handle
Easy to set up
Includes a universal lid to prevent spillage during operation or transport
Hassle-free cleanup
Paint circles and curves with its optional rear wheel
Specification
| | |
| --- | --- |
| Ready To Ship | No |
| Shipping Weight | 130 lbs |
| Shipping Length | 37 inches |
| Shipping Width | 24 inches |
| Shipping Height | 28 inches |
| | |
| --- | --- |
| Engine and Power Source | 140cc 550EX Series Briggs & Stratton |
| Pump | Airless; .34 GPM; adjustable from 0 to 3000 psi |
| Paint Capacity | 5-gallon pail |
| Spray gun | Airless; reversible tip |
| Line width | Adjustable from 2" to 6" |
| Hose length | 25' |
| Line striper design | Walk-behind |
| Tires | 10" pneumatic |
| Engine Fuel | Gasoline |
| Engine fuel tank capacity | 0.2 gallon |
| Warranty | 18 months limited warranty |
Customer Reviews
Top customer reviews