RY10 PRO & 40 Boxes of Hot Rubber Crack Filler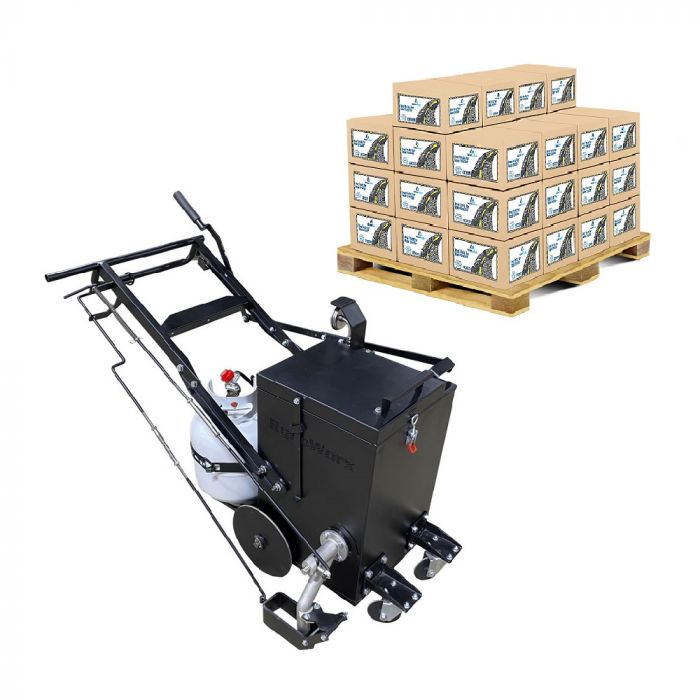 This product is not in stock in USA. If you'd like a quote on getting it delivered to you, please fill out your information.
RY10 PRO Crack Repair Machine & Pallet of crack filler combo deal will let you seal up to 14,000 linear feet of asphalt cracks.
Read more
Make $14,000 with this
Selling crack repair is easy
Shipped right to your door
Free Shipping on Equipment
Delivered in: 5-10 Business Days
Designed for the asphalt contractor or do it yourself'er who wants the best price, equipment and service. This package provides the RY10 PRO with 50% faster melting speed, 50% less fuel usage, and a fully electric push-button start as well as a pallet of crackfiller that will yield $14,000 in revenue. What an investment!
Using less propane than other propane-fired melters as well as retaining heat better with its enclosed base-burner melting plate system, the RY10 PRO is an efficient machine that will help you save money while making money. This is also our favorite machine when it comes to safety, with a heat-shielded fuel line with flame-out sensor, on-the-fly agitation (so you don't have to stand over the kettle to agitate), and heavy 14-gauge steel walls.
Other benefits:
Glycerin-filled thermometer for resisting vibrations
Thermometer guard
Sturdy 14 gauge steel construction with twin row bearings and grease fittings
Removable flow valve for proper cleaning
2-year warranty on frame and frame components
Pair this PRO machine with our full pallet of hot rubberized crack filler, and you'll have a good start of your crack filling season. Our crack filler is 100% commercial-grade and lasts up to 3-4 years per application. Drying time is 1-2 hours. Each of the boxes has two 25lb blocks which makes it possible for you to melt exactly the amount you need and to do so very quickly. With a pallet of crackfill, that means you can do (on average) 14,000 linear feet of crack repairs.
How Much Crack Filler Will You Need?
Crack filler Calculator
Let us help you determine what you need.
Specification
| | |
| --- | --- |
| Shipping Dimensions for RY10 PRO Crack Seal Melter & Applicator Machine | 26" W x 26" D x 26" H |
| Weight | 149 lb |
| Shipping Dimensions for Deery Crack Sealer - 300 Boxes / 9,000 lbs | 40" W x 48" D x 48" H/ per pallet of crack sealer |
| Weight | 9560 lbs |
Customer Reviews
Top customer reviews
Crackfilling and Sealcoating are really simple

Everything is fine. It took me a little bit of a learning curve. The videos on the website are really helpful for a starter like me. I realize that Crackfilling and Sealcoating are really simple. You just need to get the right equipment for you. I'm happy with my purchase looking forward to doing more business with you in the future

Precision Asphalt Sealers

This machine is unbelievable in it's all around performance. Easy assembly instructions provided and took just under 1 1/2 hours to put together taking our time! We are excited to buy several other units soon!

My experience doing business with asphalt kingdom was second to none Glenn Teano is my salesman. I was approved for $20,000 in financing and I put a whole list together of all types of things that I needed. But I wanted to take it slow put a little bit and now a week later a little bit more. He was great with that not pushy not trying to rack up my credit line just to make a sale. He took his time explain things to me when I had questions he had all the answers. I just can't say enough about thi

Read more

s company after two weeks I've received half of my order and it's all Bill very very well top quality equipment thank you Asphalt kingdom.

So happy with my RY10 PRO and great Customer Service

I'm wrapped down for the winter and ready to go for next spring. I'm looking at getting my 2nd machine, ramping up a little bit. This summer was a trial basis, just for sideline. And everything went good...
I'll be honest with you. If I do decide to go with another machine, I'll definitely go with you, folks. I'm very happy with the customer service that you provide, and the equipment I was happy with it. I did have a problem with the RY10 PRO but was picked ASAP.
TalkRead more

to you on Spring! Have a Merry Christmas!

We love the machine. We use it around our facility just doing maintenance on concrete and asphalt. So far the repairs are holding up pretty well!

The RY10 PRO is an awesome equipment!

The machine that we got, I kept, my guys can even keep up with it to get everything crept. It's so fast. The RY10 PRO is an awesome equipment!

The RY10 PRO worked well..

The RY10 PRO worked well and the crack sealers helped us have it sealed. We will just wait for the time that we need to seal again.

The RY10 PRO Crack Seal Melter & Applicator Machine works great as advertise. I never had problems with it.

Great service! Expedited shipping quickly!

Great service! Expedited shipping quickly!

We could not be happier with our business relationship with Asphalt Kingdom. The products are top quality and the customer service is excellent. Thanks guys.

Outstanding customer service and contractor involvement

Customer service and contractor involvement is outstanding. They are really there to support the industry. I have ordered multiple items and will continue to do so. Thanks guys for all you do!

I started Wyoming Asphalt Repair with Asphalt Kingdom equipment and material. I am very impressed with the how great the equipment runs and how great the material works. Their customer service and sales team is top shelf!!

The RY10 PRO is super easy to operate especially for someone with no experience at all, the upgraded features make it worth the extra money

I've never seen a crack filler in person let alone operate one. The only training I had was watching AK's YouTube channel..This past Saturday I landed my first job ever.. pulled my ry-10 pro off the trailer and finished the job flawlessly The RY10 PRO is super easy to operate especially for someone with no experience at all, the upgraded features make it worth the extra money

I bought one of these in the spring it is the best crack filler I've ever used and I've been doing this for 30 years.

I bought one of these in the spring it is the best crack filler I've ever used and I've been doing this for 30 years. The heat up time is amazing and it uses half the propane of other models. I just bought my second one. This company is absolutely the best to deal with

The thermometer has a nice easy, clear display for you to see so you can monitor the temperature of the material as you're going. We got the optional torch which is nice so you can take off old crackfill or burn off any grass that's coming through cracks.

One of my favorite features of this machine is the ignitor - once the propane is on, just press and hold the ignitor button and that's it - simple, easy to use, and one less thing to worry about when you are on the job site.

This machine is an absolute work horse. We have used other push melters in the industries, and none hold a candle to the RY10-Pro. Can't recommend it enough.

Just recently purchased the RY 10 PRO and it seems that ryno worx put a lot of thought in this machine. The machine seems to be made very well and I like the halo burner that way u can melt your crack filler evenly and and reducing melt down time. Can't wait to try this machine out this spring! Thanks guys!

I must say to anyone out there in the market looking for a crack filling machine look no further, I purchased mine last summer and it was the best investment I've ever boughten for the price, I do lot of work out on the Island and working by the water it gets very windy .And my old crack filling machine the Wind would non stop blow out my flame. But the way they designed this unit i know longer have that issue, And it does an Amazing job filling in the cracks , And know i do not work for as

Read more

phalt kingdom im just a big fan of this unit. And i Will be purchasing another one this season, for the price Its the best on the market !!

Would like to see 1 small tweek

Would have given it a 5 out of 5 stars but have 1 small, minor problem. The battery operated igniter. When melting rubber off from the exit shoot that had dried from the 1st use, I did not even think about the igniter being right around the corner in the front of the machine. It would not be a problem but it is made of rubber. When standing from the back you can not see the igniter. It was an out of sight out of mind kind of thing. I feel 2 things could have happened in the design of th

Read more

is machine. Either the igniter could have been moved farther to the right or a simple metal shield could have been placed around the igniter to protect it.

Very nicely designed piece of equipment ! Great Value!

Hey Glenn just a quick note. I just received my RY 10 pro that I ordered last week I want to let you know that it is a very nicely designed piece of equipment and for what I paid I feel I got a great value. Looking forward to using it as much as you can look forward too hot pouring. LOL thank you for all your help in guidance and I'm sure we will be doing business in the future. Jim Reese reservice is Cortland Ohio

Best melter I've used. I just pop it over the trailer and use the pour pot when I'm not using for lots.

Never had any problems with my orders...

The purchase was great. We never had any problems with it. The equipment works as promised. Overall we're very happy with all aspects of it. My wife and I are doing financing every year and we are planning to make another purchase this year.

RY10 PRO Crack Seal Melter & Applicator Machine was good. Much better if it melts a little faster.

Equipment are helpful for my jobs!

The equipment works great! I have no complaints they've been so helpful for my jobs.

Everything's fine, Everything is good...

Everything's fine, Everything is good...

Makes the job a lot more easier...

The equipment works great. It makes the job a lot more easier.

The RY10 PRO also works excellent.. perfect!

Used it on Quiveys driveway and wow what a job!

Glenn is the bomb!!!! Thank you for your wonderful service!

The best and most helpful that I could ever have imagined

I've been dealing with them since 2013 and in my opinion the best and most helpful that I could ever have imagined. awesome response rates and awesome equipment and supplies and supoort. will always be with actionseal . Thanks for everything you do .

My name is Jake young I'm from Kamloops British Columbia, I co own a parking lot Maintenance company called syndicate lines and contracting - we have been using action seal for a few years now! They make sure to go above and beyond with their customer service and try to provide you with what you need in a timely matter, great company to deal with whether you're a small start up or a bigger more established company. They treat you just like you're one of their bigger customers! Coming from a Reta

Read moreil and service background this is very much appreciated as you don't feel like your time is wasted Thanks to Jennifer and Rory from action seal for helping us throughout the years Cheers Jake


This new melter-crack seal machine is an improvement to our last. good to have four wheels and the gauges facing the operator. the burner style is an improvement as well. WE WILL PROBABLY PUT A TORCH HOSE HOLDER ON , BUT THIS UNIT SHOULD WORK GOOD FOR US.

Nest melter on the market have the 2 ryno 30 and the 10 puts it down as fast as you can walk

I can't believe i didn't buy one of these years ago.
Service was awesome after a few shipping problems. They sent items and got here next day. The product is awesome there are a few bugs but. very pleased with the product. Great service.

It's worth the extra money. I have 2 of them. They use 1/2 the fuel and melt twice as fast. And in two years I've never had a blow out.

Good machine, good company

Good machine, good company, good people. This company and people are probably the best I've ever seen. I even called and asked where I could post this review; I rarely do that, but, needed to comment. Get the Pro machine, much better machine. I like the built in burner system in the Pro over the torch. The machine is built like a brick; quality stuff. Each part each came marked of where they go; I usually just get a bag of nuts bolts and screws; each of the parts were in separate bags and

Read moremarked where they go. I've also never seen that before. It came with a broken knob on the igniter, when I called, they overnighted a new one. I bought this machine because I have a 600' driveway. I'm tired of hiring it out and tired of doing the tape stuff with a torch. Email me if you can, I'd be glad to talk to you. I live in Colorado. Love this machine, love this company; good, honest people!!
Allen

Best filler on the market

Iv had the ry10pro for a year now and it's been a great unit. Was going to order the elite yesterday but relized it was not being released till August. That was a real bummer maybe next year. Only problem I have with the crack filler is that I have to heat the spout constantly. And that problem is solved with the elite.

We bought this unit and was delivered within 4 days. We repaired our parking lot cracks just like is shown in the video. Very easy to operated and works well.

I have reviewed various and many of the machines offered on line by various companies since late last year. I have a circle driveway that needs attention for the cracks or face replacement of the drive soon or live with the deterioration. I haven't used the machine yet but have assembled it and the quality is outstanding in my opinion. The burner is an excellent idea, the machine and parts are outstanding. The parts packages are marked for use, the assembly instructions are straight forward

Read more

. No extra brackets or the like as many machines have from the delivery shoot to the ground level. Just take your time with assembly, follow the instructions for assembly and all will go well. My assembly time was around 3 hours or so but I'm good but I'm slow. This is an impressive product and as I see it, an impressive company. The safety features alone are impressive. I have no doubt that the machine will preform at a high level. I am in Ohio. I will be using if for the first time after it warms a little more here. The machine was delivered by truck in two days and no lift truck was requested by me. It came in two boxes and all was packaged well and protected. The boxes were placed outside my garage door. This is a winner in my opinion! Take your time, follow the instructions and assembly will go well and you will be proud of that you have achieved.